Apple to invest $350 billion in U.S. economy over next five years; plans creation of 20,000 new jobs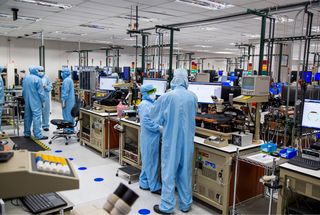 Apple has announced a number of investments that it plans to make in the next few years as it commits to supporting the U.S. economy and workforce. Over the next five years, Apple estimates that it will contribute $350 billion to the U.S. economy, a sum that Apple says doesn't figure in its taxes, nor the taxes of employees wages or sales of Apple products.
From Apple (opens in new tab):
In addition to the $350 billion over the next five years, Apple plans to create around 20,000 jobs in the United States in the next five years. The company will also be increasing the size of its successful Advanced Manufacturing Fund from $1 billion to $5 billion. Apple now works with some 9,000 manufacturers, both large and small, in the U.S., which each supply different kinds of parts for the millions of devices that Apple ships each year.
Apple will also be concentrating on expanding its U.S. operations through a new campus in a new, as-yet-unrevealed location. The initial purpose of this new campus will be technical support for Apple customers. Additionally, the company is planning a $10 billion investment in data centers around the country. This includes a new facility in Reno, Nevada, which just broke ground today. Apple also notes that its U.S. facilities, including stores, offices, and data centers, are all now utilizing 100% renewable energy, which Apple generates itself or purchases from local green power projects.
With the app economy having generated $5 billion in revenue for American app developers in 2017 while accounting for 1.6 million jobs over the existence of the App Store, Apple says it wants to help prepare students for the increasing number of coding jobs opening up out there. To that end, Apple is working on expanding its current initiatives in teaching people how to code. In addition to increasing the coding courses that it already offers at its retail stores, Apple will also be creating new programs that support teachers and teacher training in this arena. The company is also putting more focus on underserved communities through its ConnectED program.
This news comes as Apple plans to repatriate billions of dollars in overseas profits into the United States.
Get the best of iMore in in your inbox, every day!
Joseph Keller is the former Editor in Chief of iMore. An Apple user for almost 20 years, he spends his time learning the ins and outs of iOS and macOS, always finding ways of getting the most out of his iPhone, iPad, Apple Watch, and Mac.
How could you say that?!?!? Do you hate Bill's Wife? I do. I am glad Apple decided to bring their overseas money back home, nothing to do with Trump cutting the taxes for them to do so... /s

Terribly misguided statement.
1. Apple has that money stashed oversees because they used loopholes to get away from paying taxes. While that may be smart business sense it removed money from the American economy.
2. Apple's tax evasion is so bad that when the EU hit its boiling point and demanded apple contribute their proper share of taxes, they immediately found a new tax haven (drawing blank on name of island nation).
3. Apple lobbied BIG to get that tax holiday. They will be the biggest recipient of gains from said tax holiday.
4. It is WAY too early to tell if they will actually use the money for jobs. Additionally, they did not state what type of jobs, wage of said jobs, and where in the supply chain the jobs will be.
5. Expect a massive stock by back from the money.
6. Giving corporations free money in the form of tax holidays does not produce jobs. IT DOES NOT. Consumer demand in a product based economy does. For example, if a restaurant can service 10 customers at max capacity with 2 waiters, and they have always had customers, they are not going to higher 2 more waiters because they are given a million dollars. That money is going to go elsewhere (and usually not expansion).
7. The idea that this tax holiday will get companies to hire more and raise wages is inherently wrong. Currently, without the tax breaks, corporations are sitting on trillions of dollars and have not been using the money for jobs and wages. A tax break only adds to this horrible situation.
8. Realize the companies are going to a consumerless economy. And all these Republican AND Democratic policies that allow corporations to disconnect a workers wage from the companies profit (hence employees wages have stagnated) only hastens the speed at which we will arrive to the consumerless economy. How, because the more tax loopholes they have and the tax holidays they are given increases the capital they have for said investments.
Thank you for signing up to iMore. You will receive a verification email shortly.
There was a problem. Please refresh the page and try again.