Apple MacBook Pro battery replacement program: Everything you need to know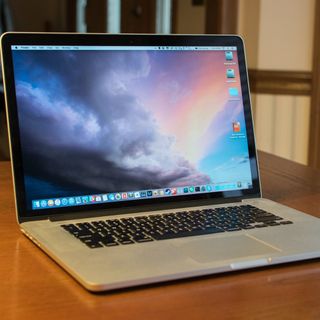 Apple has issued a voluntary recall for a select group of 15-inch MacBook Pro units due to potential issues with the battery overheating. To know if this issue affects your MacBook Pro, you'll need to get its serial number. If your MacBook Pro is one of those affected, it will be eligible for a battery replacement.
Here's everything you need to know about this program.
What exactly is happening?
Apple has issued a voluntary recall on select units of the 2015 MacBook Pro. The issue stems from the battery on these units, which has a possibility of overheating and poses a fire safety risk.
Because of this, Apple is offering battery replacements for affected MacBook Pros.
What does "voluntary recall" mean?
A voluntary recall is one that a company initiates on its own, rather than being compelled to do so by a government agency.
Which Macs are affected by this recall
This part is important. Only the 15-inch Retina MacBook Pro from mid-2015 is impacted by the recall. Apple says that this model was sold primarily between September 2015 and February 2017, so if you purchased a 15-inch MacBook Pro before or after that time period, you likely have nothing to worry about.
Importantly, if you have a 13-inch MacBook Pro from any year, this issue and recall don't affect you.
How do I check if my MacBook Pro is impacted by this recall?
On your Mac, click the Apple in the Menu bar, then click About this Mac. On the overview the pops up, right under the version of macOS you're running, you should see a line that says "MacBook Pro" with your computer's screen size and model year.
Eligible MacBooks have MacBook Pro (Retina, 15-inch, Mid 2015 on that line. If you see that on your MacBook Pro, you'll need to head to Apple's recall site (opens in new tab) and enter the serial number into the box under Eligibility. You can find your Mac's serial number on the About this Mac screen at the bottom of the hardware list.
How much will it cost to have my MacBook Pro's battery replaced?
Apple will replace the batteries on affected MacBook Pros free of charge.
How do I have my MacBook Pro serviced if it's found to be an affected model?
You'll have three options for sending your MacBook Pro in for service if it's one of the affected units:
Make an appointment at your closest Apple Retail Store
Head to an Apple Authorized Service Provider
Arrange mail-in service to the Apple Repair Center via Apple Support

(opens in new tab)
In all cases, your MacBook Pro will be sent to the Apple Repair Center for service. Before sending your MacBook Pro off, the company advises you to back up your data.
How long will it take for my MacBook Pro to be serviced?
Apple says that service will take anywhere from one to two weeks.
Will Apple extend the warranty for my MacBook Pro with this program?
Apple notes that this program will not extend your standard warranty.
Other questions?
If you have other questions about this MacBook Pro battery replacement program, let us know in the comments.
○ MacBook Air with M1 review
○ iMac (2020) review
○ iMac Pro review
○ 16-inch MacBook Pro review
○ Apple Macbook forums
○ Apple desktop forums
○ Buy at Apple (opens in new tab)

Joseph Keller is the former Editor in Chief of iMore. An Apple user for almost 20 years, he spends his time learning the ins and outs of iOS and macOS, always finding ways of getting the most out of his iPhone, iPad, Apple Watch, and Mac.
I took mine to the Genius Bar at my local Apple Store last Friday. They said it'd be back sometime around July 8th. So we'll see how it goes. The genius said the one to two week turnaround time was due to having to use ground shipping instead of air due to the concerns about the batteries.

Just an update. Apple had my machine back to me in exactly 8 days. The battery replacement also included what the invoice described as a new "top case" which came with a brand new keyboard as well. It's like a brand new laptop for free. Very happy with their customer service and thrilled my MacBook didn't burn my house down.

About time. It's only been 2 weeks since the recall and Imore has FINALLY put an article about it. I guess Rene had to check to make sure his seat was fine at the iphone event in september before putting up something negative about apple.

As long as it stops you spamming every article

I am not. I want to know why after 2 weeks of this information, was there not something up on imore about it? it's a safety issue. Not a apple is the best and can do no wrong issue. wake up. Some people's children.

That's a laugh, "some people's children" when you're acting like the child. Just email Rene, don't post on EVERY article the same message over and over and over and over again like an invalid

HA HA. you are the biggest child here. and "some people's children" does not mean a person is a child. to bad you don't get humor. It means someone "no matter what the age" is a dummy.

Right, I'm not the one writing in capital letters, making stupid insinuations or weird comments. Wasn't too long ago you were writing kool-aid in every sentence, I'm not even american, I've never had it in my life

"bucky" ergh, it's really cringy how you speak
Thank you for signing up to iMore. You will receive a verification email shortly.
There was a problem. Please refresh the page and try again.