Is Apple making a faster AirPort Express?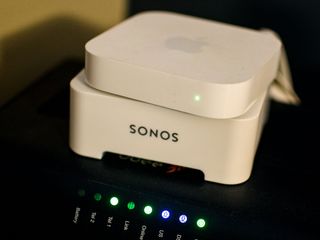 A customer in the store last weekend asked me if Apple had updated the AirPort Express yet. He said that he wanted another one but wasn't willing to buy it until they added 802.11ac to it. It's been almost a year and a half since Apple released the AirPort Extreme with 802.11ac networking, after all. There are some things to consider, however. Read on for details.
The AirPort Express is Apple's $99 router. It's great for small apartments or areas that don't have a lot of users. It also has a audio out jack that can be connected to an audio source like a stereo receiver, so it can act as an AirPlay receiver too — you can use the AirPort Express to stream audio to different parts of your house. What's more, it can also be used to extend your existing AirPort Extreme's Wi-Fi network to locations where the signal just doesn't reach.
The AirPort Express was first introduced in 2004 as a miniature 802.11g router, and went almost four years before being refreshed with 802.11n networking. That model lasted another four years until 2012, when the redesigned, smaller AirPort Express debuted. So if the AirPort Express's history is any indication, we're about mid-cycle in the AirPort Express' life span. But there's a wrinkle to this worth understanding.
When Apple's latest-model AirPort Extreme debuted in 2013, it was a radically different physical shape than the AirPort Extreme base stations that preceded it. It was shorter in length and width but much, much taller than before, with the Ethernet and USB ports on its back stacked vertically instead of horizontally.
This mini-tower design isn't just an odd design embellishment from Apple made to differentiate the 2013 AirPort Extreme from its predecessors. As with so many things from Apple, form follows function in the AirPort Extreme's design: It's tall because inside it has a much more complicated antenna array than older AirPort Extreme models. The antenna design is there to accommodate the greater bandwidth usage of 802.11ac and various other requirements.
The AirPort Express, at least in its current form, isn't encumbered by those restrictions, as it's still 802.11n, so it's a lot smaller. Almost pocket-sized really. Yang to the Apple TV's black yin, from a design perspective.
Smaller 802.11ac routers do exist. Xiaomi apparently took a page from Apple's Magic Trackpad design when it designed the Mi Wi-Fi Mini (opens in new tab) (that page is in Chinese). It's an 802.11ac router intended for mobile use — like plugging into the Ethernet jack at a hotel so you can work from your bed, or somewhere else where you might need to temporarily set up a Wi-Fi signal.
Xiaomi's little 802.11ac router has two raisable antennas to improve signal strength. But with only two antennas and a lower-power design, that router has more more limited signal strength and bandwidth than the AirPort Extreme does — just because it's 802.11ac doesn't mean it's necessarily better than a good 802.11n router.
Apple isn't willing to compromise user experience just to accommodate a smaller design, so I don't think we'll see a device like that, but at least it can be done. Most of the 802.11ac routers out there are much bigger, clunkier designs; Apple's made the AirPort Extreme as elegant and compact as it can, given the current technology constraints.
One of the main reasons my customers get the AirPort Express is to extend the reach of their Wi-Fi network to corners of their house where the AirPort Extreme just doesn't reach. Extend it does, but only at the slower speeds of 802.11n. But that network extension isn't limited to the AirPort Express — you can do the same thing with an AirPort Extreme too. Obviously you'll pay twice as much as you would with an AirPort Express, but if you're concerned about speed and you want to stick with Apple, it's the only option for you at the moment.
Your network?
Do you go with Apple-branded routers, or is your network set up using something different? Are you also waiting for an 802.11ac-equipped AirPort Express? Let me know.
I just got the Airport Extreme yesterday. Instead of barely getting a connection on the front porch and not at all in my yard, I now get a connection at least half a block in all directions. I've become a huge fan of the extreme.

I just set a new wireless system for our home. We have 3 different wonderful but slightly outdated sound systems in the family room, my room, and my parent's room. However, I wasn't ready to plunk down a lot of cash for Apple products at retail price even though I did want Apple products. So, I did the next best thing - craigslist it all. So, I got a previous-generation 2TB Time Capsule, and three wall-mounted wireless-n Airport Expresses. ac is a wonderful next step in wireless networking, but our ISPs aren't ready to take advantage of those data speeds just yet and we're only running a home, not an office. Wireless-N with MIMO technology from the Extreme and both wireless extenders and airplay receivers from the Expresses are running perfectly. Happy with this whole setup for less than $250. Sent from the iMore App

You don't need "AC" speeds from your ISP to benefit from AC routers. The total bandwidth, MIMO, beam forming (longer range), lower latency, etc helps out. You'll also appreciate it if you need to extend a hard wired device, like a game console. Remember the TOTAL theoretical bandwidth is what's advertised. So if you have more than one device and are farther away, you will benefit from AC. Only Upgrade if you need it;
Wait to Replace if you want it. Sent from the iMore App

The entire point of ac is that it has better range and is more stable. u are right that u probably won't notice a difference when it comes to internet speeds. where it counts is in the Nas department. for example transferring a large file from your computer to a drive connected to an ac router is way faster than wireless n

I have an AirPort Extreme as my main router. The one item that I found was lacking is there is no QoS support, so I had to reconfigure my network when I got an Ooma VOIP phone. Other than that, it's worked great. I'm hoping the next AppleTV will have an AirPort Express built-in, that gives repeater functionality to get better Wifi coverage around my house.

I use AirPort Expresses exclusively for AirPlay so even 802.11g is fine with me. I pick up broken APE's for $15 and replace the PSU for another $3 and end up with a APE that can be powered easily in a car. So now you get lossless wireless audio into your car for minimal cost. I would love to see a speed bump in terms of boot time though. The 1st gen booted the fastest and seemed to run cooler but was more work to change PSUs because it runs on 3.3v and 5v. 2nd gen (the 802.11n model) runs 3.3v but runs extremely hot which causes it to reboot in a hot car. I haven't messed with the 3rd gen that looks more like a white Apple TV.

Genius! What would I need to do to replace the PSU on a 2012 model and then use in the car? Thanks

I have had a Belkin N+ for a long time. I would like to upgrade to 102.11ac, but I have been waiting for an update to the Airport Extreme line that includes Thunderbolt support so I can chain together some extra storage.

I want thunderbolt on em. That's the only reason I've been holding out. Sent from the iMore App

Airport Extreme in the basement with my cable modem and other equipment. Airport express in a different portion of the house as a wifi extender to fill in the weak coverage area. Works great. While more speed is always nice, the Airport Express is fast enough to simultaneously stream video on several devices. I don't need a faster Airport Express.

I want a new Time Capsuke to replace my current N Extreme. I'm with one of the other posters in that I would like to see Thunderbolt or at least USB 3.0

Still baffles me why only the Expresses have audio out- its a shame the Extreme and Time Capsule don't, as I now have one of each.

"Is Apple making a faster AirPort Express?" Is the Pope Argentine?

I have a dual band Netgear router and two (1TB and 2TB) external drives. I also have a DSL modem/router that came with my service when I switched last year. I would trade it all for a Time Capsule just to have one unit and the ability to back up wirelessly. My current system just been Frankensteined over the years as my needs have grown but I don't like it. Sent from the iMore App

I already have a Linksys AC router which works great with my iPhone 6. If that happens to crap out though I would definitely look into the Airport Extreme or if they update the Airport Express to AC then I would look at that as well.

I've used Apple routers for many years, but I've never used an Express, because the Extreme is only a little bit more and you get so much more. I have family and friends that love the Express, but I never recommend it to anyone at work or if I'm asked as I just don't think it offers much unless you have a very tiny apartment. They were originally intended for dorm room use and work great for that. If you have such a huge dwelling that the Extreme doesn't "reach" then (IMO) you are clearly a rich person to have such a house and buying another Extreme is the best option. Currently I use the latest Time Capsule with the WiFi beaming and it's range and speed is just fantastic. The Time Capsule models don't actually work that well as backup devices whatever Apple likes to tell you, but they do okay. It's the fault of using a network attached drive of any kind for a backup, not a fault of the time Capsule itself.

My Airport Expresses are used for Airplay. I plan on replacing them with Sonos as they are unreliable and unsightly(wall warts ) . For routing, I use an ASUS N56U Wirless router and a WRT350N to extend my network. I'm curious as to if the Apple Extreme could replace them both . I'll try it out once I have $199 to spare to buy one.

The wall wart Expresses are quite old and not dual band. Airplay works much better with an Apple router, makes your other Apple devices work better, and its cheaper than Sonos.

It is dual band, 2.4GHz and 5GHz bands simultaneously.

Yep. I still have one that is my bridge between AirPlay and sonos. I love the appearance and performance of Sonos speakers, but their apps do not replace iTunes or the podcast apps from Apple.

Actually, that is not the case. I purchased a Time Capsule that I installed last week to replace one of my old routers. I was hoping that it would provide better WiFi coverage for my home and also make WiFi sync work. I was wrong on both counts. I tried it out as a wifi router, and when that did not work out , I moved it to the wireless network extender role , which it also did not do well out.
As a primary router, it lacks the ports and basic features like uPnP, QoS, tcp/ups timeouts, packet scheduling that my cheap $40 router with dd-WRt provides. As an extender, it did not have as many Ethernet ports or as strong a wifi signal as my asus rt-n56u router, and wifi sync did not work. Due to the weak signal, Airplay would drop out of disappear altogether compare to the Asus router that did not have these problems. What it did do well was provide and easy to set up time machine backup destination, which is what it does now and will do into the foreseeable future. Apple airport extremes should add features that other routers have, following DD-wrt's lead, and add more ports.

With regards to using a non-Apple router that may be cheaper, we use the Airport system to be able to control access for the kids. Using the Airport utility on my iPhone or iPad, I can control access to the wifi for certain devices (based on MAC address) so wifi shuts off at a certain time. The wifi broadcast on the Fios router is disabled, and the Airport (currently an Express but going to swap it for the Extreme for the added reach and speeds) is connected via Ethernet. Works great!

I am currently using the older 802.11n Airport Extreme and have a coverage problem in my home. The problem is that my son who has the coverage problem in his room has an iPhone 5 and not getting an iPhone 6 anytime soon. He switches off wifi and watches video's via LTE. I am wondering if the new Airport Extreme will give me that little bit of extra range with 802.11 n as well. I have a Retina Macbook Pro and iPhone 6 so I can take advantage specially doing Time Machine backups to my Time Machine Mac Server.

The Airport Express is fantastic little device, very much under rated. I use it as a wifi router, just plug it in one of the ethernet port on your modem. Apple software told me to disable DHCP and NAT on the device which was good. I have disabled the wifi on the modem and use the wifi on the Airport Express now. Also have speakers plugged into it for Airplay. And the range is great, same as my modem which has an extended antenna.

Yes I'd love to see an 802.11ac Airport Express but I won't hold my breath. There are serious issues with heat and antena in the "ac" standard that will make it difficult to fit in that tiny form factor (at least to Apple Standards, the article makes a great point that it's POSSIBLE to approach that size but just because you CAN do something, don't make it a good idea!). Just please Apple, add GigaBit Ethernet or there won't be much point. ALSO: Why not add a Thunderbolt Port so we can add storage we can get to at those speeds, huh? Same for Airport Extreme. Now we are talking!! Thanks for a great read.