Apple may be interested in buying Formula One (streaming rights?)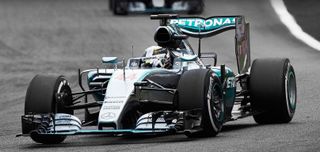 In what seems like a far-fetched rumor, Apple is apparently considering a bid to buy Formula One. F1 boss Bernie Ecclestone said last year that he was interesting in selling the 35% stake in the racing series he controls through holding company CVC Capitol Partners for £6 billion ($8.5 billion).
According to Joe Saward, a noted Formula One journalist, Apple is the latest bidder for the series:
Like with NFL rumors previously, this could just be an attempt to lock up streaming rights for Apple TV. As set top boxes become ubiquitous, content is going to be the differentiator. That includes both high-demand live programming like sports, and original content.
Get the best of iMore in in your inbox, every day!
The clumsiest man in tech.
God I hope not. They'll make it an ATV exclusive. The public have enjoyed 'free' F1 for years Tim. Leave it alone and concentrate on your falling Mac sales! Especially the stillborn Mac Pro.

Agreed. Focus on making Apple products "magical" again.

Huh? There is no streaming options for F1 let alone any free ones. While I think there is no truth to this rumor at all I would welcome any option to stream F1 and be able to finally drop my cable tv.

Free to watch on terrestrial TV. (In the Uk at least).

Unfortunately Sky have the rights from 2019 - 2024 to be the only one showing F1 in the UK

I do NOT have Sky, I watch it on Channel 4 more ofthen than not.

I "cut the cord" back in 2008 because TV these is a wasteland of reality TV. I would love to have a Formula One package on Apple TV!

Well, it's not like F1 can get any worse than it is now, can it?

Admittedly it seems contrived.

Lets just say that F1 has its issues. I have been a fan since a boy and love the sport, but lately it has become ridiculous with all the technology that basically control the cars for the drivers. We need to get back to the days of the 1960's and 70's when drivers drove the cars... without all the pit wall and high tech nonsense. Tire warmers... really? I don't think Graham Hill had tire warmers! As for Apple... they need to stick with what they do best... developing and manufacturing computers, smartphones and other peripherals that support their core products. If they want to build a car for consumers, then so be it. But stay out of sports other than sponsorship opportunities.

They should be allowed what ever aids are on the 'average' car I think;
So ABS + Traction Control, yes. Sequential box, no. Etcetera, etcetera.

With cars getting ligther, faster and more powerful, many of those advancements that "control the car for the drivers" are actually safety devices that make the sport safer, including the aforementioned tire warmers. Graham Hill's Lotus had a top speed of 280km/h and 400bph, but nowadays pilots are reaching 360km/h on some circuits, with cars sporting over 1000bph.

OH GOD PLEASE!!! As a cable cutter, I can't watch F1 at all, and it's one of the few sports I really like. As an American, I've dreamt of the day of being able to stream races on-demand. This could be the killer-app for me on the Apple TV, which has been only a mild upgrade over prior version, IMHO. I look at what MLB has done with their app, and I can think of so many features that would make F1 100x better... Select which car's POV cam you want to watch, pull up track positions and stats without having to wait for the announcers to show them to you, watch two drivers at once... YES.
Thank you for signing up to iMore. You will receive a verification email shortly.
There was a problem. Please refresh the page and try again.