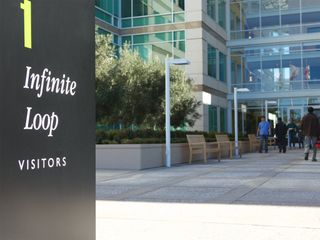 Apple hasn't attended the Consumer Electronics Show since Nirvana's "Nevermind" topped the Billboard charts, but that doesn't stop the company from casting a very long shadow over the event. It seems that even now, Apple news and rumors have a way of weeding themselves into the tech blogosphere during the very time that everyone's attention should be directed elsewhere.
Of course, that trend stayed consistent this week with 9to5Mac's juicy 12-inch MacBook Air rumor.
To study the phenomenon, Graham Spencer has compiled a history of Apple news and rumors during CES dating back to 2007. It's an interesting roundup.
From '07 to '09, Apple introduced the iPhone, new Macs, DRM-free iTunes music, and more. But it's worth noting that up to 2009, Apple was also exhibiting at Macworld Expo, which happened concurrently or nearly at the same time as CES did.
After that, most of the times Apple's name appeared in headlines it was rumors, though 2011 broke from that with news about the iPhone coming to Verizon and the introduction of the Mac App Store.
Spencer offers his idea of what's going on:
I don't think CES factors into Apple's decision to either announce things or leak information to the press one way or the other. After pulling up stakes from Macworld Expo, Apple made the deliberate decision to focus attention for its products by manufacturing its own events rather than riding on another's coattails.
The timing of CES inevitably leads to some overlap, though. It comes during the first week of January, and the last couple of weeks of December are notoriously slow for tech news in general and Apple news in particular, partly since many staffers at Apple HQ in Cupertino take some time off around the holidays.
So there's an understandable desire from bloggers and tech journos to shake the cage a bit and get people interested again, so rumors and speculation pick up. What's more, Apple's back at work, so if an announcement comes, it comes.
Source: MacStories
Get the best of iMore in in your inbox, every day!
If I hadn't read this article, on this website, I wouldn't have known about your silly "rumor". Only the Apple freaks would try and claim that it is overshadowing CES.

Seriously?
You've obviously not attended CES of late. It seems like ½ of the entire SHOW is devoted to 'i' devices, wearables, peripherals and entire cottage industries and startups from all over the world spend MANY millions of dollars designing 'rumored' cases, charging packs, controllers, et al for the upcoming...yet newly 'rumored' design change 'leaks' lol. That isn't embellishment my friend. I haven't missed a year in almost two decades. This is the first year I've decide to not attend since '98

Cases and charging packs don't trump phones, smartwatches, and laptops...Sorry buddy. BTW, I'm in Vegas now, and am responding to this from the convention center...It's all connected devices and Android, everywhere. I see very few Apple related anything other than some piggybacked apps, aka multi-platform. There's a lot more Microsoft around here than either, though, but you can expect a lot of Android coming up.

Nice Nirvana reference. Sent from the iMore App
Thank you for signing up to iMore. You will receive a verification email shortly.
There was a problem. Please refresh the page and try again.