Apple now selling the SteelSeries Stratus XL game controller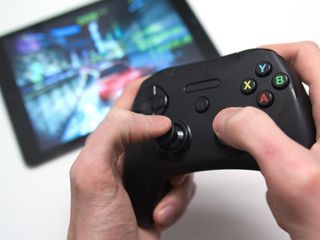 Apple is now selling the SteelSeries Stratus XL, a new console-style game controller for iPhone and iPad. The controller is compatible with a number of games for iOS, including FIFA 15 Ultimate Team, Grand Theft Auto: San Andreas, and Oceanhorn.
A big brother to the original Stratus, the XL takes the form of a console controller. It has four multicolored face buttons, a directional pad, two analog sticks, and four shoulder buttons. The XL also has a dedicated pairing button on the face of the console to connect to your device via Bluetooth. The controller is powered by two AA batteries with an estimated 40 hours of gameplay.
The Stratus XL is available for purchase from the Apple Online Store, as well as Apple Retail Stores, for $69.99.
Source: SteelSeries
Joseph Keller is the former Editor in Chief of iMore. An Apple user for almost 20 years, he spends his time learning the ins and outs of iOS and macOS, always finding ways of getting the most out of his iPhone, iPad, Apple Watch, and Mac.
Had the chance to play around with this a bit. Feel great, built as well as you expect a full-sized controller to. The triggers are angled really nicely. Unfortunately doesn't play nice with Modern Combat 5. AA batteries aren't as ideal as integrated rechargeable lithium-ion.

I'm new to iOS with an iPad Air 2 (I'm an Android guy who wanted a big tablet and saw nothing compelling in the Android space this cycle). Is it safe to say that this will more than likely work reasonably well with games that offer controller support? Like, is there any type of universal standard being used or anything that would guarantee some level of compatibility? The reason I ask is, I have a decent amount of games, and I've noticed that the ones that offer controller support do state any number of specific controllers on their iTunes pages. But does that mean one controller won't work for all? Specifically, I'm looking for something that will work with Square Enix games (Final Fantasy VI, etc). Just want to know before I drop $70 on this thing. Thank you iOS faithful!

There's a full list of compatible games here, which includes Final Fantasy 4. I'd say that there are never any guarantees. Modern Combat 5 is a pretty big deal, especially for those that use hardware controllers, and it's not supported by the Stratus XL.

Like, is there any type of universal standard being used or anything that would guarantee some level of compatibility?

It complies with iOS's "MFi" (Made for iPhone/iPod touch/iPad) controller standard. That doesn't guarantee universal support for all games — many games haven't been developed to support

any

controller —, but because it's Apple's standard, it's the one worth paying attention to.

Funny how it looks like a PlayStation controller? Sent from the iMore App

You mean a xbox one controller

Either or Sent from the iMore App

I bought one on Sunday at my local Apple Store for my wife. It wasn't on display yet. I was thinking about getting the small one, but then the sales guy pulled this out of the stockroom. It looks and feels great. I hope Modern Combat 5 can get an update to support it soon. Works great with the tank battle game - whatever it's called?! Sent from the iMore App

This looks hot. I'd need to see some demos of it. I wonder if there is any noticeable latency. Sent from the iMore App

I can only hope this is a hint toward a new Apple TV that supports game app downloads. Cross my fingers. Sent from the iMore App

Does anyone know if this will pair with a Macbook as well as iOS devices? It would be much more appealing if it worked on my Mac as well as my iOS devices. The official website clearly shows a Macbook and mentions the Mac briefly in two places: http://i.imgur.com/hrXaabY.png
http://i.imgur.com/S775wy9.png http://steelseries.com/products/controllers/stratus-xl-wireless-gaming-c... But it seems so subtle and is not mentioned on the Apple Store listing at all, which makes me suspicious of how good the support will be. I'm happy to use third party software to map the buttons, but wondered how good the connection as a whole is. Has anyone tried this?

I just bought it to play the game I spent 30 dollars on 'Dreamfall Chapters' and though it seems to connect, it does NOT work with the game.
Thank you for signing up to iMore. You will receive a verification email shortly.
There was a problem. Please refresh the page and try again.