Apple Park is worth over $4 billion, making it one of the world's most valuable buildings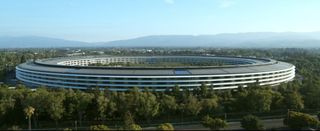 (Image credit: Apple)
What you need to know
Apple Park is worth $4.17 billion according to county estimates.
That puts Apple's headquarters as one of the most valuable buildings in the world.
The figure accounts for the land, the building and everything inside..
In designing and building Apple Park, its new marquee headquarter, Apple spared no expense. We assumed as much by the property and sheer size of the building, but now we know exactly how much it is worth.
First reported by the San Francisco Chronicle, a recent evaluation of Apple Park by Santa Clara County pegs it to be worth $4.17 billion.
Apple's sprawling headquarters covers 2.8 million square-feet. And considering how much detail Jony Ive put into making it a state-of-the-art building, it's easy to see why it's worth so much.
Aside from the cost of building Apple Park, Apple also has to foot the bill in for property tax of 1%. That would be $40 million a year. I don't think Apple is feeling the sting of that considering it made $11.5 billion in net income last quarter.
Get the best of iMore in your inbox, every day!