Apple partners with RESOLVE to responsibly source gold for its products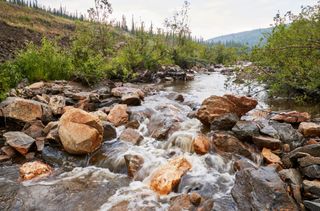 What you need to know
Apple is partnering with RESOLVE in an effort to responsibly source gold for its products.
RESOLVE is a nonprofit that began a "Salmon Gold" program in 2017.
RESOLVE hopes to combine re-mining with restoration to improve the streams for salmon.
Apple on Tuesday announced (opens in new tab) a partnership with RESOLVE in an effort to responsibly source gold, which is used in small amounts throughout Apple's product portfolio.
In a new feature on Apple's newsroom, the company talks about the impact of placer mining in the Alaska-Yukon region. These encampments sit along creeks and streams, giving miners the opportunity to mine for gold like it's the 1890s.
Unfortunately, these placer mines often sit adjacent to salmon spawning beds. Add in logging, urbanization, wildfires, and landslides, and salmon runs don't stand a chance, Apple's report says.
That's why Apple has partnered with RESOLVE, a nonprofit that connects placer miners, environmentalists, and government agencies through a "Salmon Gold" program. The aim is to minimize the human impact on the region. Apple says it will source gold from these miners who have committed to restoring the land they rely on.
Over the past few years, Apple has made environmental responsibility (opens in new tab) a core part of its ethos. In a recent environmental responsibility report, the company touted an increased focus on recycling and material recovery. Apple's partnership with RESOLVE is just the latest in its pursuit to innovate when it comes to environmental responsibility.
Thank you for signing up to iMore. You will receive a verification email shortly.
There was a problem. Please refresh the page and try again.