Apple presents the MacBook, reinvented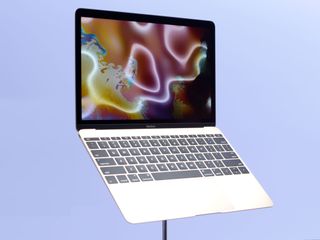 Leading into today's Spring Forward event, oddsmakers suggested that a Retina MacBook Air was inevitable. Turns out they were wrong. Apple's gone back and reinvented the MacBook.
Waiting in vain
I remember waiting the day the iPad was released. I waited line at Apple's flagship Boston location, its Boylston Street store, staving off the April chill with a cup of Dunkin' Donuts coffee, dancing in place because I needed to empty my bladder.
Yes, I'm one of those people who lines up for these things. What I didn't realize that April day, though I quickly would learn, is that the iPad wasn't the transformative device I had wanted it to be. It wasn't until I finally got my hands on a MacBook Air that that happened.
I never had to wait in line for one of a MacBook Air; they'd been out for several years already when I finally jumped on the bandwagon. I wonder if I'll have to wait in line for the new MacBook.
The MacBook Air took away lots of ports that made lots of noise with a sleek design, a big screen, fluid keyboard and responsive gesture-aware trackpad. It was fast enough to get most of my work done, with more battery life than I had ever experienced. And breathtakingly elegant.
All of these superlatives seem to apply to Apple's new MacBook, which made its debut today along with a lower-priced (but otherwise unchanged) Apple TV and the Apple Watch. The proof of the pudding, as the expression goes, is in the eating. And we won't be able to consume that particular dish until April.
The name itself is interesting: "MacBook" is what Apple called its low-end polycarbonate model aimed at students and families, which it discontinued in 2010. The MacBook Air replaced it as the entry-level model, with prices eventually dropping to $899.
Now the MacBook is back, but it's been reborn as more premium brand than MacBook Air.
Gold is best!
Apple has always attracted design fetishism, but the iPhone and iPad have occupied much of Apple's efforts to actually make its gear pretty. Those days are over, because pretty is exactly what the new MacBook is.
Just like the iPad and iPhone, the new MacBook comes in three finishes: Silver, gold and space gray. Boy, that space gray looks pretty. I'll leave the gold model for someone else.
Priced higher than the MacBook Air, the new MacBook has a bona fide Retina display: 2304 by 1440 pixels, with 226 pixel per inch density. The edge-to-edge display has the same shape and shares the same aspect ratio as other most MacBook models, but measures only 12 inches diagonally.
Under the hood
Inside is the latest generation of Intel's processor hardware, its "Broadwell" system architecture, clocked from 1.1 to 1.3 GHz. The new MacBook sports Intel HD Graphics 5300 integrated graphics, which offers considerably improved performance from last year's MacBook Air models — good thing, since it's pushing millions more pixels.
Apple's not skimping on memory or storage, either. 8 GB of RAM and 256 GB of flash storage is standard on the $1299 model, with the $1599 model doubling storage to 512 GB. That's beefier than the basic Retina MacBook Pro for the same money.
The USB-C port replaces all other connections, including power charging, with what Apple is calling all-day battery life: 9 hours of surfing the web or 10 hours of iTunes movie playback, according to Apple. Thirty nine point seven watt hours of battery life, just a smidge more the 11-inch MacBook Air's battery life expectancy, with more efficient engineering inside.
The worst part, of course, is having to wait. Apple's given us a month to prepare, though. Expect to see them on Friday, April 10th.
○ MacBook review
○ MacBook buyers guide
○ MacBook news
○ MacBook forums
○ Buy at Apple

Master your iPhone in minutes
iMore offers spot-on advice and guidance from our team of experts, with decades of Apple device experience to lean on. Learn more with iMore!