Apple Q1 2016 results: 74.8m iPhones, 16.1m iPads, 5.3m Macs, $18.4b profit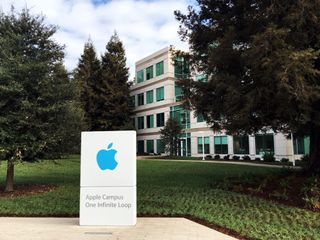 Apple has released the company's first quarter 2016 results, and highlights include 74.8m iPhones, 16.1m iPads, 5.3m Macs, $18.4b profit.
So Apple beat expectations on earnings, but fell short on revenue and unit sales. In other words, the company made a ton of money in profits but off of sales that weren't quite as large as Wall Street expected.
For context, Apple is facing a matured mobile market that already boasts incredibly high adoption rates for the company's profit, and a global economy — including and especially a Chinese economy — that's not in the best shape for a company that sells multi-hundred-dollar phones and multi-thousand-dollar computers.
Apple typically concentrates on making great products in hopes that the rest simply works itself out over time. Wall Street, of course, hates that approach and would much rather see Apple spin on whatever the most recent trend is in the market, no matter how risky it is to long term sustainability. (See Netbooks, budget phones, televisions, etc.)
Products will continue, including the rumored iPhone 5se, the anticipated iPhone 7, and the reported interest in cars and virtual/augmented reality. The most interesting aspect right now, though, is the more overt positioning of the company as a services business with recurring revenue potential far beyond initial device sales. That includes the big, blinking, neon 1 Billion Active Devices number.
Apple seems to be taking a multi-faceted approach to services revenue. In addition to the income generated from iTunes and App Store purchases, the company is adding Apple Music subscriptions, Apple Pay transactions, rumored Apple News subscriptions. Such services also increase the overall value of traditional businesses, namely device sales.
Apple Upgrade Program, while not generating independent revenue, begins to transition the iPhone itself into a service, and one that keeps customers on the platform and in the ecosystem. Services in Q1 2016 generated $5.5 billion, up 15%. The potential could be enormous.
Regardless, Apple just posted the best results of any company, ever. So, of course, expect the "Apple is doomed" headlines to intensify.
You can see everything broken down in chart form over at Six Colors and the full press release below!
Apple today announced financial results for its fiscal 2016 first quarter ended December 26, 2015. The Company posted record quarterly revenue of $75.9 billion and record quarterly net income of $18.4 billion, or $3.28 per diluted share. These results compare to revenue of $74.6 billion and net income of $18 billion, or $3.06 per diluted share, in the year-ago quarter. Gross margin was 40.1 percent compared to 39.9 percent in the year-ago quarter. International sales accounted for 66 percent of the quarter's revenue.
"Our team delivered Apple's biggest quarter ever, thanks to the world's most innovative products and all-time record sales of iPhone, Apple Watch and Apple TV," said Tim Cook, Apple's CEO. "The growth of our Services business accelerated during the quarter to produce record results, and our installed base recently crossed a major milestone of one billion active devices."
"Our record sales and strong margins drove all-time records for net income and EPS in spite of a very difficult macroeconomic environment," said Luca Maestri, Apple's CFO. "We generated operating cash flow of $27.5 billion during the quarter, and returned over $9 billion to investors through share repurchases and dividends. We have now completed $153 billion of our $200 billion capital return program."
Apple is providing the following guidance for its fiscal 2016 second quarter:
revenue between $50 billion and $53 billion
gross margin between 39 percent and 39.5 percent
operating expenses between $6 billion and $6.1 billion
other income/(expense) of $325 million
tax rate of 25.5 percent
Apple's board of directors has declared a cash dividend of $.52 per share of the Company's common stock. The dividend is payable on February 11, 2016, to shareholders of record as of the close of business on February 8, 2016.
Apple will provide live streaming of its Q1 2016 financial results conference call beginning at 2:00 p.m. PST on January 26, 2016 at www.apple.com/investor/earnings-call/. This webcast will also be available for replay for approximately two weeks thereafter.
Get the best of iMore in in your inbox, every day!
Rene Ritchie is one of the most respected Apple analysts in the business, reaching a combined audience of over 40 million readers a month. His YouTube channel, Vector, has over 90 thousand subscribers and 14 million views and his podcasts, including Debug, have been downloaded over 20 million times. He also regularly co-hosts MacBreak Weekly for the TWiT network and co-hosted CES Live! and Talk Mobile. Based in Montreal, Rene is a former director of product marketing, web developer, and graphic designer. He's authored several books and appeared on numerous television and radio segments to discuss Apple and the technology industry. When not working, he likes to cook, grapple, and spend time with his friends and family.
Nha, of course not. A whole company relaying on one product, that is doom. In the long term, but still doom.

They really are a one-product company, and that makes makes it more likely that the floor will fall out from under them. That said, they could slash prices or add features to maintain their share and this would hurt profits...but you don't need profits to be successful...Look at Amazon. They barely make any money at all, and yet I don't think they're "doomed." But Apple's incredible rise may have abated.

Actually, it doesn't have to be either doom or amazing. It does, however, demonstrate that even Apple is not immune to the reality of a tightening market and a general decline in sales of PCs and tablets. Of course, no sane person would suggest they are immune, but it's a tough market out there. How to keep your product lines with positive growth is something investors always look for in a company. There is also the looming issue that Apple is relying perhaps too much on one product line despite efforts to prevent that. Investors get leery of that since so much then rides on that one product and quarterly reports.

Hi Daniel Love your Windows Central site. You are correct that Apple is not immune to market forces, but Apple still increased it profits. I would be interested to see how this compared with the market as a whole, I think it will be favourable to most companies, many of whom are barely breaking even. Posted via the iMore App for Android

Thanks. Yeah, Apple has the uncanny ability to charge premium prices for their products more than the competition. That works in their favor big time as even slow, but positive, sales still results in substantial profits. Samsung and other Android OEMs have difficulty competing there, which is why Apple basically still prints money (plus their reserves).

Another way to look at this is you can increase profits in many ways that may or may not be long term reflective of a strong business like cutting costs, raising prices (like the apple tv did), or selling assets or generally being more efficient. People are looking at revenue and sales because, though it's great that they turned a greater profit those people are looking at the future and basing their investment on that. Iphone sales are declining so the people will be leary of whether eventually that will effect profits. Sort of in the same way a long term decline in printer sales and printer ink sales eventually cause hardship for HP.

I give you the decline in sales of PCs and tablets. But has there been a corresponding decline in smartphone sales too? Not to my knowledge. And iPhone units sales have basically stayed flat YoY (74.5M vs. 74.8M).

But didn't Samsung, basically the only company that makes a profit on Android, also report a decline in its sales? Or at least a decline in its high end sales? Sent from the iMore App

-10% revenue growth projections for next quarter. Sent from the iMore App

yep. first time in 10 years i read that apple has predicted a decline in iphone sales during Q2. I'm sure they'll do alright. They'll only need 1000 vaults to hold all their money instead of 1001 money vaults. Oh the horror. http://appleinsider.com/articles/16/01/26/apple-guides-first-ever-iphone...

I think they are doing all right. As long as we continue buying, they will continue selling.

This goes to prove that no matter how popular they are, every company in the smartphone market is being affected by slowing growth. Even Apple. Not to mention ipads are gradually decreasing in sales due to phablets(and increasingly Windows tablets) increasingly taking their place. Posted via the iMore App for Android

"The rumored iPhone 5SE, the new iPhone upgrade program, a continued focus on Android switchers, and the anticipation of iPhone 7 are all short term solutions to maintain and increase iPhone momentum. Apple Pay, Apple Watch, Apple Car, and new services like Apple Music, Apple News, and similar projects public and private are all longer term solutions." And yet, they didn't have gain any momentum, and are advising next quarter will be a YoY decline. None of those are the revenue makers that the iPhone is, so if mature markets mean declining iPhones sales, of course Wall Street, which is betting on the future, will be more bearish. That's called common sense.

"Apple reports slowest ever iPhone sales in first quarter" - BBC headline, "to try and grab as much attention as possible." I would say that that's far more informative and to the point...

Lonetime shareholder here. I wish all the companies I owned stock in were as doomed! If the share price drops, I will buy more! I learned many years ago, Apple delivers and will reinvent itself if needed. Plus a .52 dividend per share! SWEEET!

This I found interesting "Apple reported holding cash and investments of $215.7 billion … There's just one problem — Apple's cash isn't free and clear for investors to cash in on. Apple has been piling on debt over the years – even faster than cash is growing. Apple ended last year with $53.2 billion in long-term debt, which is up 64% from the same period a year ago … [and] 93% of Apple's cash is held overseas, says Standard & Poor's Ratings Services. Much of that cash would face U.S. tax rates if returned to the U.S. – which is a big reason why Apple is borrowing money." Sent from the iMore App
Thank you for signing up to iMore. You will receive a verification email shortly.
There was a problem. Please refresh the page and try again.