Apple releases updated 16GB iPod touch, drops price on 32GB and 64GB models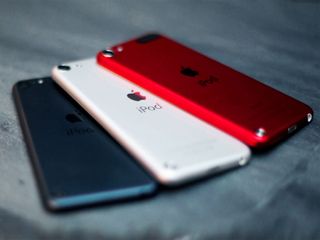 Apple has released an updated 16GB iPod touch for $199. While the previous 16GB model featured no rear camera and only came in Space Gray, the new version has a 5-megapixel iSight camera and comes in the same array of colors as the 32GB and 64GB models — space gray, silver, pink, yellow, blue, and (Product) red.
The updated 16GB iPod touch is still based on the 2012 platform, still uses the the Apple A5 chip, and still has a 4-inch Retina display. In addition to the new 16GB model, the larger capacity versions have received a price drop. The 32GB iPod touch now costs $249, down from $299, while the 64GB model is now $299, formerly $399.
Below is Apple's press release regarding the new, low-end model.
Apple Brings Vibrant Colors & iSight Camera to Most Affordable iPod touch Model
iPod touch Lineup Now Starting at $199
CUPERTINO, California—June 26, 2014—Apple® today announced its 16GB iPod touch® is now available in vibrant colors and equipped with a 5 megapixel iSight® camera for just $199. The entire iPod touch lineup features the 5 megapixel iSight camera with 1080p HD video recording, brilliant 4-inch Retina® display, Apple's A5 chip and FaceTime® camera. iPod touch features an ultra-thin and light anodized aluminum design and is available in pink, yellow, blue, silver, space gray and (PRODUCT) RED. iPod touch comes in a 16GB model for $199, 32GB for $249, and 64GB for $299.
iPod touch comes with iOS 7, offering more than 200 features including Camera app filters that let you easily add real-time photo effects. Additionally, the Photos app offers ways to automatically organize your photos based on time and location. With iCloud® Photo Sharing, it's simple to share photos and videos with exactly the people you want to see them and your friends and family can comment and access their shared streams from any iPhone®, iPad®, iPod touch, Mac® or PC at any time. This fall, iOS 8 will be supported on the entire iPod touch lineup.
With the revolutionary App Store℠ on iPod touch, users in 155 countries have access to over 1.2 million apps for iPhone, iPad and iPod touch, including hundreds of thousands of games. More than 75 billion apps have been downloaded from the App Store. Customers also have the iTunes Store® at their fingertips, giving instant access to an incredible selection of music, TV shows, movies and books to purchase and download directly to their iPod touch.
Pricing & Availability iPod touch 16GB is available starting in the US today and worldwide in the coming days, in pink, yellow, blue, silver and space gray through the Apple Online Store (www.apple.com), Apple's retail stores and Apple Authorized Resellers for a suggested price of $199 (US). Starting today, the 32GB and 64GB models have been repriced worldwide, at a suggested price of $249 (US) for the 32GB model and $299 (US) for the 64GB model. iPod touch requires a Wi-Fi connection or a Mac with a USB 2.0 or USB 3.0 port, Mac OS X v10.6.8 or later and iTunes® 10.7 or later; or a Windows PC with a USB 2.0 port and Windows 7, Windows Vista or Windows XP Home or Professional with Service Pack 3 or later and iTunes 10.7 or later. An Apple ID is required for some iPod touch features.
(PRODUCT) RED models of iPod touch are available through the Apple Online Store (www.apple.com) and Apple's retail stores.
Apple designs Macs, the best personal computers in the world, along with OS X, iLife, iWork and professional software. Apple leads the digital music revolution with its iPods and iTunes online store. Apple has reinvented the mobile phone with its revolutionary iPhone and App Store, and is defining the future of mobile media and computing devices with iPad.
Get the best of iMore in in your inbox, every day!
Joseph Keller is the former Editor in Chief of iMore. An Apple user for almost 20 years, he spends his time learning the ins and outs of iOS and macOS, always finding ways of getting the most out of his iPhone, iPad, Apple Watch, and Mac.
They should've released one with the A7 so that it could be a workout device and tracker Sent from the iMore App

Haven't heard anything about the iPod in a really long time. I'm sure this will make some people happy! Brought to you by the Nexus M8

My iPhone 6 prediction.. 4.7" in 32GB and 64GB ($650 and $700 respectively)
5.5" in 64GB and 128GB ($750 and $800 respectively) The new iPods bump $50 for every space upgrade now.. not $100 - suspect iPhone 6 models will do the same... BTW: The above matches perfectly with the rumors of 128GB 5.5" and $100 more as premium.. makes sense even more now with the release of the iPods kind of confirming the new pricing scheme for space upgrades. Guess we'll see...

I am with you there. Think it will do the same. Plus the rumors yesterday that the iPhone is dropping the 16 GB model for the 6.

So basically this would be a reversal of what they did with iPads last year where they're essentially identical except for screen size. iPad mini offers 128GB storage option. If Apple goes this route, I think it sucks. What about people who don't want a phablet but would prefer the higher storage option?

I can't believe Apple is still forcing the A5 chip down users throat along with 512mb of ram.

I do like that the 64gb iPod is now just $299. I have over 7500 songs in iTunes (95% from CDs), and I don't want to use my phone or pad for listening to music. But having still the A5 chip tells me to hold off as I want to be able to not have issues with compatibility when the iOS goes to 8, then 9, then 10, which will only work (or work properly) with A7+ chips like my iPadAir and my soon-to-purchase iPhone6. If later this year they release new iPods with an A7 chip and keep the new price point, then that's when I'll buy one. I also wouldn't be surprised if they also kiss the iPod Classic goodbye in favor of a new 128GB iPodTouch for $349 by the end of the year.

That red is gorgeous. Posted via the Android iMore App!

Makes me kind of sad: I was hoping they would do a A7/A8 model come iPhone 6 time. This says they're probably not going to spec bump the touch.

Not really sure if people still buy these like hot items that they once were. I can see kids using them but with the age of iPads and iPhones, there really isn't a need for one unless it's for portability.

Who needs these when you have iphone? Sent from the iMore App

I have to admit that if the iPod touch would match specs with the iPhone and add LTE, I would be all in to ditch my iPhone for and iPod Touch and go back to a dumb phone. I rarely talk on the phone and I would feel better knowing I still have all my apps, data, and iMessage capability and could leave my phone behind when I don't want to be bothered.

Same here. I rarely make calls, but they cost me $40 per month just to have the data access I want/need.

So now I wonder if I should get one now, or wait till fall to see what Apple does with the future of the iPod touch. I'm thinking of getting one again for all of my music and movies.

It would be great if the iPod could take on phone capabilities as I don't have an iPhone. Something like the Whatsapp - no data

Omg why won't they upgrade the processor already! I've been waiting to get a new one to replace my 4th gen touch for a couple years now and Apple simply refuses to put at least an A6 chip in it? This is very frustrating. I don't want to buy a new device with very old innards.

I think that if apple wants to keep the iPod relevant and go all in on gaming it's going to need larger screen size, the latest processor, and battery, battery, battery.

I am a fan of apple product but in my home they do not prefer me to apple so pls gift any ipod touch pls!!!! #3

Big fan of Apple and could use an iPod on my next trip.
Thank you for signing up to iMore. You will receive a verification email shortly.
There was a problem. Please refresh the page and try again.