Apple releases iOS 8.3 to the public with performance improvements, new emoji, and more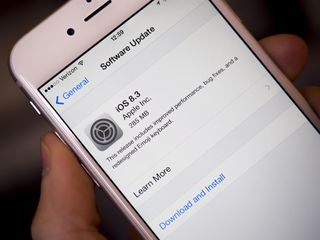 The third major update for iOS 8, 8.3 adds a number of improvements, including over 300 new and diverse emoji characters. Also added in this update are a number of performance fixes. You can check out the full list of changes below:
This release includes improved performance, bug fixes, and a redesigned Emoji keyboard. Changes include:
Improved performance for:
App launch
App responsiveness
Messages
Wi-Fi
Control Center
Safari tabs
3rd-party keyboards
Keyboard shortcuts
Simplified Chinese keyboard
Wi-Fi and Bluetooth fixes
Fixes an issue where you could be continuously prompted for login credentials
Addresses an issue where some devices disconnect intermittently from Wi-Fi networks
Fixes an issue where hands-free phone calls could become disconnected
Fixes an issue where audio playback could stop working with some bluetooth speakers
Orientation and rotation fixes
Addresses an issue that sometimes prevented rotating back to portrait after having rotated to landscape
Improves performance and stability issues that occurred when rotating the device between portrait and landscape
Fixes an issue where device orientation appeared upside down after pulling the iPhone 6 Plus from your pocket
Resolves an issue that sometimes prevented apps from rotating to correct orientation after switching apps in multitasking
Messages fixes
Addresses issues that caused group messages to sometimes split
Fixes an issue that sometimes removed the ability to forward or delete individual messages
Resolves an issue that sometimes prevented a preview from appearing when taking a photo in Messages
Adds the ability to report junk messages directly from the Messages app
Adds the ability to filter out iMessages that are not sent by your contacts
Family Sharing fixes
Fixes a bug where certain apps would not launch or update on family members' devices
Fixes a bug that prevented family members from downloading certain free apps
Increased reliability for Ask to Buy notifications
CarPlay fixes
Fixes an issue where Maps could come up as a black screen
Fixes an issue where the UI could be incorrectly rotated
Fixes an issue where the keyboard could appear on the CarPlay screen when it shouldn't
Enterprise fixes
Improves reliability of installing and updating enterprise apps
Corrects the time zone of Calendar events created in IBM Notes
Fixes a problem that could cause web clip icons to become generic after restarting
Improves reliability of saving the password for a web proxy
Exchange out-of-office message can now be edited separately for external replies
Improves recovery of Exchange accounts from temporary connection problems
Improves compatibility of VPN and web proxy solutions
Allows use of physical keyboards to log into Safari web sheets, such as for joining a public Wi-Fi network
Fixes an issue that caused Exchange meetings with long notes to be truncated
Accessibility fixes
Fixes an issue where using the back button in Safari causes VoiceOver gestures to not respond
Fixes an issue where VoiceOver focus becomes unreliable in draft Mail messages
Fixes an issue where Braille Screen Input cannot be used to type text in forms on webpages
Fixes an issue where toggling Quick Nav on a Braille Display announces that Quick Nav is off
Fixes an issue keeping app icons from being moveable on home screen when VoiceOver is enabled
Fixes an issue in Speak Screen where speech will not start again after pausing
Other improvements and bug fixes
Introduces a redesigned Emoji keyboard with over 300 new characters
iCloud Photo Library has been optimized to work with the new Photos app on OS X 10.10.3 and is now out of beta
Improves the pronunciation of street names during turn-by-turn navigation in Maps
Includes support for Baum VarioUltra 20 and VarioUltra 40 braille displays
Improves the display of Spotlight results when Reduce Transparency is turned on
Adds Italic and Underline format options for iPhone 6 Plus landscape keyboard
Adds the ability to remove shipping and billing addresses used with Apple Pay
Additional language and country support for Siri: English (India, New Zealand), Danish (Denmark), Dutch (Netherlands), Portuguese (Brazil), Russian (Russia), Swedish (Sweden), Thai (Thailand), Turkish (Turkey)
Additional dictation languages: Arabic (Saudi Arabia, United Arab Emirates) and Hebrew (Israel)
Improves stability for Phone, Mail, Bluetooth connectivity, Photos, Safari tabs, Settings, Weather and Genius Playlists in Music
Addresses an issue where Slide to Unlock could fail to work on certain devices
Addresses an issue that sometimes prevented swiping to answer a phone call on the Lock screen
Addresses an issue that prevented opening links in Safari PDFs
Fixes an issue where selecting Clear History and Website Data in Safari Settings did not clear all data
Fixes an issue that prevented autocorrecting "FYI"
Addresses an issue where contextual predictions did not appear in Quick Reply
Fixes an issue where Maps did not enter night mode from hybrid mode
Resolves an issue that prevented initiating FaceTime calls from a browser or 3rd-party app using FaceTime URLs
Fixes an issue that sometimes prevented photos from properly exporting to Digital Camera Image folders on Windows
Fixes an issue that sometimes prevented an iPad backup from completing with iTunes
Fixes an issue that could cause Podcast downloads to stall when switching from Wi-Fi to cellular networks
Fixes an issue where remaining time on timer would sometimes incorrectly display as 00:00 on Lock screen
Fixes an issue that sometimes prevented adjusting call volume
iOS 8.3 was the first version of the operating system to be added to Apple's invitation-only AppleSeed testing program. This meant that more users were able to test the update and send feedback to Apple before public release than previous versions. Hopefully, this practice will lead to more stable software going forward.
Apple has also released OS X Yosemite 10.10.3, which includes the new Photos for Mac app, giving you access to your iCloud Photo Library right on your Mac.
Joseph Keller is the former Editor in Chief of iMore. An Apple user for almost 20 years, he spends his time learning the ins and outs of iOS and macOS, always finding ways of getting the most out of his iPhone, iPad, Apple Watch, and Mac.
Not interested in in a non-jailbroken version of iOS until Apple adds a standard feature similar to f.lux. I just can't stand (and my eyes can't stand) the rigid blue hue of the screen nonstop. I want to adjust to my preferences.

Thanks for sharing Sent from the iMore App

Still no fix for that camera shutter sound bug?

When will Europe get apple pay ? Sent from the iMore App

When will Europe get correct Maps? Or Siri? iPhone has too low a market share in Europe, I guess, for Apple to care about their customers there. So, even basic OS features are not to be implemented -- which of course is only accelerating the market share erosion against Android.

I am not a beta tester .My Iphone4s was previously showing ios8.2 update with 227MB download.. Now it is showing 8.3 update of 297MB. When I try to download it is giving error message. Any one have this issue?? EDIT : I tried to update using iTunes and it is showing download of iOS8.2 , but still in iphone--settings--software update it is showing iOS 8.3

Kinda bummer that Siri didn't appear on Finnish. Guess it is in development;) other than that, seems good update. Sent from the iMore App

One day :) Posted via the iMore App for Android

iOS 8 works 99.% fine on my iPhone. I have even played with an iPhone 4s recently and it seems to have gotten much better as well, it is quite "smooth". Here is to hoping iOS 9 doesn´t break everything that finally got remedied in iOS8 8.

anyone notice the color of their display seems to be washed out? the color seems to have faded on everything like the screen is too bright. i've adjusted my brightness and cannot get back to the rich colors that i remember having before.

Color seems same here. Try a hard reboot? Sent from the iMore App

i did that, but it didn't change anything, it might just be me but i'd swear on a large stack of Bibles that it's different

I'm with you, mate. Although I kinda like the whole dim thing. But yeah, it's very noticeable.

Mee too. The background picture is alot brighter and hence it's loosing some color. I must say I don't like it (so far)

me too first thing i notice after the upgrade, especially the lock screen.

I have an issue with the colors being washed when looking at the notification center and some tweets in tweetbot. Its like the contrast will get lower and lower to the point where it everything is almost unreadable. Its also not something I can screenshot. Tried hard reboots and restoring the phone. Seems to be a software issue

Did the third party keyboard disappearing bug get fixed? Sent from the iMore App

I've read that safari is playing nicer with the 6 plus. Can't wait to try it out. Posted via the iMore App for Android

Was hoping for a fix on being unable to hear when initiating a phone call on the iPhone 6. Not sure about other models. But when making a call I can't hear a single thing although the person on the other end receives the call. I have to hang up and call again. This happens on both my Sprint and Verizon iPhone as well as my wifes iPhone 6 through Sprint so it definitely isn't an isolated one. It is nice they addressed the orientation issue though.

Happens to me any my wife too. First Apple has to admit it's a problem before we'll see a fix.

My question is when will Apple pay be in Canada? And another update? I swear I just updated to 8.2 maybe about a month ago and no complaints here but I guess there is always room for improvements

I know this might be to early. I see improvements for 3rd-party keyboards. Can anyone confirm this?

I'm just happy my screen doesn't keep going upside down on my six plus when I go into landscape. God I hated that. Sent from the iMore App

loading on my 5s as we speak. #LLAP

Supposedly battery life drastically improved with this update. Hope this is true. Posted via the iMore App for Android

I would love that too. Although I have no complaints on the 6 + . More battery life is always better.

No camera shutter sound fix?! JEEZ..... Sent from the iMore App

This is the first update I have done where it didn't turn ON bluetooth after the reboot. Cool.

Noticed the too. See? Pissing and moaning DOES solve problems! Sent from the iMore App

*thud*
That's me fainting from shock!! Even though tons of people don't care, it ALWAYS bugged the crap out of me! Haven't updated yet so this is good to know!! Btw, no sarcasm!!! I was really happy to read your comment!

Sorry just new to iphone. Ive read that there will be an update wherein i no longer have to enter my password for free apps. Is the 8.3 not it? I see the require password option for free apps on the settings menu but it is grayed out though.
Thanks! Sent from the iMore App

It only shows up if touch id is deactivated. Posted via the iMore App for Android

Go to settings >General>Restrictions> enable restrictions?toggle it off there, then disable restrictions and back out. That sets it on phones with no touch ID.

Does it remove the stupid iWatch application? Posted via the iMore App for Android

Nope. I've got mine hidden in a folder. Posted via the iMore App for Android

Don't like the new share /action sheet. All the icons seem too far apart. Not a fan of this modern UI design where everything has huge space in between. Sent from the iMore App

Does anyone else have the problem of no dictation in messages or SIRI after 3rd party keyboards are installed? I uninstalled all 3rd party keyboards when I found out dictation wasn't supported but both SIRI and dictation in messages no longer function. I have erased and reset my phone with no resolution. I was hoping this iOS update would fix it but it hasn't for me. Sent from the iMore App

Updated ota but lost all my music, no problem I can sync thru iTunes again but anyone else experienced this? iPhone 6 previously on iOS 8.2 Sent from the iMore App

Iphone6 out of box last night. Wifi does not recognize password from iphone6 at work (home wifi fine--all current Apple equipment). Work router is Linksys 5 yrs old. Allows 4s connection, says PW incorrect from iphone6 with iOS 8.3. Apple techs "confused" without resolution after >1 hr on landline. They deny knowledge of this issue. Come on, Apple, please own and fix!! Anyone with a work around?

Getting an error to hook up to a computer to have wifi sync work. Sent from the iMore App

That's not an "error", but a notification. To re-enable WiFi syncing, plug your iPhone/iPad into your computer via USB cable.

what if i already have iOS 8.3 (12f61) as a beta public tester? I checked for update it does show 8.3.

Did Apple improve anything? Wifi and camera -sound problems are still present! Sent from the iMore App

I've been experiencing erratic wi-fi syncing for a very long time. It seems that with 8.3 the problem is solved for me. Anyone else had the same experience?

I'm facing issues with the native keyboard after updating my iPhone 6 to iOS 8.3
• As typing alphabet/character, the preview of the typed key is freezing until I type the next alphabet. This is not happening with third party keyboard.
• After disconnecting voice call, the balance summary popup appears as usual but after tapping on the dismiss button, the popup doesn't go and moreover it turns dark & dismisses only after giving a second tap.
Is anyone facing same?
How to get rid of this? Sent from the iMore App

I found more information http://adf.ly/1EAIaz

I don't prefer over the air updates, I am trying to download the update via iTunes, my preferred way to do all iOS updates (less issues). I was away from home for a long day yesterday, tried today, and, when I started it said 93 hours remaining, now my connection to the server timed out, for the 2nd time. This appears to be on Apple's end, as everything else works fine, in fact, I reset the modem and router after the 1st time, just to be sure. It's surprising that Apple would put out updates for iOS & OS X on the same day. How can their servers handle all that traffic? I mean, iPhone 6 & + come out and they've sold over 100 million iPhones (in all) since (between Q4 2014 & Q1 this year).

Has anyone noticed a significant battery drain since the update? I updated today and my battery is draining way faster than normal. Sent from the iMore App

I'm not really feeling these new emoji. Before I didn't even worry about the color of the characters. They were just fun tools for texting. This whole politically correct nonsense is quite bothersome. Sent from the iMore App

I just updated via iTunes and it freed up ~2GB of storage space. Great!

The battery life on my 6 plus feels worse after the update. But the phone is much quicker! Feels like they clocked the cpu higher or something.

My iPhone 4S hasn't worked with wifi for as long as I can remember,done everything from resetting network settings to resetting my phone completely,so got myself a little excited when ios 8.3 was released stating that it would fix wifi issues,guess what nothing has changed!Apple need to get this sorted I like many others am going over my data and running up more expense
Wish I'd never bothered with iPhones,my next phone will be a samsung

i thought wifi greyed out issue was fix in this 8.3 released but nothing's changed ! Tsk
Thank you for signing up to iMore. You will receive a verification email shortly.
There was a problem. Please refresh the page and try again.