Apple Watch Hermès launches tomorrow, here's everything you need to know!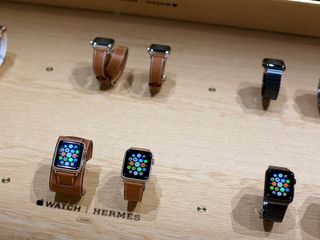 Apple Watch Hermès is Apple's first foray into direct fashion partnerships for the Apple Watch. It brings together the stainless steel and sapphire crystal Apple hardware with the luxury leather of Hermès into a combined collection of four unique pairings and a look that's both old world and cutting edge. If you're interested in Apple Watch Hermès, here's everything you need to know for the launch!
What's Hermès?
Hermès is a Paris-based fashion brand famed for its luxury leather. It was founded in 1837 by Thierry Hermès who made high quality harnesses and bridles for the carriage market. Over the years the company expanded into accessories and clothing and went international. Today Hermès has over a dozen divisions, including perfume, tableware, and jewelry, and has retail outlets in some of the most fashionable cities in the world.
So, why Apple Watch Hermès?
Apple says they partnered with Hermès because of parallel thinking, singular vision, and mutual regard. After launching with the 18K yellow gold and rose gold Apple Watch Edition back in April, it was evident Apple wasn't constraining the product to traditional technology models and methods.
Apple Watch Hermès is the next stage of that thinking. For people who are are interesting in Apple Watch, and appreciate brands like Hermès, it's simply going to be the Apple Watch they want to get, same as someone into performance activity will gravitate towards and Apple Watch Sport.
What's different about the Apple Watch Hermès hardware?
The Apple Watch casing itself is the stainless steel model, almost identical to the current Apple Watch collection. The only difference is Hermès branding on the back.
What kind of bands are in the Hermès collection?
The Apple Watch Hermès collection has three bands styles and several colors, but the details vary by size:
The Hermès version of the classic buckle.
42mm: Fauvre (brown), Noir (black).
38mm Fauvre (brown), Noir (black), Capucine (red).
The classic buckle made long enough to wrap around twice.
38mm: Fauve (brown), Etain (gray), Capucine (red), and Bleu Jean (blue).
A nod to the equestrian heritage of Hermès, the cuff is almost as much bracer as band.
Can I buy the Hermès bands separately?
Alas, no. Like Apple Watch Edition, they're currently only available with a watch as part of the collection.
Are there any software differences? Special clock faces?
Yes, but yes! The difference, like the Edition, is special clock faces designed by Apple based on Hermès branding. You get all the standard Apple Watch clock faces, of course, as well as the ones unique to Apple Watch Hermès.
How much does Apple Watch Hermès cost?
Apple Watch Hermès is at the highest end of the Apple Watch (steel) range, at least for now.
Single Tour: $1100
Double Tour: $1250
Cuff: $1500
When does Apple Watch Hermès launch?
You can pick up an Apple Watch Hermès starting Monday, October 5, 2015 at select retail locations in select cities.
Retail only, no online?
No online, sadly. If you want an Apple Watch Hermès at launch you'll have to be in one of the launch cities or get a friend in one of those cities to pick it up on your behalf.
Which cities and what locations will have Apple Watch Hermès at launch?
Apple has announced the following cities and locations for Apple Watch Hermès:
Los Angeles
Apple Store, The Grove
Apple Store, Third Street Promenade
Hermès, North Rodeo Drive
Maxfield, Melrose Avenue
Miami
Apple Store, Aventura
Apple Store, Lincoln Road
Hermès (starting November 6)
New York
Apple Store, Fifth Avenue
Apple Store, SoHo
Apple Store, Upper East Side
Hermès
San Francisco
Apple Store, San Francisco
Apple Store, Stanford
Hermès
Toronto
Apple Store, Eaton Centre
Apple Store, Yorkdale
Berlin
Apple Store, Kurfürstendamm
Hermès
The Corner Berlin
Genève
London
Apple Store, Covent Garden
Apple Store, Regent Street
Apple Store, Selfridges
Dover Street Market
Hermès, New Bond Street
Milan
Apple Store, Fiordaliso
10 Corso Como
Hermès
Moscow
Munich
Hermès
Apple Store, Rosenstrasse
Paris
Apple Watch at Galeries Lafayette
Apple Store, Opera
Apple Store, Carrousel du Louvre
Hermès, rue du Fbg St Honoré
Hermès, rue de Sèvres
Colette
Zurich
Apple Store, Bahnhofstrasse
Hermès
Beijing
Hermès
Apple Store, Sanlitun
Apple Store, China Central Mall
Apple Store, Xidan Joy City
Chengdu
Apple Store, MixC Chengdu
Hermès
Hangzhou
Hermès
Apple Store, West Lake
Apple Store, MixC Hangzhou
Hong Kong
Apple Store, ifc mall
Apple Store, Causeway Bay
Apple Store, Canton Road
Hermès
Osaka
Apple Store, Shinsaibashi
Hermès
Seoul
Hermès
Shinsegae, Boon The Shop
Singapore
Hermès
Malmaison By The Hour Glass
Shanghai
Apple Store, Nanjing East
Apple Store, Pudong
Apple Store, Shanghai iapm
Hermès
Sydney
Apple Store, Sydney
Apple Store, Bondi
Tokyo
Apple Store, Omotesando
Apple Store, Ginza
Apple Watch at Isetan Shinjuku
Dover Street Market Ginza
Hermès
Okay, I just got one, what do I do next?
Go right here:
Rene Ritchie is one of the most respected Apple analysts in the business, reaching a combined audience of over 40 million readers a month. His YouTube channel, Vector, has over 90 thousand subscribers and 14 million views and his podcasts, including Debug, have been downloaded over 20 million times. He also regularly co-hosts MacBreak Weekly for the TWiT network and co-hosted CES Live! and Talk Mobile. Based in Montreal, Rene is a former director of product marketing, web developer, and graphic designer. He's authored several books and appeared on numerous television and radio segments to discuss Apple and the technology industry. When not working, he likes to cook, grapple, and spend time with his friends and family.
Only a special kind of fool would buy an Hermes bag, and this is no different. My advice is to save money by writing the word "idiot" in block capitals on a small piece of card and then tape that card to your forehead. This will accomplish the same thing as purchasing an Hermes band for your Apple Watch.

Why do you feel the need to bash someone if they choose to purchase this style? Is it really worth your time and effort to post such a comment to put down another individual? Sent from the iMore App

This is all she has in her life... leave her be. Sent from the iMore App

The appropriate avatar used is appropriate.

At this very moment, there is an Android fan writing the *exact* same comment on another blog... except he's using the word "iPhone" instead of "Hermes bag".

What is your hobby that you spend thousands of dollars on? Video games? Computer hardware? Modding your car? And people who buy Hermes bags? Are you an idiot if you spend 200 bucks on a nonessential luxury item? Well, at their income scale, that's what they're spending.

THE ARTICLE ON APPLE WATCH HERMES TO BE RELEASED TOMORROW IS VERY INFORMATIVE AND WE , THE INDIANS ARE LOOKING FORWARD TO, SEE THE V - DAY OF APPLE WATCH IN INDIA AT THE EARLIEST.

Please stop shouting. Sent from the iMore App

There's nothing we *need* to know about this.

I hope they will sell these bands separately at some point. I would have bought one of these over the steel model I have, but I certainly do not need a second identical Watch.

If you care about this product, you are a very shallow person indeed.

Whatever. I'll just get a shell cordovan watch band for my sport.

Thank you for bringing up that watch band brand, looking at them now.

Hope we could get same watch face to all Apple Watches. Sent from the iMore App

Well it's about time! I've been leaving comments all over the place to no avail! The Hermes faces are the first full screen (not circle in square), elegant, traditional looking analog offerings for the Apple Watch. If Apple doesn't offer similar (they must have dozens if not hundreds of designs) faces to the millions of faithful purchasers who bought a "luxury time piece" they have made suckers of everyone (Mickey Mouse for you!). But I too am hoping they do the right thing. To make a current Apple Watch owner buy a second watch to finally get a grown up face would be loathsome of them.

I think it's interesting, technologically, that it has special watch face. Also didn't know the Edition has a watch face not available on other models.

My wife's in a small line at Galeries Lafayette right now, messaging me. Double Tour coming up, I believe. Her SBSS will be her work/uniform watch. Sent from the iMore App

It's still not an authentic Hermes, I wouldn't buy it.

Here is what you really "Need to know"- What a disastrous launch for the Hermes Apple Watch is. First the staff on the apple store main number for the NYC 5th Avenue Apple Store- tell me it's goes on sale at Midnight on the 5th Ave store that is open at 9am. Wrong- really at 9am Monday. Then I go to the store at 9am only to be told that they do not have all the watches in stock- specifically any of the Double Tours at any NY location and that they will not take info for a wait list nor be able to tell me when it may be in stock. Huh? What?? If you are going to not allow advance ordering and be limited to only a few locations how do you do that?? Be respectful of people's time, energy and MONEY! I then went to the Hermes store and after waiting for them to open- they first tell people that have everything in stock to only then wait some more to be told that actually do not have them either! What kind of launch is this? The worst part is that no one at the Apple Store had a clue about anything (like they didn't even know the prices of the watches without looking it up) and then to not take a wait list for at least wasting ones time. At least Hermes was professional enough to take contact information for when they have more information on the missing stock (but they would not let you buy it in advance). Apple- if you want to be a part of the "luxury" market- you need to step up the customer service and not treat your loyal customers so poorly- it is all part of the "Luxury" mantra.

Had the same experience at the store at The Grove in LA. Didn't get any double tours in stock and had no info. Also called apple and it looks like they didn't get any at the 3rd street location or the South Coast Plaza location. I get it, but couldn't they have said which ones were going to be available where?

Correction above - the 5th Ave store is open 24/7 hence the the midnight reference.

IoooqAQqqqqwqqqqQqaAqqqQqaJuly sà Sent from the iMore App
Thank you for signing up to iMore. You will receive a verification email shortly.
There was a problem. Please refresh the page and try again.