Apple Watch Sport with Milanese, leather, and link bands, in photos!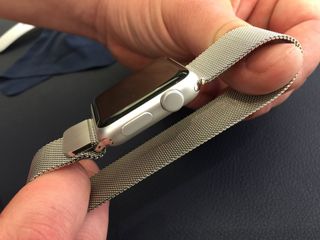 One of the biggest questions we have been getting asked is how the Apple Watch Sport looks with the bands from the stainless steel Apple Watch collection. The answer is going to be highly personal, but in an effort to help you decide for yourself, I went to my local Apple Store, tried out as many of the combinations as possible, and took photos to help you decide. So, if you ordered an Apple Watch Sport and have been debating whether or not to get extra bands, and which, here's how they look!
Milanese Loop
The Milanese band is made of woven stainless steel all around. Serenity has already shown you several photos of what it looks like on the silver model. Here are some more, and some with the space gray case.
Milanese + Silver Sport
Milanese + Space Gray Sport
Link Bracelet
The Link bracelet comes in both silver stainless and space black stainless. Unfortunately, our local Apple Store didn't have the space black variant available for try-ons. I was, however, able to try the silver bracelet on with both the silver and space gray Sport cases. The sides stand out about the same as they do with the Milanese band. Since the Link Bracelet has a different finish, however, the look isn't the same.
Link Bracelet + Silver Sport
Link Bracelet + Space Gray Sport
Modern and Classic Buckles
The Modern Buckle is available only in 38mm and comes in black, midnight blue, soft pink, and brown. The clasp at the back and the pins on the top and the bottom of all four versions are stainless steel. The Classic Buckle is available in 38mm and 42mm but comes in black only, at least for now. The main difference between the two, aside from the color options, is the way the clasp functions. The Modern Buckle is magnetic while the Classic Buckle uses the traditional hole and pin method.
I tried the Classic Buckle with both the space gray and silver Sport case. It looked fine since the only stainless steel you see are the pins and clasp. At a close distance, you can tell. From a few feet away, you wouldn't know. The clasp on the Classic is slightly smaller, so expect to notice that less than the rear clasp on the Modern Buckle.
Classic Buckle + Silver Sport
Classic Buckle + Space Gray Sport
Leather Loop
The Leather Loop is only available in 42mm but does not have visible stainless steel pins or clasps. That makes the Leather Loop the most versatile band option for any watch, regardless of collection. If you don't want to mix an aluminum case with a stainless steel band, but you still want more 42mm options, the Leather Loop is for you.
Corrosion and other concerns
There's been some concern about whether or not combining aluminum and stainless steel will lead to corrosion. While I can't give you a definitive answer right now, based on my past experience with Apple's metal products, I don't think it will be a problem. The company has always used a high quality hard anodize with no dye (think a durable clear coat) on their bare aluminum products that acts as a sealant from weather, scratches, and other environmental hazards. The Apple Watch is no exception. While time will really tell, my gut tells me that using a stainless steel band with an aluminum case isn't something you should be worried about.
Your favorite pairings?
If you're planning on picking up a an Apple Watch Sport, do you plan on buying any of other non-sport bands to go with it? If so, which ones? And did any of the above photos change your mind about how they look?
Get the best of iMore in in your inbox, every day!
iMore senior editor from 2011 to 2015.
Great article, and I think these all look rather excellent. I also think people buying the watch should be thinking of getting multiple bands for it regardless of the model you purchase. The problem I have is only with what a person is "saying" or communicating to others by wearing an Apple Watch Sport with a band intended for the Apple Watch. For the most part the bands cost multiple hundreds of dollars. What's the point of saving yourself a measly hundred or hundred and fifty dollars on the watch itself, if you are going to pair it with a band that costs so much more? If you can afford to buy the Sport Watch and the Milanese Loop, and possibly even other bands as well, what exactly is the problem paying a little bit more for the actual Apple Watch? It will look better, function better, last longer, and have a larger resale value. All for less than the price of some of these bands.

Personally, I'd rather spend $800 on a Sport and 3-4 bands over $1000 for a Watch and 1-2 bands. More options, lighter watch core, and for someone like me — who will likely replace next gen — cheaper overall investment.

Serenity: I agree completely - well, with one caveat - I just can't see putting a band on a watch that costs $100 more than the watch (the link band). I really love the look of the link band, but that's a bit over the top for me. Allyson: Thank you so much for the hard work - believe a leather loop is in the future for my space gray sport. Gazoobee: please stop looking down your nose at those of us who choose the Sport model (you do it at all the sites you visit) - it doesn't make us inferior; maybe just frugal and cautious with V1 of an entirely new tech product.

To each their own of course. Some of the bands shown are more expensive than the Watch was more my point. I have trouble understanding why anyone would go with the Sport when the actual Apple Watch is so much better and for such a small increase in price, but everyone is different and has different needs.

I went with the sport model because I assumed I'd be replacing it after 3-4 years and like Serenity I'd rather use the $150 difference (Canadian) for bands

I think the straps will work with the next 3 or 4 generations of the watch, so it does actually make sense to invest in the strap, and get the cheaper watch for now.

Gazoobee.. you are apparently under the false impression the Apple Watch is faster or better in some way than the Apple Watch Sport. The only difference (ONLY) is the material it's made from. The Apple Watch is made from Stainless Steal and the Sport is made of aluminum (to be lighter). The internals and dimensions are identical.
In fact, I find it crazy anyone wants to spend several hundred extra dollars for stainless steal. Remember the iPod Touch when it what a stainless steal back? Those things were scratched beyond belief within 2 days, even with a case.
Even if the Sport and Watch we're the same price, I'd still go with the lighter weight aluminum.

Different materials sometimes make different function though, and I don't think the materials can be divorced from the product as a whole. The steel watch has a better weight on the arm for instance, and so "feels better" if nothing else. The sensor pack is designed slightly differently on the back of the steel watch as opposed to the aluminium one as well. The metal surrounds on the sensor lights are definitely there for some reason other than just "looks" so it's a fair assumption that there is a function difference there however slight. Zirconia crystal, aside from being much harder than the plastic back on the aluminium Sport model, is also much more radio transparent, so in theory it could also charge slightly faster. The thing is that we don't know any of this for sure, so you telling me that I'm wrong has about as much weight as my supposings that there will be functional differences. In fact, your argument has less weight due to the simple fact that there *are* differences, so the assumption that these differences might affect function is more parsimonious of the facts. My main thing is that the price difference is really quite small relative to the overall price of the watch, and the price of the bands. The steel watch is clearly a lot better than the aluminium one, so trying to save what is basically just the cost of a meal or less than the cost of a ticket to a sports event by getting the "cheapo" version, just seems like a classic "cutting off your nose to spite your face" kind of thing to me. As always just my opinion. Everyone has a different view.

Gazoobee
I also forgot the Stainless Steel version has a saphire glass display while the Sport does not.
Like I said though, i like Apple aluminum... the only thing I've seen Apple do Stainless Steel (back of old iPod touches) was done terribly.
I get my Sport in 4 days. Just went to "Preparing Shipment", hopefully they all are awesome. Haven't even seen one yet.

Woooow, I had to create an account just to call you out on your post. You're really grabbing at straws now aren't you? Why waste your time? "The metal surrounds on the sensor lights are definitely there for some reason other than just "looks" so it's a fair assumption that there is a function difference there however slight." So, you are just assuming that "function difference" is "better" on the stainless version? It is simply a DIFFERENCE! Who's to say the aluminum build version isn't the better option? You have no idea what the purpose of these "metal surrounds" are, but they must be better on the stainless version right? I would also like to see how much faster the CZ back charges VS. the plastic. Are you serious?? HAHAHA, I am honestly laughing at your credibility right now. IF, in fact, the CZ was faster, would that 2-3 seconds make a difference in your life? So, You still haven't proven how the stainless version is "BETTER" If I were you, I would have used proven Apple FACTS - The stainless body is much more scratch resistant, the sapphire face is much more scratch resistant, DONE. But your absolutely idiotic assumptions without any backup just made you look like a fool. Apple said it themselves, the stainless version is a status symbol for those who do not want the "cheapo" model. Thats all you had to say. And, let it be known, I own an edition model so I am not bias to either sport or stainless. I simply go on facts and you, my friend, have none that make any sense.

I agree, I will probably buy the Sport with an extra band . And I might wait to see if any of the custom colors seen "Milan Design Week" are released. I believe Red will happen, and I think a Red Sport Band w/ Space Grey Sport or Black Stainless will make a great combination.

My wife and I went to a try on appointment and my wife preferred the weight of the Sport compared to the Stainless Steel model. She didn't like the fitness bands though and preferred the more expensive leather bands.

Interestingly, a stainless steel with the leather loop is only a few grams heavier than a Sport model with the Sport band.

The sport band is almost 50 percent heavier than the leather and the stainless steel 38 mm is 40 grams compared to 25 for aluminum? that's a bit more than a few grams.

It depends which sport band- different colours have different weights (believe it or not!)

The 42mm Sport with green band is 78 grams. The 42mm stainless steel with medium leather loop is 80 grams.

That's what I was thinking. If you buy the Apple Sport with an expensive band, you might as well just pay a little more to get the Apple Watch. Sent from the iMore App

Except that you can keep the bands when the 2nd gen comes out. I'm putting my money into the longest-lasting aspect of the Watch. If it's anything like the iPad or iPhone, the second gen will be a huge leap.

Just to play devil's advocate though, if the bands are going to fit the first few generations at least (and most assume they are) then Apple will probably be selling the second and third generation watches without bands, because it would be a rip-off otherwise if you already have hundreds of dollars worth of bands, to be forced to buy another one you don't need. Although ... Apple hasn't exactly been nice or reasonable to it's customers lately in exactly this area so who knows?

Here we are one year later and a series two release. How'd that assumption work out for you? That's like Apple selling new generation iPhones without headphones because you should already have them from your previous phone 🙄

But you can't buy the space black stainless steel except with the link band - an $1100 proposition - so you see, those of us who like the darker color are getting one heck of a bargain (half-price) with a space gray Sport and leather loop - $550 out the door and I get two bands to boot. A win-win to thiw wallet.

I did exactly the combo that you mentioned, Sport Watch and Milanese Loop separately. The "problem" is that I don't think the Stainless Steel watch justifies the extra $200 (that's the price difference in Canada) given that this is a Gen 1 product. Since I'll be upgrading in a year to the (likely far superior) next gen watch, the extra $200 now is a waste. Plus, I'm hoping I'll be able to re-use my Milanese Loop on the next watch too, and if that one ends up being the significant upgrade I think it'll be, it might be worth getting Stainless Steel at that time.

Looks cheap. I think I saw a similar watch at Walmart for $29.99 Sent from the iMore App

I would love to get the link one with my watch.

That just does not look good. Posted via the iMore App for Android

Great article. I don't think the aluminum watch looks good in the steel variants. :/ I just wish Apple gave us a gold link bracelet. :) Sent from the iMore App

Oh wow, can you imagine what an Edition with gold link bracelet would go for (is six figures even possible?)

I think I'm going to stick with sport bands, just get several colors. I've heard nothing but great things about their quality.

How difficult are these to swap out? Do you need a special tool?

You can switch bands super easy with no tools just your fingers for the most part.

Tiny buttons on the watch, press and slide out. Super easy. Also, the stainless steel link bracelet has similar buttons on several of the links so those can be removed without any tools or much effort to shorten or lengthen the bracelet. I'm a watch guy and I've never even seen anything that awesome, as far as bracelets go, from $1000+ Swiss watch bracelets. A Rolex bracelet isn't as nice and will cost you over a grand. So the folks who get all worked up about the $450 price tag of the Apple link bracelet simply haven't a clue as to how much stuff like this costs.

Although aluminum looks great on Macs and iPhones, I don't feel it looks right on the Apple Watch. That's why I cancelled my silver aluminum Sport and instead ordered the stainless steel model. Sent from the iMore App

Yeah I was on the fence about which one but once I saw them in store I went to stainless steel. If fitness was my focus for purchasing one I would have went with aluminum no problem.

Thanks, Allyson! This is very useful information. I may not buy another band for the Apple Watch Sport I purchased myself (unless I get a really nice royalty check), but I can now put a Milanese band on my birthday and holiday gift lists for those who want to buy me a nice present!

I want a RED sport band on my space grey Sport model. That will look great. There was a red flouroelastomer band in one of the photos from Milan, so I'm hoping that's on it's way for real.

Agreed. My ideal combo. Tempted to try the pink band. Doesn't look as PINK as the iPhone 5C; seems a little softer. Might be worth a go. Sent from the iMore App

So with you on this! Black (space gray) with a Product (RED) leather or sport band would be AWESOME!

I think I'll be sticking with the strap that comes with the Watch until the adapters for normal straps are more widespread. Then I'll take it from there but probably end up getting a custom strap made (for less than the Apple leather straps cost).

I worry about those "traditional" bands a bit though. The last time I wore a wristwatch regularly was a long time ago, but I remember losing a couple of watches because of that crappy pin mechanism. I would just get home from a long ride and notice my watch had gotten stripped off at some point without even feeling it. It's also worth considering that the Apple Watch is heavy, and the pin-type watch band connectors are not necessarily designed for that weight. I'm going with the Apple Watch bands because I like the look of the connector more, but safety and engineering are also a concern.

Watch Sports are only about 30g aren't they? That's really not much. Way less than regular watches.

I too have a small interest in how well the closure pin on the sport band will hold up. The sport band is optional with either model though. The Apple Watch (42mm) weighing 50g, and the Edition (42mm) being 69g. It gets heavy lol.

Well I'm getting the regular Apple Watch which is heavier, but I'm just saying it's a concern. You're putting your entire Apple Watch on the line, and the pin is a tiny spring loaded piece of steel (1mm or so wide) made by "some guy on the Internet" that has no track record. I would wait for replacements that fit Apple's mechanism myself.

Darn. you missed the only combo I was interested in. The silver colored sport watch with a black sport band. The apple store I went to wouldn't allow me to swap bands. It's silly that I have to buy the silver watch and spend another $50 on a black sport band but in my mind silver and black compliment each other much more nicely than space grey and black.. I just wish I could see it before I buy!

Have you checked out mixyourwatch.com? I've enjoyed mixing and matching. I'm surprised Apple didn't make a similar web app but I think they're sticking to their collections rather than confuse customers about what combinations you can actually buy

I have. The problem is that the pictures are so perfect it looks almost like cgi and you don't get a sense of how it looks in real life. You get a better sense with the pics here on iMore! It's not a big deal, I'm pretty confident I like silver sport with the black strap... but I still want to see the pics of them together!

I'm also getting the black band since I like the contrast and it does seem odd that you can't get that from the get-go for the sport but I guess it's their way of suggesting that you should get the steel. I wish they would have been more clear about the "collection" aspect in the first presentation since they did make it sound like you could mix and match any face and band when ordering.

Glad to know I'm not the only one who thinks silver goes better with black than grey! I would have preferred if you could just go online, choose your watch-type (silver alu, space grey alu, silver steel, black steel) and then when you select the watch-type you want, you could choose from a list of compatible straps (or no strap). I would have called gold "special edition" instead of "edition" and have those ones done differently. I just think it's far more confusing the way they did it - but what do I know. I didn't put much thought into it.

I had also assumed that the purchasing process would let you select a watch type and band but I wonder if that's a logistical nightmare for the first version. I know I would be crushed if I would have gotten shipped a box with a watch and then had to wait for a band.

I agree with many of the comments above; a lot of people buying the Sport (including me) are doing so for the price. There is no point buying one the expensive bands. If a third party makes a strap that matches the Space Grey Sport model I will buying one in a flash.

I'm getting the Black Apple Watch Sport and hopefully they release the black stainless steel link bracelet soon as I think that will look better than the silver aluminium/silver stainless steel combination. Sent from the iMore App

I like thisspace grey! I hope it makes its way to the next iPhone Sent from the iMore App

I prefer the sport watch satin finish over the steel polished mirror. It's a more humble look that doesn't call out for attention.. It's also almost half the weight of the steel. Add that to the fact that steel blocks wireless signals and traps heat - makes me feel like the aluminum should be the more expensive material! Steel may last longer and be stronger, but the aluminum is plenty strong and the battery will go long before the aluminum does.. The only metal I would pay more for over aluminum is Liquid Metal.

Tried the Space Grey 42mm sport with the black leather loop. Def the combination I'm going for. Looks great IMHO. Roll on Friday. Sent from the iMore App

The Space Grey Sport looks terrific with the Blue Leather Loop. It's my favorite combo. Unfortunately, I'm planning to get the 38mm version for my little wrists, and Apple isn't offering the Leather Loops in 38mm size. I hope they do!!

Yikes. The different metals don't look good, to me. However, if this is what people wish, so be it. I prefer to purchase bands made for the specific model I own.

"What do you think?" Not my style really. But people should buy what they like and enjoy. Personally i think they look cheap. But then again i don't like square watches and prefer a more traditional dress watch so i'm not exactly the target market.

One of my friends collects expensive watches and they are mostly square in shape. I thought they look strange at first but after seeing them for such a long time I got used to the shape. I first thought it looked weird but after looking at some of the android wear options that are round I understand why they went with the square option.

But the Apple Watch is rectangular, not square, like traditional watches I've seen.

Avid watch collector here and future Apple watch owner. Just had to add that I own quite a few rectangular watches ie Nooka & Nixon. Love em. 38mm is the average size of them as well

..and thank god for the 38mm size. The 42mm looks too big for my taste!

I want to see what all the fuss is in regards to galvanic corrosion with the aluminum and steel since people will mix and match.

I have had 2 seperate fittings in the apple store - the first time i was told that there was no issue mixing the space grey strap with black leather loop, but other bands where not compatible - the second time (today) i was told adamantly that the steel metal clips WILL corrode with the aluminium sport watch.....it looks excellent too. so im not sure whether or not to risk it or to by the steel watch with the leather loop, either way, the leather loop will be mine.

That's an issue with raw aluminum and steel, but the watch is anodized aluminum which should not have a problem. That's how they manage to put stainless steel handles on anodized aluminum cookware.

i had a long chat with an apple specialist online. he also confirmed that it WILL (not can) corrode.
im not sure whether or not to believe them. But there are only 3 real options, it either does corrode OR they are saying it will in hope that people buy Steel OR they are covering thier backs if people ask them and they arent sure if it will or not. im not sure if i want to risk having a corroded watch

That's reasonable. I only wanted to add a leather loop, so there shouldn't be a problem. But they don't seem to make different sport bands for each watch version, so the metal parts of the of the lug are either coated or made of a neutral metal. (I'm not suggesting the same is true of the stainless bands).

the sports band lugs are plastic and sadly the leather loop has a steel lug, this is the option that i enquired about, i have seen it detached in store also. sadly apple seem to have made all options unusable without risk of corrosion

I wouldn't worry about this too much. The corrosion process takes many years between these two metals, and is reduced drastically with stainless steel coatings and anodized aluminum. I'm thinking Apple reps could be just telling you this as a scare tactic to just sell you the SS. http://www.aluminiumdesign.net/design-support/aluminium-corrosion-resist...
If you read the chart in this link, you'll see that the only problem that could arise is saltwater locations, so maybe switch out bands when around the ocean. I figured if Apple is on annual upgrade cycle, I will be too, so long term I could be making the jump to a SS anyway and keeping my SS bands. Wouldn't worry too much about it folks.

Man I'm liking the look of that space gray. I'm glad I ordered it. Too bad it's not coming until the middle/end of May, but I guess I should consider myself lucky it's not July or something. I'm not really digging the steel watch bands on it though. The black leather is ok. I'll probably be giving the extended battery bands a lot of attention anyway.

Great review. Did not realize that the Sport watch came in space grey also. Like the combos used in the space grey. But I will still go with the Apple watch and a link bracelet and modern buckle.

Something didn't look quite right with the sport and the Milanese loop. It's like, you can't quite get away with wearing two slightly different shades of a color without it being obvious they just don't match. For me it'll be classic or modern buckle. But I can't settle my mind on the longevity of these bands for future models. How long until they aren't compatible with the next models?

I believe band compatibility is one of the features that will remain consistent for a while to come. As the watch hardware gets updated, being able to still use bands you've invested in becomes all the more important. And I think Apple recognizes that. As with any tech device, people will be upset when Apple Watch 2 is released and is a step up from their first gen., but having bands transfer from one generation to the next will help ease that pain.

I'm as big an apple fan as I know, but when have they ever cared about how quickly they render something obsolete? It's just more money in the bank for them if the watches need new bands! Would there be backlash? Sure, like there was between iPad 3 and 4 only 6 months apart: it'll die off and people will buy them anyway.

I think the silver bands and latches with the aluminum watches look downright ugly. I wouldn't do it even though Iike an aluminum watch better than steel. Just my 2 cents.

I agree. That's one of the reasons I ended up going with the SS (with black sport band, for now). It seems to open up more band options. Had I gone with the Sport (silver), I would have opted for a combination of a black sports bands and a nice leather band. I can't get past the mismatched aluminum/steel look.

Thanks for pairing the space gray Sport with the Milanese Loop - the combo I ordered. I've gone back and forth so many times on its appearance! But glad to see that, from normal viewing distances, it looks fine IMO - maybe even a little badass! If I've learned anything lately, it's that you can't go by anybody's renders - you have to see them in person! Or at least real life photos.

I went with the Steel watch and a black band. I tried out the sport models, but I was drawn to the watch by the materials and the weight. I like heavy watches. As far as combos go, I'm still waiting for high quality third party bands to come out. A big question I forgot to ask is..."Does Applecare cover the bands?" Many times link bracelets stretch. Or the clasp mechanism starts to open to easily. This is the most expensive watch I have ever purchased, so I don't know if expensive link bracelets also suffer from stretching and clasp weakening. I do want to get a dark green sport band. Eventually I would like a link bracelet too. But I don't know if the price is worth it.

I'd worry more about the Digital Crown breaking. In the Daring Fireball podcast, the reviewer Joanna said her crown broke.

These Apple product reader sections are fascinating reading. Sent from planet earth

Those pictures make me glad that I purchased the steel. I think those bands on the aluminum, with a couple of exceptions, looks awful.

The very notion that a person has to mix & match stainless steel bands on an aluminum body has to be made from the presumption that FASHION is just as important (if not more) than FUNCTION. Objectively speaking, when it comes to jewelry; aside from coast of entry, there's no medium where the Apple Watch Sport is better than the Apple Watch...NONE. The Apple Watch has a more substantial look and feel, better durability, made out of much higher quality materials, is likely to have a higher resale value, will be the model that the general population will aspire to have & has no other drawback aside from PRICE. By the time you load your Apple Watch Sport up with Apple Watch bands you could've purchased the overall better product. Let's not kid ourselves, the ONLY reasons to buy an Apple Watch Sport over an Apple Watch is for price, anything else will just be made to coincide with this objective truth. Sent from the iMore App

Well, I see, your opinion is just a fact. Of course, many people may be buying the space grey sport because it is low key, non-flashy, and they prefer the dark case. But of course, you're right, there is no reason at all except price.....
If you don't want a highly polished stainless steel finish, that's a legitimate fashion choice. Just because YOU favor the stainless finish doesn't mean objectively that everyone else should as well.

Space Grey looks better with the Milanese than I thought it would, but the stainless link not so much for my taste. As usually great coverage on the  Watch, it just proven it is the most personal Apple product yet.

Space grey with black leather strap!! Sent from the iMore App

So nice to see the pairings I can afford! I really hate the look of the leather loop, and the feel of the sport band, but I can't justify shelling out for stainless steel. (The main reason I even got an Apple Watch is to film videos making fun of how terrible dating app notifications are, and showing people how to turn them off or make them manageable. No Editions for me.) I just backed an Indiegogo campaign for an adapter that will let you pair regular watch bands with Apple watches. However, the aluminum sport color is so light that I worry I won't even be able to find regular bands whose hardware looks good. I'm pleasantly surprised by how not-too-terrible the Milanese loop is with the lighter sport face. I mean, not great, but not as ugh as I thought. I may go that route. Sigh. :) I SO wish they had Modern Buckles for the bigger face size!
Thank you for signing up to iMore. You will receive a verification email shortly.
There was a problem. Please refresh the page and try again.