Apple will replace AirPods with dead batteries for less if you use the proper word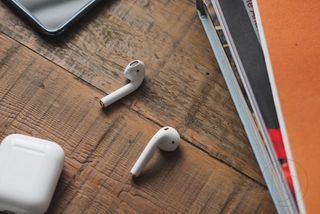 (Image credit: iMore)
What you need to know
A new report from The Washington Post outlines a possible way of getting AirPods replacements for much less.
The report focuses on dead batteries of AirPods and suggests that if you use the phrase "battery service," Apple will replace the each AirPod for $49, though that doesn't include the case.
That beats paying the full $159 price for brand new AirPods.
When Apple designed AirPods, it wasn't with repairability in mind. In fact, the batteries of AirPods cannot be replaced. So what happens if your AirPods batteries die? That means you have to buy brand new AirPods, right?
You do, but it can be much cheaper if you play it right.
A new report from The Washington Post reveals that if you take your dead AirPods to an Apple Store and mention a specific word phrase, Apple will replace them at significant reduced price than buying new ones.
Per the' report, the battery case of AirPods will last much longer than the earbuds, making replacing those a priority. If you take them to an Apple Store and mention the words "battery service," Apple will replace each AirPod for $49. That comes out to getting new AirPods for less than $100 as opposed to buying brand new ones for $159 (opens in new tab).
WaPo also points out Apple has no way of testing the battery health of AirPods. If they are not working, it'll just assume they are dead.
Apple was contacted for the story but its statement wasn't anything revealing.
If you have an older pair of AirPods and their battery has given out, it might be worth of shot to take them to an Apple Store and use the "battery service" phrase.
But if you have a newer pair, it's best to get the $29 AppleCare+ Apple offers for them. That eliminates all of the gray area surrounding discounted repairs.
what a load of BS from wash post, I hope writers here do a bit more research before reposting sensationalist non-news like this. the battery service info is public ever since AirPods release in 2017, there's no secret code or tricks or "play it right"... https://support.apple.com/airpods/repair/service so Geoffrey A. Fowler wrote a click bite title, was deceptive about having a "trick", and absolutely no news worthy information, nada. Please do the right thing and update with a correction!
Thank you for signing up to iMore. You will receive a verification email shortly.
There was a problem. Please refresh the page and try again.