Apple the reason Google is beating Bing, according to Bing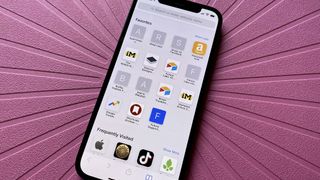 (Image credit: Future)
Bing has become a laughing stock over the last few years, and a recent report suggests it is Apple's fault — although the accusation comes from an unlikely source.
During the ongoing United States antitrust case with Google, Microsoft Chief Executive Officer, Satya Nadella, claims that Apple's relationship with Google's search engine unfairly saddled Bing as the runner-up in the search engine race.
According to a recent report from the Wall Street Journal, by making Google the defacto search engine, Apple has cemented patterns that many consumers will not opt out of. Nadella went on to say "you get up in the morning, you brush your teeth, and you search on Google. With that level of habit forming, the only way to change is by changing defaults."
He may have a point — iMore's Take
This is part of a bigger story about how Apple almost bought Bing that we reported on earlier this week. In defense of Apple preferring Google, Eddy Cue, Apple's Senior Vice President of Services, stated "We make Google be the default search engine because we've always thought it was the best. We pick the best one and let users easily change it." He further clarifies "Certainly there wasn't a valid alternative to Google at the time."
Microsoft and Apple's statements align, although the two companies come at it with different takeaways. One sees it as a good business move — you want to use the best search engine and provide the best experience to your user, so you lock it down. The other sees it as more of an issue — when a dominant marked force uses one search engine over another, you don't give the latter a good foothold or a chance to do well. As a result of, in part, Apple's deal, Google owns the search engine market with 83.84% of the share.
This ends up enforcing a state where Google is head and shoulders above everyone else and, therefore, others can't compete. However, Bing has risen from 3.99% all the way up to 8.88%, showing that consumers may be branching out. This recent antitrust case is a sign that Google's search engine is too dominant in the market.
Master your iPhone in minutes
iMore offers spot-on advice and guidance from our team of experts, with decades of Apple device experience to lean on. Learn more with iMore!
James is a staff writer and general Jack of all trades at iMore. With news, features, reviews, and guides under his belt, he has always liked Apple for its unique branding and distinctive style. Originally buying a Macbook for music and video production, he has since gone on to join the Apple ecosystem with as many devices as he can fit on his person.
With a degree in Law and Media and being a little too young to move onto the next step of his law career, James started writing from his bedroom about games, movies, tech, and anything else he could think of. Within months, this turned into a fully-fledged career as a freelance journalist. Before joining iMore, he was a staff writer at Gfinity and saw himself published at sites like TechRadar, NME, and Eurogamer.
As his extensive portfolio implies, James was predominantly a games journalist before joining iMore and brings with him a unique perspective on Apple itself. When not working, he is trying to catch up with the movies and albums of the year, as well as finally finishing the Yakuza series. If you like Midwest emo music or pretentious indie games that will make you cry, he'll talk your ear off.