"It felt like I was part of the app" - Apple developers react to the Vision Pro
The Apple Vision pro is getting some serious testing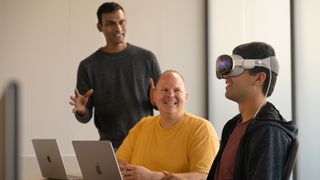 (Image credit: Apple)
Over the last few months, Apple has been hosting Apple Vision Pro developer labs to give creative developers the chance to visualise their apps in Apple's future mixed reality headset.
Though they can't talk about their experiences with the devices publicly just yet, Apple has shared some of their reactions in a brand new developer post. We can only expect more reactions to come out over the coming months.
A device with vision
As these reactions are shared by Apple itself, we have to take them with a grain of salt. It's a carefully curated list of reactions and quotes from devs, going over how it will change their life as a dev and all the ideas they have for the platform. It's a fascinating bit of insight into what the Vision Pro will be used for, but it is also very deliberate.
In the first published lab, Apple got Michael Simmons, the CEO of Flexibits, David Smith, a developer and podcaster, and Ben Guerrette, the Creative Director of Pixite, to try out the Vision Pro with their apps.
Michael Simmons tried out Fantastical, his all-encompassing calendar app, and said, "It was like seeing Fantastical for the first time… It felt like I was part of the app." This is an exciting prospect for the Vision Pro as you could potentially put it into your office life and schedule meetings and check the weather all from within the headset.
David Smith worked on a version of Widgetsmith, with the intent of seeing exactly how customizable the Vision Pro can get. The answer is seemingly very, as one clever dev team has managed to get Windows XP running on it.
Ben Guerrette praised the developer lab as it gave him the chance to really understand how his app would work. "That kind of learning experience is incredibly valuable."
With the Apple Vision Pro seemingly years off, these tests are mostly a proof of concept. Apple wants developer support as it's part of a big launch, and letting some of the most creative developers out there get their hands on it is a great way of doing so. Though you could guess your app will work, you can't quite account for how everything feels when you're in there.
Apple letting developers really get hands-on with their headset is a great sign of what it will be like on launch.
Master your iPhone in minutes
iMore offers spot-on advice and guidance from our team of experts, with decades of Apple device experience to lean on. Learn more with iMore!
James is a staff writer and general Jack of all trades at iMore. With news, features, reviews, and guides under his belt, he has always liked Apple for its unique branding and distinctive style. Originally buying a Macbook for music and video production, he has since gone on to join the Apple ecosystem with as many devices as he can fit on his person.
With a degree in Law and Media and being a little too young to move onto the next step of his law career, James started writing from his bedroom about games, movies, tech, and anything else he could think of. Within months, this turned into a fully-fledged career as a freelance journalist. Before joining iMore, he was a staff writer at Gfinity and saw himself published at sites like TechRadar, NME, and Eurogamer.
As his extensive portfolio implies, James was predominantly a games journalist before joining iMore and brings with him a unique perspective on Apple itself. When not working, he is trying to catch up with the movies and albums of the year, as well as finally finishing the Yakuza series. If you like Midwest emo music or pretentious indie games that will make you cry, he'll talk your ear off.
The Vision pro isn't years off. At most it's 7 months away. It's launching Q1 2024.

Reply