This change to Apple's website could be a surprisingly big deal
'Apps by Apple' could signify a greater commitment to first-party applications.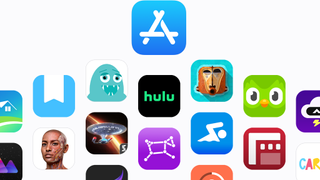 (Image credit: Apple)
Apple has added an entirely new section to its website entitled "Apps by Apple," and it could be hinting at some major changes coming to iOS in the next year.
This is the first time Apple has held a dedicated space on its website for first-party apps, and according to inc.com, it could be a response to a recent European Union declaration stating that Apple is a digital "gatekeeper" and must allow third-party app stores.
In this case, the "Apps by Apple" section could be seen as Apple's attempt to solidify the branding around its own suite of applications. If iPhone customers could access third-party app stores, Apple would want to welcome consumers into the Apple ecosystem with unique apps you can't get anywhere else. The App Store would become, in turn, its own brand.
A silent launch
Most notable about this new change is the lack of fanfare. No press releases were sent out announcing it, and the change wasn't even mentioned on social media. One could argue a social media post is unnecessary as Apple hasn't added any new apps, but the webpage is a great place to see what Apple has to offer and worth checking out.
First-party applications are split up into a handful of categories. These are designed to accompany your Apple experience within specific areas. The categories are:
Communication — going over messaging apps like Phone, Messages, and FaceTime
Creativity — for creation apps like GarageBand, iMovie, and the Camera app
Productiity — for apps that add to planning like notes, reminders, and the calendar
Exploration — for traveling and exploring with apps like Safari, Maps, and Weather
Entertainment & Home — compiling apps like Apple TV, Apple Music, and Apple Arcade
Health & Fitness — for health-related apps like Apple Health, Fitness, and Workout
Features — for apps that have unique built-in purposes on your device like Sire, iCloud, and AirPlay
This isn't the only thing Apple might have achieved with this style of unique marketing. If you buy an iPhone, Watch, MacBook, or iPad, you are welcomed into an ecosystem with apps that synergize with each other and ways of accessing your data across all your devices. Signifying all that Apple applications do for you is one of the best ways of keeping you around.
Master your iPhone in minutes
iMore offers spot-on advice and guidance from our team of experts, with decades of Apple device experience to lean on. Learn more with iMore!
James is a staff writer and general Jack of all trades at iMore. With news, features, reviews, and guides under his belt, he has always liked Apple for its unique branding and distinctive style. Originally buying a Macbook for music and video production, he has since gone on to join the Apple ecosystem with as many devices as he can fit on his person.
With a degree in Law and Media and being a little too young to move onto the next step of his law career, James started writing from his bedroom about games, movies, tech, and anything else he could think of. Within months, this turned into a fully-fledged career as a freelance journalist. Before joining iMore, he was a staff writer at Gfinity and saw himself published at sites like TechRadar, NME, and Eurogamer.
As his extensive portfolio implies, James was predominantly a games journalist before joining iMore and brings with him a unique perspective on Apple itself. When not working, he is trying to catch up with the movies and albums of the year, as well as finally finishing the Yakuza series. If you like Midwest emo music or pretentious indie games that will make you cry, he'll talk your ear off.