Does Apple's new retail SVP, John Browett, make sense? [Stock talk]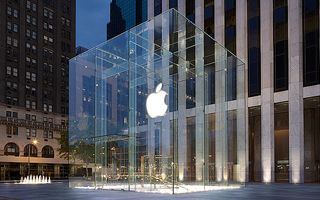 "Is it also possible that Browett's experience at Dixons, and before that Tesco (the world's third largest retailer) might just be right what Apple needs as it continues on its path towards world domination?"
We, and pretty much the rest of the blogosphere were, shall we say, slightly bewildered when Apple announced its new SVP of Retail, John Browett.
Browett is, at first glance, an unusual hire because the retail organization he is leaving seems to be the exact opposite of what Apple stands for. He was the CEO of Dixons, the well known British technology retailer.
Big box retailers couldn't be further from Apple's model of clean, spacious, bright and minimalistic. Apple employees always want to help, knowing that when you are in their store you have already chosen their brand. They are highly service-oriented. Big box sales staff are all about making the sale. They couldn't care less what brand of TV you jam into your SUV after you slip the cashier your credit card.
Apple also has a tradition for promoting from within. So it begs the question, "Why did Tim Cook make this decision?"
It's easy to criticize, but let's remember that if we are outsiders to this decision. We haven't seen Tim Cook as the face behind too many senior hires at Apple, but it's safe to say that he's very experienced hiring and firing. You don't hold the COO position in any company without lots of people management experience.
So while it might seem like his old home of Dixons is the polar opposite of what Apple stands for, could we be guilty of looking only at the cover of the book (or the inside of the store)?
The aspect of this hire that intrigues me the most is that Apple is getting a guy with big company CEO experience. The Apple retail business can easily be thought of as a separate company. It requires inventory, sales staff, and a service organization. It requires growth plans.
And what makes running a big box retailer so difficult? Margins, pricing strategy and competition. Well guess what? Browett doesn't need to worry about those problems. Those are Cook's problems. Browett just needs to use his CEO skills to keep the ship moving in the right direction.
I don't think Cook is looking to Browett for sales innovation.
Apple is already in excellent shape after 11 years of retail leadership under Ron Johnson. Apple has top-shelf problems to deal with such as how to open more stores faster (and in new markets) without screwing up the shopping experience.
There's no question Apple has room to grow in its retail store lineup. As of the most recent financial results, Apple generated $3.5 billion in store sales, which is only 12.7% of total company sales. To me this suggests Browett's job is more about growing the existing business and generating upside for Apple. The downside of him performing poorly is probably not something I'm interested in seeing happen, but as a shareholder this is far from my biggest worry.
Is it weird that Tim Cook is bringing in a Dixons guy? Yeah. But is it also possible that Browett's experience at Dixons, and before that Tesco (the world's third largest retailer) might just be right what Apple needs as it continues on its path towards world domination? Yeah. It might.
Former sell side analyst, out-of-box thinker, consultant, entrepreneur. Interests: Wife & kids, tech, NLP, fitness, travel, investing, 4HWW.
The thing that worries me is not that dixons are big box retailers (which is debatable as the UK doesn't really have that type of retailer), nor that dixons staff are willing to recommend any manufacturer. What worries me is that dixons are synonymous with very poor service, pushy sales techniques, sales target centric focus (rather than customer need) and sales of aftercare which isn't necessary.
In fact the only thing that dixons do well is sell aftercare which could be a transferable strategy to AppleCare. Bit worries about a loss of focus on customer service with this guy in charge however Tim Cook is a far more qualified to make a judgement on him then I so I hope to be proven wrong.

Any piece of technology that Steve didn't have something to do with will be garbage.

Everything is thinking the sales side of how a company runs when there's a huge amount more to the equation when you hire someone at that level of position.
You want political skills and business connections not "open a store" skills. He was at his last job for only 4 years and there's no way he was turning that ship around that quickly so we can see the changes today.
What he may be is the perfect individual to help Apple with the political and business connections across Europe. They already have a team who can open stores, they need a leader to open up new opportunities. In Europe they're in only six countries right now. There's more stores in California than England and England has 25% more people.

Its like you learn my mind! You appear to grasp so much approximately this, like you wrote the e book in it or something. I feel that you simply could do with some percent to force the message home a little bit, however instead of that, this is magnificent blog. A great read. I will certainly be back.
Get the best of iMore in in your inbox, every day!
Thank you for signing up to iMore. You will receive a verification email shortly.
There was a problem. Please refresh the page and try again.