Apps of the Week: Mr. Crab, Nat Geo Today, TextExpander, and more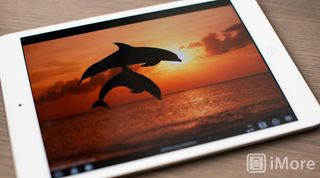 Every week, the editors and writers at iMore carefully select some of our favorite, most useful, most extraordinary apps, accessories, gadgets, and websites. This week's selections include a couple games about crabs, a National Geographic app, an app for your music creation apps, an app that will help you type faster than ever, and an oceanography photography app.
I've been on the hunt lately for new games that aren't the regular ones I play all the time. While browsing a section in the App Store, I wandered across Mr. Crab for iPhone and iPad. The premise of the game is simple but still strangely addicting.
If anything, it reminds be a bit of Temple Run since the idea is the same. The objective is to rescue as many baby crabs as you can and collect other goodies while trying to reach the top of each level. If you run into barricades, you'll get turned back around. The further you get into the game, the more complicated the levels become.
The best part is for only $0.99, you get both the iPhone and iPad version in one.
Crabitron - Simon Sage
Crabitron puts players in charge of a malicious, ever-hungering intergalactic crab that devours all in its path. By using two fingers per limb, players can open, close, and move claws about the immediate area to grasp at passing by space ships and shield against pathetic mortal resistance. Don't worry about getting damaged - you can always gobble up free-floating aliens that you've left stranded to the cold embrace of outer space for an extra boost to health. To break up the redundancy of violent mayhem, occasionally you'll encounter mini-games and boss fights. Over the course of gameplay, you earn coins which can be spent on upgrading claws, consumable power-ups found throughout levels, and projectile burps. Between the unique gameplay and the premise of cosmic chaos, Crabitron is a great way to kill time - and the universe.
Nat Geo Today is a pretty awesome app for those of you other there who enjoy the daily offerings from National Geographic. Personally, I enjoy the beautiful photos but there are often times I come across some great editorials within the app as well. Although the app focuses on 'Today', it does allow you to go back and view a weeks worth of content. That includes all the awesome photos, videos, editorials, games and quizzes they include. Overall, the content is well laid out, the app runs well and you can share what you're reading through social channels. It's free and well, I'm a sucker for free apps.
Audiobus is unique among apps in that it is less a full app in its own right and more of a hub for other apps, specifically those centered around music creation. Audiobus allows you to connect supported apps, such as Propellerhead's Figure and Apple's Garageband, and move audio from one app to another without hassle. A simple workflow would look something like this: record audio in Chrodion, apply effects in AmpKit, and then output the result directly to Garageband. All done with a few button presses.
What's more, you can actually use some of the functionality of one app while in a connected app. Figure is able to record audio on its own, but if I'm just going to send that to an app like Loopy HD, why not just have Loopy record it in the first place? When an app is connected to Audiobus, a panel appears on either the left or right side of the screen that lets you do something like record audio directly to another app. If you enjoy creating music on your iPhone or iPad at all, take a look at Audiobus. It's a universal app, currently on sale for $4.99 on the App Store.
TextExpander for iOS - Rene Ritchie
TextExpander from the fine folks at Smile Software is a Mac app that lets you type short snippets of text that it almost immediately replaces with longer strings of words or code. For example, if I type this:
It almost immediately gets automagically replaced with this
I use it to insert common hyperlinks, code embeds, addresses, and much, much, more.
And thanks to TextExpander of iOS, all the stuff I use on the Mac gets synced over Dropbox to my iPhone and iPad so that I can use them to, in apps that support it.
That's the only downside. Apple doesn't let apps inter-communicate, nor does it allow for the deep system integration TextExpander would need to work on iOS the way it does on OS X. Still, a lot of the apps that I like, respect, and use took it upon themselves to integrate with TextExpander, so I have one seamless if not ubiquitous system at the moment.
(I use iOS' built in text correction feature to mimic the same functionality in built-in Apple apps. For example, ggm spits out my email address for logins, something tedious to type repeatedly in iOS.)
Pretty much any string I have to type more than once or twice a month gets made into a snippet at this point. Saves time, well worth the money.
Ocean Encounters: A Photographic Exploration of Marine Wildlife by Brandon Cole - Leanna Lofte
Ocean Encounters is an iPhone and iPad app that explores Marine Wildlife through photography by Brandon Cole. I love animals and I love photography, so when I saw this app in the App Store, it was an immediate buy. The menu design needs a little work, I'll admit, but the photography is gorgeous. It's also fun to look through the photos with my daughter and identify starfish, whales, and colors of fish.
Unfortunately, Ocean Encounters does not support the iPhone 5's bigger display, but I prefer to use it on my iPad, anyway.
Ocean Encounters is currently on sale for $1.99.
Your choice?
Now that we've chosen our favorites for the week, we want to hear yours! Did you pick up a killer app, accessory, or game this week? Let us know in the comments below!
Master your iPhone in minutes
iMore offers spot-on advice and guidance from our team of experts, with decades of Apple device experience to lean on. Learn more with iMore!
Former app and photography editor at iMore, Leanna has since moved on to other endeavors. Mother, wife, mathamagician, even though she no longer writes for iMore you can still follow her on Twitter @llofte.