Are you listening to Beats 1? What do you think?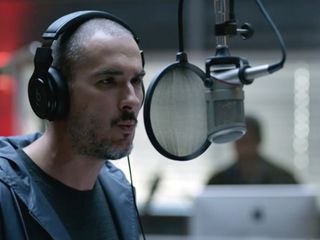 (Image credit: Apple)
Beats 1 is Apple's new take on the radio station—a 24/7 live set of programming without ads or chart-topping play requirements. It went live just two hours ago, at 9 a.m. PT/12 p.m. ET, with Zane Lowe spinning everything from Eminem to Melbourne guitarist Courtney Barnett.
For me, Beats 1 is such a strange and majestic concept: I've been chatting with friends all over the world about the same songs and jokes. It has an almost Oscars-like vibe on social media; everyone in my friends group is chatting about it at once. As someone who probably hasn't talked music regularly since college, I love this back-and-forth, and finding out the music my pals love—and the stuff they hate.
"Our genre is great. That is it." This was one of Zane Lowe's opening statements, and after listening to his two-hour block, I'm inclined to agree. It's definitely different than any radio station I've ever listened to.
The first hour saw a lot of alternative, pop, and dance tunes—most of which I'd never heard of but loved listening to. The second hour varied between some rap, hip-hop, rock, and techno, not all of which I loved, but I kept the radio on largely to see what song was coming next—and was rarely disappointed.
My big bummer so far is the lack of favoriting songs that aren't available in the Apple Music streaming catalog—some of the tracks, like Courtney Barnett's Dead Fox, would be an instant-buy for me. But there simply isn't a way right now to bookmark artists or songs that aren't on Apple Music's streaming catalog.
I'm sure it has to do with streaming/purchasing rights and the like, but at the least, maybe favoriting an unlicensed track adds it to a "songs you want to check out," or an iTunes wishlist? I'm hearing so much stuff I want to listen to again, but at the moment, I'm limited to just screenshotting the Music app's Now Playing screen.
There's a lot of good stuff coming up on Beats 1 today, including Londoner Julie Adenuga's first broadcast and the first of the custom shows: St Vincent's Mixtape Delivery Service. (St Vincent—doing her best Serial impression during the tease—builds mixtapes for listeners who write in with their life situations, like studying for an exam, or moving, or breaking up with a loved one.) I, for one, am going to keep listening for awhile. It's great work music!
What about you folks—are you grooving along to Beats 1? What do you think? Let's chat about this.
Get the best of iMore in in your inbox, every day!
Serenity was formerly the Managing Editor at iMore, and now works for Apple. She's been talking, writing about, and tinkering with Apple products since she was old enough to double-click. In her spare time, she sketches, sings, and in her secret superhero life, plays roller derby. Follow her on Twitter @settern.
So far I'm really enjoying the vibe. It's obviously a live broadcast and that adds something to it over a playlist. I'm really enjoying it actually.

I like it so far, definitely not what I would have chosen for myself but an interesting and eclectic mix that I could see myself dipping into when I don't want to make a music decision. I used to subscribe to RDIO and I hated their stations so I never used them

It does not work. I get a 403 error. I have a french account but live in Morocco now Sent from the iMore App

Sadi9i beats 1 radio kan kay3tini l'error 403
Wkhadamto VPN ip usa
bhal pandora, spotify ...

It doesn't do it for me. You can tell it's high quality music but it's mostly genres (hip-hop, pop, ballads, etc.) that I not only don't like, but don't in some cases even consider a "genre." I'm sure if you are an average, trend obsessed young person you'd probably like it, but one radio station for the whole world seems like a bad idea. People have different tastes. I was disappointed to find out that none of the radio stations except Beats 1 work unless you sign up for the trial. I *might* sign up for the trial, but mostly those sort of things are more bother and trouble than they are worth unless you are planning on staying around after the trial, and at the price ... I already know that isn't going to happen.

Hm, those other stations should be free but ad-supported for non-subscribers. Give it a bit of time and try again.

Maybe because I am in Canada, but all radio stations except Beats 1 fail, with a "cannot start stream" kind of message.

I get the same message, and I live in MA.

Been listening since launch and honestly haven't heard any "trend conscious" sets. Sure a few DJ mixes but I think it routinely mixed in enough different genres for a 2-hr segment (indie, classic rock, old-school hip-hop, electronic, pop, etc.) time will be the judge but if Beats 1 can keep a slightly randomized but nicely curated music selection and interview broadcast it could definitely change the way we listen and experience radio. IMO Sent from the iMore App

"trend obsessed young person"? That definitely isn't the vibe I received from listening to it for the first hour. You must be very very old, huh?

I listen to exclusively "new" (last few years) music and change what I listen to every couple of months. I buy maybe a dozen new albums per year. By "trend obsessed" I was trying to get across the kind of person who listens to new music, but only what's popular or what's trendy, which to my ears is often the worst of the lot. So I would listen to Metronomy or Selenluft for example, but I would see someone who listens to Kanye or Gaga as "trend obsessed."

I guess I see what you're saying. But for the record, Kanye has been releasing music since 2004. That's over 10 years and he's worked with everyone from Mariah Carey to Elton Jon to Chris Martin to Paul McCartney to Chief Keef to Michael Jackson. I wouldn't exactly call him a "trend" nor would I call myself "trend obsessed" for listening to him. But either way, I'd call the music selection of the first day rather eclectic. You wouldn't?

Huh? What do you mean, none of the music stations work?? Mine works perfectly, and I'm not signed. If you don't like Beats 1 just make your own custom station. No big deal. Sent from the iMore App

I largely agree. The more specific streams work for me, and I find Beats 1 to be largely worthless largely because it's basically like a terrestrial radio station with or without the ads. The reason I listen to streaming "radio" is so that it's tailored to what I want to hear, not what some random DJ wants to play or thinks I need to hear next. Such a service is also obviously going to be biased for and against some genres of music, as well. Great for the people who listen to the popular genres. Almost completely worthless for those who listen to other types. I don't even find Beats 1 to be a reason to use the service at all, never mind a reason to pay $9.99 to remove the Ads.

Does anyone know how I can make all the songs I saved available offline? Sent from the iMore App

Add them to a new playlist, tap the dots next to that playlist, tap "Make Available Offline"

You can also save the song to your "My Music" area and make them available offline from there as well. In case you don't want to create or add a song to a playlist every time you want to save something. I do think the user interface is a bit overwhelming. Coming from Spotify or even Tidal for that matter it is a lot to take in upon first use and I'm still trying to navigate and figure things out. Saving a song on Spotify was quite easy. As was queuing a song for next playback.

I love it so far! It has people talking about radio again. Leave it to Apple to redefine radio!

I found myself explaining to a coworker as reminding me of live radio in the 70s and 80s, It feels like a Friday night again... it's really nice.

Exactly. I love that. People had their favorite DJ's that shared their taste in music. It wasn't just top 40 all day.

Um, huh? Apple have now redefined radio?! I wouldn't go that far. Sent from the iMore App

I love it Sent from the iMore App

I've been listening to it all morning. So far I've heard two songs I actually liked, a lot of stuff I didn't. There are DJ's talking over most of the songs and station identification after nearly all of them. It's basically everything I hate about FM radio, now on the internet! Someone find the TARDIS, get me out of the 1980s. I desperately want to go back to 2015. DOCTOR?!

There is always Internet radio. It's been available for decades, many stations have no commercials at all, and it's free. The main difference between it and Apple Music, is that you have to do the discovering the music part by yourself.

I'm aware, and Apple Music is fine. I've been using Google Music All Access since it launched and I had Spotify before that. I greatly prefer Apple Music to Spotify, but I don't think its as good as All Access so far. My comment was specifically directed at Beats One Radio, and I've still been listening to it all day, I have now heard 3 songs I like in 5 hours, that's not a great record. In addition to that, the songs I did like, had a DJ talking over them so I couldn't hear half of them. Apple Music is a good product and if I still had Spotify, I would probably switch in a heartbeat, but the radio station just isn't doing it for me. Its the same garbage that's on terrestrial radio just without the commercials and no ability to switch to a better station. If they end up adding multiple stations, so you can pick the genre you like and the DJ's learn to shut up and actually let the song finish before they start talking, it might be fun, but right now its just been annoying me all day.

I'm totally surprised by it... I was expecting something like... hum... well not my type of music. And I felt Beats1 was refreshing with so many types of music who seems to blend well together.
Definitely this Beats1 is a huge step forward in the streaming industry.... Let's see how it will go in 1 week, 1 month and later...
But Thanks Beats1 for some great discovery so far...
But please don't over hype yourself with some repeats... I know the new song Freedom is a world premiere... but 2x in less than 2h is a little too much :)

so far the beats1 is pleasant experience, but i did notice a little repetition of some tracks within an hour or two, which is a little annoying. i am going to start replicating my playlists from spotify and see if this is a truly viable replacement. i am a little nervous that the playlist sharing won't be as good or a smaller catalog to choose from of already curated music.

I do know that the Pharrell song was a "World Play" and should have been the only track that you heard consecutively (think Lowe played it three times?) but other than that no real repeats (maybe repeat album but not song) that I noticed Sent from the iMore App

I know he played it twice in a row, then the next hour at the bottom of the hour, played it again. Later he mentioned that Monday - Thursday there would be a daily "World Record" (though I guess he means track/song) played at 30 minutes past the hour all day (whether that means a full 24 hours or until it's midnight in L.A., I don't know).

Well lucky is not a DJ like Funk Flex, he would play it 4 to 5 times in a row lol.. its when he drops "bombs" on a song lol. Some DJs will do that when it's a hot song

Good stuff. I am far from their key demographic, but this kind of sound makes me expand my horizons. I used to stream radio from the UK for this kind of exciting music oriented radio. Not any more. I will definitely tune in and sample on a daily basis.

Yep.. I listen to a lot of Radio1 myself and when I heard the snagged Zane I figured it wasn't going to be your typical mainstream trash local FM channel. So far I'm liking it.

So far I'm loving it. Discovering some new artists and songs. As someone who loves what radio used to be, it's comforting knowing there's someone at the board picking out new and exciting tracks while mixing in some of the familiar rather than playing the same ten songs every hour like every terrestrial station does these days.

I agree. This has the feel and energy of music played because the DJ likes it not because a label is pushing it. Sent from the iMore App

So far I like it as a set it and forget about it and just let it run.

I am feeling it. Being exposed to different genres that I would not usually search for. Great add.

I'm pleasantly surprised. We've been programmed to listen to homogenous styles of music at one time by Terrestrial radio stations, Algorithmic streaming stations and even Satellite radio. A nice eclectic mix with the guidance from knowledgeable curators is very welcome. I have no issue listening to all types of music, but it has to be well mixed and should contain a nice flow. Kudos to Apple for creating something that is accessible to to masses as a high quality product.

I like the concept, but think it needs to be expanded with more live stations. I'm not the demographic for the music on their only live station -- I'm the demographic that considers much of it nails scratching on a chalkboard. Hopefully they'll be adding B2... B3... B4... etc. with more options for a larger audience. I enjoyed hearing the announcers testing stuff just before it went live, and the first live broadcast. Reminds me of watching MTV go live... and CNN... That should give an idea of my demographic, the dinosaur one ;-)

love it a lot but needs a much better song choice Sent from the iMore App

I expected to not like it and just wandered in... 2 hours later, it's still playing trough my speakers. So I'm pleasantly surprised. (Zane Lowe is indeed very passionate and infectious!)

Yeah he's defiantly putting a lot of energy into the show for launch day. Sent from the iMore App

So far I'm loving it. This is what radio used to be like. Sent from the iMore App

I'm really impressed with what Apple has done. Feels fresh with a few glitches but I think we need to give Apple some time to fix it.
And it's really easy to compare Apple Music to Spotify and if there's not protests with changes it's not a change.
Overall I'd say good job, Apple!

Loved it. Until I realized I'd drained nearly half my iPhone's battery listening. Where's the iTunes 12.2 update so I can listen on this MBP I've got juiced right in front of me instead?

Question. Are the songs censored? And does beats one have commercials like regular radio? Sent from the iMore App

So far I've only heard the DJ say Beats One is sponsored by such and such. No ad just a mention and they have only done it 2 or 3 times in the last 3 hours and 40 minutes.

I did see a Twitter mention that explicit content is being censored...

Yes, I heard them play a Dr Dre track from The Chronic and it was censored

Yes... Heavily censored. Too bad they don't make a service for adults Posted via the iMore App for Android

Sponsored by Beats hardware. ;) I expect that the branding will revert to a more "normal" style branding over time. Realize that Beats 1 is one of the few portions of the service that is free for non-subscribers as well. So you *will* very likely see some commercials / censorship. I expect that we will eventually see paid channels eventually. Beats 2 - 10 or something. Maybe take some of the other personalities and give them a less "mainstream" channel or few to do more "adult" stuff.

what is censored music? what is Adult music?

I'm enjoying a lot more than I thought. Its definitely open my ears to a greater variety of music out.

I could do without the DJs talking over the last quarter of a song or the bumper stuff ("Worldwide. Always on.", "Beats One", etc.) playing in the bloody middle of a song. Other than those minor annoyances, it's pretty much a pleasure to listen to.

I think the stuff in the middle of a few songs were a mistake.

Enjoying it a lot. Also, finding a lot of new music that I may enjoy as well.

I'm givin' it a go... and so far, it doesn't suck...

I'm not subscribed because I'm not the target audience. Was never a fan of radio DJs in the first place. They all seem to like the sound of their own voice way too much.

For a service that's been touting all kinds of music, no specific genre, everything mixed together--pretty much all I've heard in the 2 hours I've had Beats One on is Dance/Electronic, rap, R&B, and Pop. I get that Alternative/Rock isn't as popular as the former styles, but it'd be nice to hear SOMETHING once in awhile that's using real instruments/a band instead of a bunch of computerized sounds. And I *like* a good deal of dance/electronic music…but right now, there's little to no variety. The company's had plenty of artists on stage at events over the years, and I've yet to hear one other than "The Weeknd" on Beats One. That's disappointing. I like the service overall. It's got a fresh feel--the live person element is cool. I think people will overall like it; at this point I can take it in short doses. Should be a huge success--but I'll be advising others that--at least at the start--don't expect much else besides dance, electronic, rap, R&B, and lots of Pharrell.

That's kind of the way pop music is headed though. It'll be interesting when they have some of the other people take over. Elton John has a hour or two on July 6th.

Yeah. I'll check that out. I'm fine with Pop music heading that way. My expectations were probably off--that, and Apple is probably figuring this out as they go. After all, it's only the 1st day.

During Zane's show, he played Royal Blood and AC/DC, both old and new hard rock. If you've tuned in the past two hours, you've mainly been hearing Julie's show, which seems to be focused on UK music, largely dance and hip hop. I think each of the main DJs has their own individual style during their sets: Zane is super eclectic and plays nearly anything, Julie is big into UK grime, and I imagine Ebro will be very rap-oriented. Outside of the main DJs, the in-between sections seem to be top-40 with some diversions, and then there are the artist shows - I'm really looking forward to Josh Homme's show tomorrow, he's both hilarious and a musical genius, so that should be great for us rock fans.

Ok, yeah…I missed Zane's show completely. Will try to find the time to check it out next time it's on. Personally I dig the UK music scene so I'm ok with what Julie's playing, but like you said it' mostly UK dance/hip-hop and little else from other styles. It's ok. I dig some of it, but it's getting a little repetitive already. I love Josh Homme too. That for sure I'll check out. I hope some day he can get Uncle Dave (Grohl) on his show.

Hey, I heard them play the theme song from "Buffy the Vampire Slayer", BACK TO BACK!!
Didn't see that comin'..., Sent from the iMore App

I found out how u can play music offline go to settings and click on iTunes & App Store and click on cellular data!! Cuz if u save offline it take a lot of storage away Sent from the iMore App

The inaugural song played on Beats 1 radio right when it kicked off at 9:00 a.m. was Spring King's "City,
Then I shut it off, and went into setting and turned Apple Music off.

You based the whole service on one song in one part of the service. Wow.

I didn't really "connect" with Zane Lowe's show--so stopped listening after a half hour or so, but am really liking Julie Adenuga's show.

Pharrel....5 times...in three hours...not cool Apple.

They are going to be doing that for the daily "World Record" song on Monday - Thursday, always at 30 minutes past the hour. It's basically a kind of "song of the day". And since Zane is initiating / kicking off the "World Record" on his show, he might often play it back-to-back.

I'm liking it. DJ's like Zane Lowe and Annie Mac have been really influential in pushing new music here in the UK on BBC Radio 1, their shows are really popular on demand and it's a good way to hear new stuff. The presenters are personalities in their own right and it seems thats what beats 1 is trying to recreate. Is this a very UK centric thing? Is radio treated differently in the states? Are the Dj's as important?

I gave up on Beats 1 when it was playing Ambient music... Posted via S6 Edge

Well since you're posting from your Galaxy S6 and there is no Beats 1 on Android yet, mind explaining how you were listening to it?

It was ok earlier but not liking the music of the DJ on now. Confused by the 'featured stations' below the main B1 logo. When I click on any of them it gives me a error. I'm not a subscriber though so not sure if I have to pay for them. Already don't like having to fumble with my iPad though and looking forward to it being on my mac in iTunes I hope. I'm on my mac now and have to keep my iPad next to me running it. Not good.

I have it on my iOS devices but not OS X or Apple TV. I listened for a couple hours and found that what I don't like about regular over-the-air radio is what I don't like about Beats 1 so far, DJs talking over the intros, outros, and sometimes even in the middle of songs. I HATE THAT!!! It's what got me into buying music in the first place, so I could hear the entire song without interruption. Too much bass on the EQ of the DJ, making it hard to understand the words. The song selection is somewhat eclectic and I do like that variety. I hope Beats 1 is such a success that they do it with specific genres like classical, folk, classic rock, and other things I'd actually be interested in. And I wish I could stream music more reliably from my iPhone while in the car, that would cause me to cancel Sirius satellite radio.

It was strange, because at first it was just going to be a Radio 1 clone, but the mix from NY was great from a UK point of view. I'd like to see it be one truly global with more sounds from the great cities of the world. I was familiar with Zane, who's a terrific narrator of new music, ( and old), but I want to hear Berlin's flavour, or Sydney, or Miami. I'm sure we'll see that expansion in time, but a good start. It was a bit glitchy in areas, but hey, we're only a few hours in. Good start! Sent from the iMore App

Based on what we've gotten so far, Zane's definitely doing the eclectic BBC 1 style, Julie is deep diving on UK grime (I'm really digging it, great chilled out work music), and I imagine Ebro is going to be doing the bombastic NYC rap DJ style (HOT 97 BRINGING IT TO YOU LIVE - EXCLUSIVE - DROP A BOMB ON IT SON). It would be really cool if they can get some DJs in other parts of the world - maybe someone in India spinning Indian tunes, or in China or South Africa. As an American who is used to radio being rather boring and staid, the variety on display on Beats 1 so far has been really refreshing.

Honestly, if I'm going to let someone curate music, I choose SiriusXM. There is something there for everyone and is not much more that the Apple Music family plan. For my own music, I'll stick with iTunes Match for $25 a year. That seam like a winning combo for me. Sent from the iMore App

Listened to a lil on my lunch with Zane i believe. I like the idea of having new music on a radio station rather than the top 40 all the time. I feel like local radio just has a rotation of certain hits they play at a certain time. I like our local DJs, but if Zane continues to play music I enjoy thru the lunch hour than local radio will be off my radio and phone for good. I look forward to curated sections from artists and others as well. The fact that this is worldwide I believe it will create a new social media darling.

I really like it so far. Impressed with the whole service. Sent from the iMore App

So far Beats 1 has world pop urban sound that I like. Please Apple add the wish list button for song purchases. Sent from the iMore App

Listening to Ebro. 100% not my style. You know what? I love the concept. After 5 mins I'm loving Ebro's energy. I
Love good radio and wish B1 the best.

Really cool love it Sent from the iMore App

I absoletely loved Zane's and Julie's shows. Before I was afraid they might go into cheesy pop, dance, worst possible mainstream stuff you can here on commercial radio stations, but the nailed it, really impressed, it suits my music tastes.

Liking it so far. Certainly surfaced a lot of artists I enjoyed years ago but have forgotten. That said, I chuckle every time I hear a song that's been cleansed (*cough*censored*cough*) - keep forgetting how poor they censor some of the tracks (looking at you Jay-Z's 99 Problems),

I like it. I don't like every selection, but that's the point, people. The problem with Pandora or other generated stuff is that it's all narrow and same-same. There's a time for that, but I like that this is a real station with DJs trying to expose us to stuff that's not mainstream radio and that's eclectic. Keep in mind everyone that eclectic stuff selected by a DJ because it's something they really like won't always give you tracks you like. Hit Pause (I have a few times). Hell, I just did with some hip hop that I wasn't liking... but I just hit play and it's Otis Redding. I'd love to see other genres get this same love - Jazz, world music, etc. DJ's who give a fu... ? Yes please.

I will stick with Sirius XM! Beats 1 is definitely not for me.

iTunes seems missing the up next info I get on my iPad when I click on the Beats1 background. On the iPad shows me who is DJ'ing now and who is up next and later each hour. No such info in iTunes. On my iPad works well and looks ok, on iTunes, feels a bit unfinished. The music sounds heavily EQ'ed also for my taste. At least I have 3 months to give it a try and see if they fix the problem spots.

seems beats 1 is free? (I didn't take the 3month trial offer). Will it always be free? thanks!

Yea , its free.. you can even play it on iTunes on a computer

While listening to it got an error. Well I got an error on my Beats 1, It says The operation could not be completed an unknown error occurred (-12880)

I liked the first two DJs then the American DJ comes in and the music takes a nosedive. What a surprise. Sent from the iMore App

I finally got it to work. I think the servers were clogged earlier LOL. But I am liking what I'm hearing now!

Listened a bit off and on today. Beats 1 is not my cup of tea so far. I must have listened during the second hour because every song I heard was EXTREMELY explicit rap. Funny how Apple has made a big deal about maintaining certain standards in the App Store, but is streaming Apple-branded content that seems to hold a completely opposite attitude. ....I've been listening as I write this. Something pretty good on now (evening). I'll keep listening to get a sense of what's going on, but this afternoon was rough. I am accepting that Beats 1 may simply not be designed for me. Not the end of the world.

You mean extremely CENSORED rap. I heard nothing but bleeps! But any station that rocks the theme song to "Buffy the Vampire Slayer" is alright in my book!
Guess it's made for the young @ heart. Sent from the iMore App

Beats1 has its good moments, music-wise, but I can REALLY do without all the DJ's talking over the music every little bit throughout a song, "Beats1" and "AppleMusic" being inserted into the music every little bit, things like that. I am sure this is so that if you try to record the stream it will be quite evident that you are pirating the music instead of paying for it in some fashion, but I don't like this AT ALL!.

I like it so far. I'm not a fan of having a DJ talk over the music - not necessarily trying to hit the post, but still stepping over the music in some cases. The other annoying bit is the occasional insertion of a DJ ID or Apple Radio ID in the middle of the song. Not show-stoppers, but annoying. I'm not sure if I'm on board with Zane Lowe yet - I need more time to get a sense of his style. However, I listened to most of Julie Adenuga's show yesterday and think her selections were on point. The only thing I have found to be wrong with Beats 1 is that above the row of icons (For You, New, etc.) is an indicator of what's currently playing. I've been listening for about an hour so far this morning and it still lists the same current song. So, if I do want to locate the current track in iTunes to purchase, I can't do it.

NO! I can't stand it! It's only good if you like hip hop and pop! I don't care for either! I prefer TuneIn Radio Pro for my radio music. It's a FAIL for me!

I just don't get it I keep trying to listen and the music stinks

I love that's it's different DJ's with different tastes choosing songs that they enjoy, and not just the top 40. It's how it used to be.

I loveeee BEATS 1, everytime that I don't listen to my Apple curated playlist (btw, I am now listening to more kind of music and old songs that I never heard before.. and you bet, the curators got exactly my taste) & just want to listen to a radio, I tune-in to BEATS 1... I didn't expected the EMINEM interviews and those other cool interview I never thought Beats1 will have. ANNA LUNOE's weekend programs is my fave too.

Maybe I'm too old for Beats 1 or maybe it's because I'm in Australia and getting the dregs, but every time I tune in it's just playing the same kind of stuff. Mostly rap and hip hop. Two of my most hated genres. Very disappointed with Beats 1. Hoping there will be a Beats 2 and 3 that cater to people with different taste to urban music.
Thank you for signing up to iMore. You will receive a verification email shortly.
There was a problem. Please refresh the page and try again.