Shockingly, AT&T and Verizon were behind ill-fated BlackBerry "Apple Killer" Storm and Torch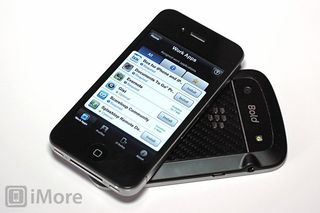 Remember those stories about BlackBerry maker RIM working on what they internally referred to as an "Apple Killer"? Remember how that turned out for them with the BlackBerry Storm and BlackBerry Torch? Well, it turns out everyone has Verizon and AT&T to thank for that. Shocking, right?
A new round of interviews with former RIM employees has revealed that AT&T and Verizon had recruited RIM to make an iPhone competitor. We all know how that panned out. Verizon's earlier efforts resulted in the BlackBerry Storm, while AT&T's created the BlackBerry Torch. Vodafone had also collaborated with RIM to specifically launch something that could give iPhone a decent fight. Why would AT&T, which at the time had an exclusive lockdownon the iPhone, and Verizon, who had been clamoring for it, want to go out of their way to create a competitor? Supposedly carriers were worried that "the wild popularity of the iPhone could give Apple outsize influence in the market," which I take to mean Apple was throwing its weight around a little too liberally for the new guy on the block, and service providers needed to prove they had alternatives in order to maintain any bargaining leverage against Apple.
At the time, AT&T's network was in shambles, and maybe they hoped to offset some of the load with a device that offered efficient data compression. Verizon had some time to kill before AT&T's exclusive ended, so any phone (BlackBerry, Android, or otherwise) that would be an asset to keeping subscribers from drifting away. Apparently co-CEO Jim Balsillie saw and ignored a report in 2010 that warned virtual keyboards made popular by the iPhone would pose a serious threat. Balsillie also wasn't worried about the bring-your-own-device trend in businesses after seeing another similar internal report. Now RIM's device management solution supports iPhone and Android, and Balsillie's later plans to license usage of RIM services to other manufacturers were cut when Heins took up the CEO position.
Things are looking grim for RIM now that their next generation smartphones won't see the light of day until next year. Considering Heins is fully investigating licensing and acquisition deals, BlackBerry probably won't have another chance to compete against the iPhone or iPad. Can they finally nail it with BlackBerry 10?
Source: WSJ
Editor-at-very-large at Mobile Nations, gamer, giant.
Rim will soon go the way of the Betamax.

The only thing is Betamax was a better format than VHS. RIM has never been better than Apple.

A better analogy might be HD DVD vs. Blu Ray

the only thing hd dvd had over blu ray was price, specs were all in blu rays court.

Really, just the price? How about better video quality with smaller size HD discs? It takes bluray up to 50GB to have same video quality that HD DVD was doing in less than 25. Bluray won because sony chose to give it away with the PS3 and owns a lots of movie studios.

Actually Betamax had a very long productive life in professional circles. It was only the introduction of Bluray that ended it's usefulness. I don't see a similar fate for RIM. But they still maintain a deep foothold in the enterprise space.

Actually, that would be Betacam, not Betamax. Similar, but different.

As an entrepreneur myself can say that the reason iPhone or any other apple product was a success while Steve Jobs was behind the company, is because Steve himself is an entrepreneur. The same goes for Google founders. There company is a success including the spread of Android devices due to the same reason, they are entrepreneurs. Tel me that about Samsung, RIM or any other competitor. It is lead by employees, not entrepreneurs. Completely different mindset.

BlackBerry 10 FTW. Everyone is looking for an alternate and BB10 will be it. Even devs are saying how open and great BB10 development is. We'll have to wait and see. BlackBerry is a good company, sponsor hospitals, school, and other charities. I want them to win!

Wanting them to succeed and expecting them to succeed are two different things.
RIM is starting from scratch and trying to build a new phone on a new operating system and integrate it into their existing systems. This new phone has to be able to compete with mature products from better funded competitors. All while bleeding cache and losing nearly 1/4 of their marketshare each quarter.
The odds aren't good.

Apple will soon be playing catch up just like RIM. Ios 6 looks like stuff already found on android 2.3.

You must have rooted your 2.3. I know it.

Not sure why this only just coming up now, its been a long known fact AT&T helped design the Torch and Verizon was behind the BlackBerry Storm. Both companies have been very open about this.

Exactly, we knew this a long time ago (i.e. when these devices were still in development. Anyone who was anyone on the Crackberry forums knew this and much more from our inside sources. To a great extent, that community helped streamline the OS and hardware some for the second version of the Storm. What needs to be said is that Verizon is to blame for the crap hardware that came out as the first Storm. RIM wanted to work on it more and improve the screen design on it and they weren't given the time to do so. The Storm 2 is what RIM wanted to give Verizon as the initial Storm for release. Maybe they should have wated that extra 6-8 months of development instead of releasing that first pos. They probably would have saved themselves a lot of issues and a lot of people being turned off by what they were carrying in their pockets.

Didn't really matter. As soon as Verizon latched onto the Motorola Droid in 2009, the Storm had no chance. The real issue for all carriers is that because the iPhone has a $100 greater subsidy, it is directly costing then money (and they can't really hide it by increasing monthly bill costs only for those subscribers). That's why you see them pushing Android phones relentlessly and Windows Phone 8 devices in the future. Perhaps its better that way, to have some balance in the market because the last time we had a true bona fide monopoly, that didn't end too well.

Doesn't matter. I had a BB Storm 2. It was the abslolutely WORST phone I have ever used. I went through SEVEN of those pieces of crap in 14 months. Compare to one Droid X in 18 (so far) months, three iPhone 3G in 15 months and one Treo 680 in 18 months.

Lol dude! What the hell were you doing to those phones?!!!

Carriers is be silly? That's unpossible!

Yep. This has been know for a few years. Why is this news again?

The news isn't that carriers worked with RIM to make the phones, it's that they were gunning specifically for the iPhone. It's a given that manufacturers will do that, but it's weird that carriers would too, especially in AT&T's case, since you'd think they would be cheerleading the iPhone all the way to the bank.

"[Execs holding an Apple logo sticker] You can only control us for so long! RIM...we have a plan!"

It was smart of them to try to stop Apple, obviously they didn't try hard enough, lol. It's a wrap for RIM.

BB10 will go the way of WebOS. Sure it was superior in many ways to what was available at the time but by the time key products hit the market it was too late. RIM seems to have better hardware but by the time it is available it will look old compared to iPhone 5 and the newest android handsets. Also their brand is now tarnished so continuing to ask premium prices will not work out for them just as it hasn't worked for windows phone so far. I sold my stock yesterday, I bought it at $13 because I thought the company was still making money and BB10 would be out soon so things may work out. I lost around 30% in the last month but when I heard they were going to be reporting a loss I sold before it bled out any more money because there was hope as long as they were profitable, reports say their cash will only last a year to 18 months at this rate and they will be broke, its going to be minimum 6 months before BB10 is supposed to hit and by that time the company is on life support

at this point it doesn't even matter RIM will be starting from scratch and iPhone, android and windows (assuming window apps can be easily ported to windows phone 8) will have millions of users. Developers have no interest in making apps with great tools, they have interest in making money and it takes users to make money and more importantly users who are willing to spend cash for apps. RIM is going to have an impossible mission to penetrate that because business users aren't going to be buying apps and there will be so few users it won't be profitable to develop for it

Re: "At the time, AT&T's network was in shambles..."
Some things never change. :-(

It certainly changed in some areas, like mine (Springfield MA metro area). I have 1mbit or better 3G coverage everywhere I go, with only two small deadlines I've noticed over a 20-mile area. In about half that area I get 4-7mbit data. Maybe that's slow to some people, but for me it's half the bandwidth of my home cable connection.

AT&T's network is still Edge here. Seriously. We never even got 3G.

I thought we already knew these things. Especially the AT&T and the Torch. And a strong feeling Verizon had a heavy hand in the Storm development while it was watching the iPhone fly off the shelves at AT&T.

Basically this confirms that carriers need to stay out of the phone manufacturing and OS business and perfect their side of the business which is handling calls.
They have enough to do to be distracted by trying to tell manufactures how to make the phones. They get off into the abyss that makes them want to develop ways to junk up the phones with their crap malware thinking that it makes them money.
IF they would just concentrate on making sure there are plenty of towers, the towers work, maintain and update the network and we can all coexist. They will make money, manufacturers will make great phones and we'll have great phones that can use data and make calls.

Sad to say i was a victim of the Blackberry Storm. Second biggest waste of money i ever spent on a phone after the Palm Pre Plus.

Ha I had the storm and what a POS that was. It did have some long lines of people waiting for it and sold out alot at first. That was about the last device people were excited about from RIM.

Blackberry Storm. That is why I am no longer an early adopter of phones. Next time I know there is a problem with a phone design, I will take it back right away. My Storm is still sitting in a drawer because I was too honest to sell someone that POS.

Its actually very sad to see Rim bleeding this heavily. If only those former ceo's didn't have their heads up there A$$' then maybe Rim wouldn't have been in the situation there in today. If you head on over to crackberry you'll notice that BB10 has been pushed back even further to Q1 2013.... by that time Iphone 5, Windows 8, Next andorid verison, and whatever else is out there will be released.....
I did have some optimism for Rim but i do believe this has cemented their death in North America.

Here is the deal. We do know that At&t and Verizon were involved in the developtent of the Tourch and Storm. However, If RIM woundlt have been so hungry to develop a phone for the carriers they would not be in this whole mess. RIM shouldve taken their time regadles of any pressure the carriers were giving them, develop a well put smartphone and give Apple some comptition. I was a loyal Blackberry customer for many years and it actually took the iphone 4 to come out before i made the switch. I waited long enough for RI to come out with a great smart phone but it never came. Another big mistake in my opinion, they never cared much for their app store. Not enough time was dedicated to the app store to develop a better user friendly app store that would compete with the apple app store.
It sure is amazing how (once) one of the biggest cell phone manufacturer is bleeding so bad. I hope a miracle occures and RIM is saved. I would hate to see them go.

I just hope they start open/port their service (blackberry messenger) to iPhone soon, i really wanted to get rid this torch i have, its too damn slow and useless -aside of the bbm-.
In anycase anyone wondering i live in indonesia, as you know this is one of the few country that rim still dominate, so its like a social pressure to have a bberry (for its bbm) so i still cant get rid of it yet, if they havent bankrupt or ported their service to other os.

The iPhone is by far the most subsidized, least profitable phone in any US carrier's line-up. Not only do carriers like AT&T subsidize iPhones as much as around $500 each, but apple takes a giant chunk of each subscribers monthly data and service charges. The iPhone is also one of the least profitable for the carrier due to its closed app store and exclusive ecosystem. The iPhone generates excitement, and gets people in the door to sign up for service, so carrier's won't bad mouth the iPhone per sé, they're just extra excited to see you leave with an android.

iPhones are among the least profitable for carriers. Take AT&T for example: AT&T subsidizes each iPhone $500 generally, then apple takes a sizable cut of each subscribers monthly data and service charges. The carriers don't see any real revenue from the app store or or apples closed ecosystem. BUT, the iPhone creates a ton of buzz, gets millions of people to sign long term contracts. So the carriers would never bad mouth the iPhone, they just have more interest selling you an an android with a custom-carrier modified os.

Hey! I know this is kind of off-topic but I had to ask.
Does building a well-established website such as yours take a lot of work?
I'm brand new to blogging but I do write in my journal everyday. I'd like to start a blog so I can easily share my own experience and thoughts online. Please let me know if you have any kind of recommendations or tips for new aspiring bloggers. Appreciate it!
My blog post Read More

Wonderful article! That is the kind of info that should be shared around the web.
Shame on the search engines for not positioning this publish
upper! Come on over and talk over with my website .
Thanks =)
Also visit my site :: dui attorney in philadelphia

I don't head that men and women certainly are a bit aggressive about the web. I understand I have a tendency for being, particularly when confronting nonsense like "will boycott tsw on account of ea's involvement", and that is silly. If you see tons of posts like that, your endurance wears slender. I'm able to are aware of it for those who had the same thoughts and opinions about snarky / hostile comments on the net.
Also visit my web site :: Full Report
Thank you for signing up to iMore. You will receive a verification email shortly.
There was a problem. Please refresh the page and try again.