Awesome keyboard shortcuts every Mac owner should know!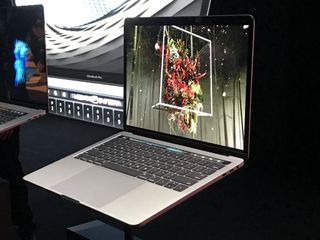 Power users know that having to reach over to the mouse or down to the trackpad to click through tools and features can use up precious seconds of time. One of the best ways to get around the click-through slowdown is to learn keyboard shortcuts. When you can memorize the best ones, you'll zip through processes much faster. Bookmark this page and return to it often to help you remember how to use keyboard shortcuts to your most-used actions.
How to take a full-screen screenshot
If you want to share what your entire desktop looks like, open apps and desktop files, and all, press command + shift + 3.
How to take a screenshot of a selected window
If you want to take a screenshot of a specific window that you have open on your desktop, select the window, then press command + shift + 4, and then press the space bar. When the window is highlighted, click your mouse or trackpad.
How to take a screenshot of a specific spot on the screen
If you want to take a screenshot of a specific spot on your screen, press command + shift + 4 and then click and drag the crosshair across the section you want to take the screenshot of. When you have the entire section highlighted, let go of the mouse or trackpad.
How to quit an app
If you want to close an app out completely, press command + q.
How to open a new tab
With macOS Sierra, any window can have a tab. Not all apps support multi-tab controls, but for ones that do, press command + t to open a new one.
How to switch between open apps
Apple has an application switcher that makes it easy to switch between open apps at a glance, press command + tab to open it. Then press left arrow or right arrow to switch between open apps.
How to open an app's Preferences window
The Preferences window is where you can find many of an app's tools and special features. You can call up the Preferences window by pressing command + comma.
How to open Spotlight
If you're looking for something, either on your Mac or on the web, call up Spotlight to help you dig through it all by pressing command + space bar.
How to open the Help menu
If you are trying to troubleshoot your Mac, or find out more about what an app can do, press command + shift + ?.
How to force-quit an app
If the app you are using freezes up or stops responding, you can force it to close by pressing command + option + esc.
How to cut, copy, paste, and undo
When in a document, email, message, or other program where you can type text, you can cut, copy, paste, or undo by pressing command and then X, C, V, or Z respectively.
How to find words and phrases in a document, web page, or other app
You can quickly find and highlight words and phrases in any app that support the Find feature by pressing command + f.
How to launch Quick Look
When searching for a specific document in Finder, you can use Quick Look to get a preview of a file's contents by pressing command + y. You can also select the file and press the spacebar.
How to shut down, sleep, or restart your Mac
If you are ready to walk away from your Mac, and it's time to put it into lockdown, you can put it to sleep, shut it down, or restart it by pressing control + eject.
How to select all
If you want to copy and paste an entire page of a document, press command + a to select all.
How to jump to the top or bottom of a page
If you are viewing a long document or web page, you can quickly jump to the very top or very bottom by pressing the command + arrow up or arrow down.
How to hide windows you aren't using right now
If you want to keep your desktop free of clutter so you can focus on the task at hand, hide windows you aren't using by pressing command + option + h. All apps except the topmost one will disappear. Click on the app's icon to bring it back into sight.
How to minimize a window
If you just want to get a window out of the way for a moment, you can minimize it by pressing command + m.
How to close an active window
If you don't want to quit an app completely, but want to close the currently active window, press command + w.
How to close all windows of an app
If you are done with an app and want to close all windows you have open and lying around, press command + option + w.
How to hide or minimize everything on your desktop
If you want to quickly clear everything so that only your desktop is showing, press command + option + h + m and all windows of all apps will either hide or minimize.
How to log out of your user account with one step
You can quickly log out of your Mac user account, without having to confirm that you want to log out, by pressing option + shift + command + q. If you prefer to be asked to confirm, just press shift + command + q.
What are your favorite shortcuts?
What keyboard shortcuts to find invaluable? Do you have any that you just can't live without? Put them in the comments below to help us all out. Maybe they will become shortcuts we can't live without, either!
Get the best of iMore in in your inbox, every day!
Lory is a renaissance woman, writing news, reviews, and how-to guides for iMore. She also fancies herself a bit of a rock star in her town and spends too much time reading comic books. If she's not typing away at her keyboard, you can probably find her at Disneyland or watching Star Wars (or both).
Control-Tab to move through tab windows.

Accidentally close Safari? Restore tabs with.
Command + shift + T.

I use quite a few of these shortcuts but like to be reminded there are others...thanks!

Error in "How to switch between open apps", using the arrow keys will only work while continuing to hold down the command key. Also additional presses of the tab key will move through them, as well as using shift-tab for the reverse direction, again all while holding down the command key. I also have an additional tip for while continuing to hold down the command key for app switching, once you have the open app selected, before letting go on the command key you can quit the app by tapping the Q key.

Command-F1 to toggle between mirror or expanded desktop, when using an external monitor or projector

I love and I have always used keyboard shortcuts, and I always appreciate when I can add more in my "mastered pool".
Also, when using writing apps, it may be useful to use:
Command + left/right arrow to move the cursor to the beginning/ending of a row of text;
Shift+left/right arrow, to go to the begging/ending of the word placed left/right of the cursor;
Command+delete to delete the whole row of text
Shift+delete to delete the word at the left of the cursor

If I Command+M to minimize a window, is there no shortcut for maximizing it again? :)

I'd love to know that one!

Holly jesus !! Just knowing what they all do can be a nightmare in itself... Be time u looked up what the keyboard short u' after does in amount the other shortcuts, u would of basically not improved productivity at all as u'd be making more mistakes, not less. Depending how how many shortcuts u really need, I can only memorize a few, but if i gotta go online just to look it up or open Textedit where i would paste it, its quicker to click a mouse

When you've used a shortcut enough it goes into muscle memory, I've memorized plenty. Start with a few, when you know them off-by-heart, learn some more

Lory - Not a comment on this nice article, but a request for another How To piece for those of us moving to new MBPros soon. I run windows in bootcamp mainly for gaming - I appreciated your piece noting that the touch bar will default to standard keys in windows. But what about the process of transferring Windows to the bootcamp on the new MBP. I took the free upgrade from windows 7 pro (purchased with key) to win 10, because I understand Bootcamp will not support a new installation of win 7 on newer MacBooks. But because I downloaded the upgrade (which took a painfully long time), I don't have a DVD or USB for win10, or the product key for win 10, which was just an upgrade. I found out how to extract the key, which is embedded in the installation, so I have that now. But how do I install win 10 in bootcamp on my new machine so I can migrate my windows stuff there. I can use super duper to move everything on the larger mac installation, but am not sure how to do something like that for windows. Can you develop or point me to a How to article to do that??

So all this time and why doesn't MacOS have a key combo to snap windows left, right. fullscreen. (don't talk to me about MacOS fullscreen! That is the worst implementation of fullscreen I've ever seen!

I use the app "Moom" to snap windows right, left and full screen. Works all the time and much better than the Apple alternatives. Sent from the iMore App
Thank you for signing up to iMore. You will receive a verification email shortly.
There was a problem. Please refresh the page and try again.