Awesome Touch Bar apps you won't find in the Mac App Store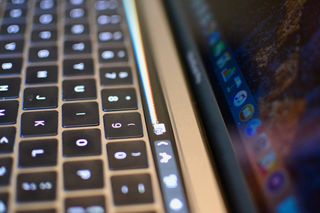 Apple's Interface Guideline for the Touch Bar on the MacBook Pro says that it is intended to be used as an input device, not a secondary display.
That hasn't stopped some developers from creating uniquely useless apps that are fun, if not functional. You won't find these apps in the App Store because Apple wouldn't approve them, but you can download and install them directly and make your Touch Bar sparkle.
Note: Apps on this list might not be from identified developers and haven't been security checked by app review staff. That means they could have bugs, malware, spyware, or other problems. Please take this into consideration before downloading apps from unidentified developers and always backup your Mac.
Here are the best Touch Bar apps you won't find in the App Store!
Touch Bar Nyancat
It's Nyan Cat in your Touch Bar – complete with music! Sometimes I trigger Nyan Cat just to make me smile. Nothing beats a rainbow Pop Tart cart running across your Touch Bar!
Knight TouchBar 2000
If you want to make your Space Gray MacBook Pro look really cool, grab this funny little tool and see Kit's light runner in your Touch Bar. Hum along to the Knight Rider soundtrack while you ask Siri to look something up for you. Seriously, you'll feel like a rock star.
Touchbar Santa
When the weather starts to get frightful, but the fire feels so delightful, invite Santa to rock your Touch Bar for a while. Sip hot cocoa while a remix of Jingle Bells is sung by Ol' Blue Eyes (that's Frank Sinatra for you youngsters). Just like most thing around the holidays, you'll get sick of this pretty quick.
TouchBarBar
If you are longing for a nice, refreshing beverage, but have to wait until quittin' time, you can scratch that itch with this funny little gag. It puts four alcoholic beverage emojis on your Touch Bar. When you tap one, you'll hear the sound of the selected beverage being poured. Refreshing!
Touch Bar Dino
Here is one of the first mini-games you can play on the Touch Bar. Its a game called Dino and it's based on the hidden Easter egg dinosaur game in Google Chrome. Tap the screen to jump over the cacti. Simple, fun, and makes great use of your Touch Bar (considering it's completely useless).
Touch Bar Space Flight
This is another one of the first mini-games for the MacBook Pro. You actually use keys to maneuver. Use the up and down arrows to avoid getting hit by incoming baddies and use the space bar to wipe them off the map with your laser fire. Talk about a time waster. Best of all, your boss will think you're just typing away like a good little worker!
SL on Touch Bar
This is just a silly little joke for the Touch Bar. It's based on a coding joke about a steam locomotive showing up on your screen when you accidentally type "ls" into a command line. What makes it special, though, is that you can change the look of the little locomotive if you know what you're doing. Your steam engine can become a bullet train!
TouchSwitcher for Touch Bar
This has quickly become one of my favorite Touch Bar tools and I'm betting it will show up in the App Store eventually. Its an app switcher for all apps that you have open on your MacBook Pro. Every app that you have open will appear in the Touch Bar. Then, you can simply tap one and go directly to it. Normally, you'd have to press Command and Tab on your keyboard to access the app switcher. Sure, some of us remember the keyboard shortcut, but for those that don't, TouchSwitcher is a gem. Plus, you can see what apps are open without having to cover your screen with that big icon list. This is a winner in my book.
Your favorites?
Do you have any favorite Touch Bar apps that aren't available in the Mac App Store? Put them in the comments!
Updated July 2019: Updated for the latest MacBooks with Touch Bars.
○ MacBook Pro with M1 Review
○ Macbook Pro with M1 FAQ
○ Touch Bar: The ultimate guide
○ MacBook forums
○ Buy at Apple (opens in new tab)

Get the best of iMore in in your inbox, every day!
Lory is a renaissance woman, writing news, reviews, and how-to guides for iMore. She also fancies herself a bit of a rock star in her town and spends too much time reading comic books. If she's not typing away at her keyboard, you can probably find her at Disneyland or watching Star Wars (or both).
I was surprised that BetterTouchTool was not on this list. Although it is not exclusively for the Touch Bar, it gives you the ability to add Touch Bar icons to apps that do not support Touch Bar, VLC being one of them. You can also create custom Touch Bar menus that will override the built in Touch Bar support for an app, I did this for Chrome since it is missing a few things I use frequently. It also allow for gesture based slide mechanics to be used on the Touch Bar. Two and three finger swipe to adjust volume, sound, or pretty much what ever you want it to adjust. This doesn't have to be associated with a button like current slide support. And it does a whole lot more than Touch Bar features and is definitely worth a look.
Thank you for signing up to iMore. You will receive a verification email shortly.
There was a problem. Please refresh the page and try again.