Backcountry photography: Should you use iPhone or GoPro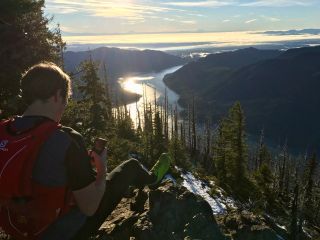 Just a couple of weeks ago Apple announced the results of their 'Shot on iPhone' campaign. Only one of the pictures was taken in the backcountry. And no, I don't consider the cute one taken in Yosemite Valley to be backcountry. I'm talking about the magical sunset picture by L. Adi Darmawan of Ulysses S. Grant Peak in Colorado's San Juan National Forest.
The iPhone has a great camera by any measure, but how does it fair when taking out into the elements? Can it measure up to a device specifically made for this?
GoPro vs iPhone in the deep backwoods
For years GoPro positioned itself as the default "outdoor adventure camera. With its rugged exterior and simple and focused feature set, it's seemingly the perfect companion when dirt and mud are calling.
As both device makers have shipped incremental improvements over the years, I wanted to take a look at how the newly shipped GoPro Hero 7 compare to the newest iPhone XR — where each excels and where each falls short.
Setup and on-boarding
If you already own an iPhone and use it every day, it will have an immediate advantage here. Don't underestimate the power of inherent familiarity. There's nothing more frustrating than taking a device out into the backcountry and not being comfortable with the settings, limitations, and how to take advantage of what it offers.
The iPhone camera is just a quick swipe away, and most likely you are already familiar with this process.
Once you're familiar with GoPro's few buttons — which one turns the device on and which one takes pictures — you're quick to get good photos in any situation. But be sure to practice a bit before settling down on that mountain top waiting for the sun to set.
The form factor on the trail
The GoPro really excels when taking action video footage while you're running along a trail or with it attached to a ski helmet or mountain bike. No other camera offers such a great assortment of attachments and connectors to keep it secure and safe from water and other matter. The form factor really works perfectly for situations like this. Even when holding it just in your bare hand without a case, the compact size gives you a great sense of security.
Conversely, with the iPhone's slippery back and thin profile, you always worry you're about to drop it. A grippy and sturdy case can minimize that, but the iPhone really wants you to stop and slow down to take a picture. But the iPhones' thinner profile also allows you to keep the camera closer to your body for easy access. The GoPro's boxy form factor sometimes feels clunky in your pocket.
The screen of the iPhone, however, is much larger than the GoPro's, which allows you to much better focus on what you're shooting. The touch targets are much more natural. The GoPro's screen offers a few navigational menu options, but it's hardly a screen that can work as a good viewfinder.
Once you have the hang of it, you can navigate your GoPro blindly. Turning it on and recording a couple of minutes of action without having to look at the screen is key for capturing that great moment when time is of the essence. The fewer options and dedicated buttons allow for quick and focused tasks.
Face ID solved one of the biggest drawbacks of the iPhone when it comes to outdoor use. Touch ID never worked properly when your fingers were sweaty or dirty, and unlocking your iPhone was a maddening process, even with the 'swipe right from the lock screen' feature that gives you direct access to the camera. Now, Face ID sees your face (unless it stumbles over your sunglasses), unlocks, and you're ready for action. But even now, I sometimes wish there was an option to temporarily turn the iPhone into "just a camera". No apps will open, no features work, no notifications! Just use the hardware buttons for the camera. I often find myself fiddling with notifications, accidentally opening the wrong app or getting distracted by other things (oh look a reminder to pay that bill).
The medium
The GoPro is, first and foremost, a video camera. Still pictures are great, but not what the camera was made for. By default every time you turn on your GoPro, it's in video mode. For still pictures, you have to press the start button once more. Again, something you get used to, but it gives you an idea of how the GoPro was designed. The iPhone's default setting is for photos, but the software remembers that you took video last and will open the camera in that setting.
For "pocket cameras," both devices take excellent video and still photos. Both offer 4K video output, 12MB still images. Plenty good for your family outing and even professionals have tested and documented this many times over. It takes a bit of practice to get that "GoPro" feel of the still photos if you don't always want that Red Bull action-shot feel. The wide-angle lens warps the photos a bit, giving them all the same look. The iPhone has a few killer features that are easily accessible. Pano is perfect for those wide horizons. Time-lapse and Slow-mo are incredible for rolling clouds and waterfalls.
Post-production back home
If your photos are directly tied to iCloud, accessing pictures on your iPhone is so seamless, it's unbeatable. Once back in good cell coverage or WiFi, the photos you took sync to the cloud and are easily available on your Mac at home for post-production and sharing to social media almost immediately.
The GoPro has a couple of dedicated apps for iPhone that allow wireless transfer for your media from the camera to your phone, but it's a noticeable barrier. You can also connect the GoPro directly to your Mac via "dongletown", but that's so 2000. After a long day out with my GoPro, I often find that gather my best shots to post to Instagram is cumbersome.
So which is better for backcountry photography?
The best camera is the one with you, they say, so is taking two devices is better than one?
Maybe.
Each device offers clear benefits. When taking lots of videos, the GoPro shines and it feels sturdier in your hands. The slim profile of the iPhone makes it easier to access, even though there's the potential for distraction. The GoPro's viewfinder is no competition for the iPhone's display, which will allow you to better focus on your subjects.
If you only take one device, the iPhone clearly wins because of all the other added benefits. Features like mapping, GPS tracking, and even cell coverage for emergency (if available) make it the best all around device. But taking two devices also gives you two batteries, and if you're worried about running out of battery, especially if you use the iPhone for maps and tracking, then having a dedicated camera for your video and still photography is be the way to go.
Outdoorsy type
Built for the great wide open, the GoPro is a fantastic camera for deep woods hiking, backcountry adventures, and everything in between.
All-purpose
It's more than just a camera, the iPhone is your map, your entertainment, and may even save your life.
Master your iPhone in minutes
iMore offers spot-on advice and guidance from our team of experts, with decades of Apple device experience to lean on. Learn more with iMore!
Mathias creates beautiful many things. Co-founder of the Outdoor Society, publisher of outdoor inspiration including guidebooks, calendars and the weekly trail running podcast Singletrack. In his spare time he runs trails and climbs the mountains around his base camp Olympia, WA. Find him at The Outdoor Society or @mathiaseichler.