Best Antivirus Software for Mac in 2023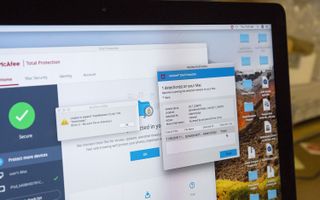 (Image credit: Briana Scroggins/ Future Plc)
The best antivirus software for Mac can do a lot of things for you, from keeping your computer safe from unwanted attacks and infected files to so much more. There are a whole bunch of really great options that are available for Mac, but each one of them is created a little different, and offers a slightly different set of features. Our top pick for the best antivirus software for Mac is Bitdefender Antivirus for Mac. From its ability to stop 99% of threats without slowing down your machine to the extra security and multiple licenses that are offered, there is a lot to like about this Mac antivirus software. While you're looking after your Mac, check out how to check for Mac viruses to keep your system safer.
Bitdefender Antivirus for Mac
You can always trust iMore. Our team of Apple experts have years of experience testing all kinds of tech and gadgets, so you can be sure our recommendations and criticisms are accurate and helpful. Find out more about how we test.
Best overall Antivirus software for Mac
Bitdefender is the best Mac antivirus because it does a great job stopping malware before it has a chance even to start downloading. Plus, most threats are instantly scrubbed without ever hitting the quarantine folder. This is because Bitdefender taps into several malware databases to keep tabs on what's out there and block it quickly.
It also recognized traits in new threats, known as zero-day malware, that haven't been identified yet and stops them. Bitdefender also recognized and stopped more Windows threats than other Mac antivirus programs. This ensures you don't accidentally send a threat to family or friends using a PC.
On top of great protection, Bitdefender Antivirus for Mac includes a vulnerability scanner and a VPN. It also both blocks and removes adware, which reduces how often you'll see targeted ads. There are a few missing tools, though. Bitdefender Antivirus for Mac doesn't come with either a personal firewall or a password manager. It also doesn't include extra security for banking and shopping online.
But overall, Bitdefender is a very secure and reliable program that works without causing noticeable drag or slowdown of your computer. Plus, it comes with multiple user licenses to protect more than one device for about the same cost as other solutions that only give you a single license.
AVG Antivirus for Mac
Best free antivirus for Mac software*
Though AVG Antivirus for Mac is free, it doesn't skip on security features. This program stopped 100% of Mac threats and 95% of Windows threats during testing. I was really impressed with how well AVG recognized the zipped test file as containing malware during the decompression process. It quarantined the entire folder instead of waiting for each file to download.
Even when I allowed some threat to download completely, AVG was able to find them quickly. While it doesn't have a lot of extras, this free Mac antivirus impressed me with including a vulnerability scanner. This tool looks for outdated programs and drivers - where ransomware tends to sneak in - and gives suggestions on where to download a legitimate patch or updated version.
This free antivirus program is super easy to install and use. Each function is represented by a large icon that glows red when it isn't set up and green when it's ready to use. However, because AVG is a free program, I experienced a lot of pop-up ads.
While this is very common among free software programs, it does become frustrating having to close these at the most inopportune times. There are moments when these ads become bothersome, like interrupting while watching videos or while downloading programs and sometimes during online chats. But overall AVG Antivirus for Mac is a great program for stopping malware.
Avast Premium Security
Best premium Mac antivirus option*
Avast has always been one of my favorite programs because of how quickly and accurately it stops malware without causing my computers to slow down. In my tests of Mac antivirus, Avast stopped all threats in record time. This program is easy to install and figure out how to use it. Tools and functions are clearly marked or easy to find from the user dashboard.
Plus, Avast Premium Security includes a personal firewall for monitoring anything trying to sneak in through your internet connection. Its Webshield keeps you from accessing fake sites, which is essential when you're shopping or banking online. It ensures you land on a legitimate page instead of one designed to look correct, but is really a phishing scheme to collect personal information and steal your identity.
There are a few other tools available for Avast Premium Security users, like the VPN, password manager, anti-tracking tools, and system cleaner. However, these are programs that need to be downloaded, set up, and used separately from the antivirus program. Each of these tools is very useful, and I recommend using them. However, it does make it more difficult toggling between programs compared to those Mac antivirus solutions. Those can be easily accessed from the user dashboard.
Intego Mac Premium Bundle X9
Best option specifically made for Mac*
This Mac antivirus program is a group of individual programs specifically designed for Mac computers. It includes VirusBarrier, NetBarrier, ContentBarrier, WashingMachine, and Personal Backup, and the VirusBarrier program is the primary antivirus software. It recognized 98% of the malware threats in my tests.
Intego's other programs include a personal firewall and great parental controls that both manage time and block inappropriate content. Intego's WashingMachine looks for junk files, outdated software programs, and files you haven't accessed in a while and helps you dispose or update them to help your Mac run faster.
Intego takes a long time to download and install, and when the program is fully up and running, it does create a noticeable slowdown to your computer. Because each tool is a separate program, you do have to open and toggle between them rather than having access to them from a single dashboard. Also, Intego Mac Premium Bundle doesn't recognize Windows malware at all. You'll need to be extra vigilant when sending attachments and links to PC users to ensure you're not passing a threat on to them.
McAfee Total Protection: Best Mac antivirus for families
McAfee has gotten a bad wrap in the past because it didn't do well when it came to blocking threats. Plus, it used a lot of system resources, which created lag on computers. But it has worked hard over the last few years and now is an industry leader. While testing McAfee Total Protection on Mac, I was impressed with how fast it stopped malicious downloads, blocked dangerous websites, and warned of phishing schemes. It earned a perfect score for stopping all threats.
McAfee Total Protection is one of the best antivirus software for Mac options for families that have multiple devices to protect. It works on PCs, and both Android and iPhones with all devices and settings managed from a single online account. Plus, McAfee has some of the best parental controls that both block inappropriate content and control when and how long children can be online.
Because McAfee Total Protection is a premium security program, it includes an impressive number of extra tools, including a personal firewall and safe banking tools. McAfee is one of the only antivirus programs that monitor cryptocurrency accounts to keep ransomware and other threats from hacking into them and illegally mining your money.
It is missing a vulnerability scanner, which is a little disappointing since this is a vital tool for keeping malware at bay and is typically included with even basic antivirus programs. Also, while McAfee does have a VPN and identity theft protections, both are only included with your package if you click the option to renew your subscription every year automatically. Once you opt-out, the benefits of these two programs are blocked.
Norton 360 w/ LifeLock
Best Mac antivirus with identity protection*
Norton 360 with LifeLock is an impressive program that monitors the dark web where your personal information is bought and sold or even simply shared with identity thieves. It also keeps tabs on when your identity may be used to create credit card accounts, used as an alias by a criminal, or used to apply for healthcare. If your identity is compromised, LifeLock will help you through all the steps to regain your identity and ensure it doesn't negatively impact your credit.
I've found that Norton works a little better on Mac than PC, though it has the same impressive feature list. Norton stopped 100% of Mac threats without a problem, though it did struggle a bit recognizing Windows threats downloaded to Mac computers. This isn't a problem for your computer, but these threats can be sent on to Windows users who will become infected. Also, during my testing, I didn't experience the same slowdown on my Mac test computer as I did on my Windows PCs, and other third-party test labs, like AV-Test, show the same results. However, this changed a bit when I installed Norton on my home computers, where more software is installed and used. Here there was a noticeable lag that at the time became problematic.
Overall, Norton 360 protects well and performs decently, especially if you don't have a lot stored locally on your computer. Plus, Norton includes a firewall, password manager, webcam monitoring, and unlimited VPN access.
Trend Micro Antivirus for Mac
Best Mac antivirus with social protection*
The tool I was most impressed with Trend Micro Antivirus for Mac is the social media protections. This monitors your accounts on Facebook, Twitter, and other social platforms. It warns you when something shared or displayed will lead to a dangerous website, phishing scheme, or download a threat. During my testing of the best Mac antivirus programs, Trend Micro stopped every threat from downloading. Some of these were instantly scrubbed, but most of them were sent to the quarantine folder.
The most frustrating part of using this program was figuring out how to delete malware sitting in quarantine permanently. After some trial and error, and a Google search, I learned there is a padlock icon at the bottom of the viewing screen. Clicking this unlocks the folder so you can then select and permanently delete infected files.
Trend Micro includes an impressive list of security features with its Mac solution. These include a password manager, a vulnerability scanner, and some of the best parental controls. One tool missing is a firewall. Trend Micro also doesn't have a VPN or banking tools that other programs include. This program does use a lot of system resources. You will notice some slowdown, and both vulnerability and virus scans take much longer than most other Mac antivirus.
Bottom line
Bitdefender Antivirus for Mac offers the best overall protection. It stops 99% of Mac malware threats and a decent amount of Windows threats, so you don't accidentally pass on malware to PC using family and friends. Bitdefender has a VPN and adware removal to give you a better, private, and more secure online experience. Plus, does it without using too much of your computer's resources. This basic antivirus program includes a few upgraded tools, like a vulnerability scanner, and comes with three user licenses to protect multiple Mac computers at once. I'm especially impressed with how Bitdefender stops threats before the download process even starts rather than waiting for the infect folder to start downloading, fully open, or deploy before permanently deleting the threat.
How we test Mac antivirus software
The most significant risk in testing antivirus programs is ensuring other devices on your network don't become infected with the live malware samples used for testing. For this to work, I tested Mac antivirus programs on computers connected to a designated network. During testing, only the test computer was connected to the internet with all other devices, including mobile devices, safely disconnected.
Test computers were factory set with only default programs installed, and reset to these settings after testing each antivirus program. After installing each antivirus software, all security features were disabled both on the Mac computer and within each of the web browsers used for testing.
A large, compressed file of several hundred Mac malware files was downloaded and opened. It was easy to see as antivirus programs either stopped the download process or captured the threat as each malicious file opened. Threats were generally sent directly to the antivirus program's quarantine folder. After the initial download, I then used the installed antivirus program's virus scanner. Sometimes this found some of the threats that weren't stopped during the download process. These, too, were sent to the quarantine folder. While some credit is due when a program can successfully find a threat that has infected a Mac, it is more critical that infections don't happen in the first place.
After testing with Mac malware, I duplicated these tests using Windows malware. While Windows threats won't affect your Mac, they can accidentally be forwarded on, usually through an infected IM or email file, to Windows users, who then become infected. I also checked out each program's browser extensions, again with browser security settings disabled, to see how well each antivirus Mac program recognized and blocked dangerous websites, especially phishing schemes.
My final test was installing these programs on my home computers, and on lab computers with a lot of programs on them. I didn't attempt to download malware in these cases. Instead, I looked at how well each antivirus program performed in a natural setting. I wanted to see if any slowdown or lag occurred while the security program was installed during updates and while performing virus scans. The most frustrating element of any antivirus program is slowing down your computer and interfere with your work.
Master your iPhone in minutes
iMore offers spot-on advice and guidance from our team of experts, with decades of Apple device experience to lean on. Learn more with iMore!
Nicole writes for multiple Future Publishing brands covering topics from antivirus to kitchen appliances to SAS. She has over 15 years of research and writing experience, including eight years of testing and reviewing consumer products. Nicole earned bachelor's degrees in both English and Political Science with a focus on empirical research. In her spare time, Nicole serves on several school councils and volunteers for a local arts board.