The Best Controller for Fortnite on iPhone in 2022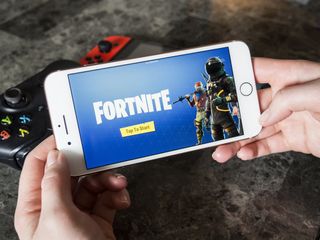 (Image credit: iMore)
With Fortnite on iOS now supporting Bluetooth controllers you'll want to pick one up as soon as possible to give you that extra advantage. The Gamevice iPhone controller (opens in new tab) in this case is the perfect gamepad for you to earn that Victory Royale.
Our pick
(opens in new tab)
Perfectly designed and form-fitting

It's a tad on the expensive side, but being specifically made for iPhone gives it an edge that other mobile controllers don't. And if that isn't enough, it's almost as if you're holding a little mini Nintendo Switch with the way the Gamevice is designed to attach to your phone.
Who should buy this
Why you can trust iMore Our expert reviewers spend hours testing and comparing products and services so you can choose the best for you. Find out more about how we test.
This controller is perfect for casual and hardcore gamers alike. And because it attaches directly to your iPhone you won't need to worry about buying a separate controller clip to hold your device. No matter which model iPhone you have (or even iPad), there's an option for you to get the appropriate Gamevice controller to fit it.
Is it a good time to buy this phone?
Now's the perfect time to pick up this controller seeing as Fortnite Mobile is finally Bluetooth compatible. Though the Gamevice attaches directly to the Lightning port, you'll still beat out the competition using Bluetooth controllers with more latency. This gives you a decisive advantage when playing, and other players won't know what hit them.
Small
Designed for iPhone
Attaches directly onto phone
Less latency
Expensive
Grip may take time to get used to
Portable like the Nintendo Switch and designed just for iOS
If you prefer your gaming controller to actually attach to your phone, and love the look and feel of the Nintendo Switch and want something similar for your iPhone, you'll want to drop some cash on the Gamevice Controller for iPhone.
This peripheral gives you all the controls you need to dominate the competition while also cutting out any latency issues associated with Bluetooth by connecting directly to your phone via the Lightning Port. You get all the joysticks and buttons you'd expect from a controller and because it attaches right to your phone you don't have to worry about propping your phone up to play. It's much more comfortable this way and also keeps your phone in your hands.
Alternatives to the Gamevice controller
The SteelSeries Nimbus is essentially the pinnacle of gaming controllers for all your Apple devices if you prefer a traditional controller like you'd get with PlayStation or Xbox. Featuring twin-stick controls and shoulder buttons, this is a controller that's perfect for all sorts of gaming on your iPhone, iPad, and even Apple TV that won't let you down.
Runner-up
(opens in new tab)
Traditional design at a low cost

The SteelSeries Nimbus is an affordable option for those who don't want to spend too much and keep the familiarity of a traditional console controller. And it's compatible with several Apple devices.
The SteelSeries Nimbus features an internal battery that supports up to 40 hours of gaming and is rechargeable via Lightning Port. There's also the Nimbus Companion app (opens in new tab) that will help you discover other great games for iOS that support Bluetooth controllers.
Bottom line
The Gamevice controller (opens in new tab) may seem expensive, but it is well worth the money if you prefer an attachable gamepad. Don't let its design get in the way of your Victory Royale dreams if you're more accustomed to traditional controllers.
Pop culture geek, hopelessly addicted to streaming movies, tv shows, and podcasts. Would be lost in life without unlimited data.
I will not play Fortnite without controller support. Touch controls for FPS and similar games are horrible!!! Plus you're blocking parts of the screen with your fingers. It's insane that game companies don't have controller support at launch. They must think gamers hate controllers. I love using my MFI controller and despise having to use touch controls because of lazy programming and illogical companies.
Thank you for signing up to iMore. You will receive a verification email shortly.
There was a problem. Please refresh the page and try again.