Best iPhone invoicing app for freelancers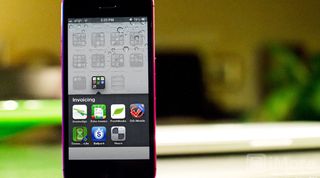 If you work freelance in any capacity, at any profession, keeping track of billable hours and being able to generate and deliver invoices is vital to your income and business. Luckily, if you have an iPhone, the App Store has a number of invoicing apps ideal for freelances.
We've taken a look at quite a few of the most prominent and most popular invoicing apps available in the App Store, free and paid. We've created invoices, estimates, and set up inventories, all to figure out which iPhone app is the best all-around solution for freelancers.
Our choice is Invoice2go by Apps2go, and here's why we picked it over the others...
User interface
Invoice2go has a streamline interface that focuses around the items you create on a regular basis. The main screen upon launching Invoice2go gives you quick access to document creation. The four featured items are invoice, estimate, purchase order, and credit memo. To create any one of these items you can simply tap on it and you'll be taken to the corresponding creation section.
The remainder of Invoice2go is tab driven with a menu along the bottom. Aside from the main home menu you've got a tab for folders, products, clients, and settings. Invoice2go allows you to create multiple folders under the folders tab in order to allow you to better organize client data. At this time, it doesn't appear that you can create your own folders but the default ones do give you quick access when it come to jumping around to different data sets.
The products tab is unique to Invoice2go and really sets it apart from most other invoice apps such as Zoho, Freshbooks, and Timewerks. The main difference is that you can set up and manage custom products that you can then quickly add to invoices. While some of the other invoicing apps offer inventory or product options, they aren't as clean and well laid out as Invoice2go is. The options you need are where they need to be and easily accessible. Some of the other invoicing apps we took a look at only allowed you to create items inside invoices and not on their own. Anyone who needs to add the same items to an invoice continuously would grow tired of having to add them manually.
The last tab aside from the settings tab is the clients tab. This is where you can add clients and edit their details. You can also pull contacts from your default Contacts app or add contacts within Invoice2go to your Contacts app which is a nice add-on.
The last tab is the settings tab which allows you to enable Cloud2go syncing, custom templates, logos, styles, discounts, and more. Under general options you can also edit some of the settings for line items that appear on your invoices. Some of these include enabling or disabling quantity and rate columns, shipping fields, and product codes. If none of your invoices ever deal with shipping, you can simply turn it off so a field for it doesn't show up when creating an invoice.
When comparing the interface of Invoice2go to other apps such as Timewerks and Zoho, there wasn't any contest. Certain invoicing apps we looked at had confusing fields and input methods that just couldn't stand up to the ease of use that Invoice2go offers.
Creating invoices & estimates
To create an invoice within Invoice2go you can tap on the Invoice button from the home menu. You can choose the customer name or set up a new customer if they aren't already set up in Invoice2go. As you add items to the invoice it will automatically calculate at the tax rate you've set up. You can also enter shipping information where shipping charges are applicable as long as you have shipping turned on within settings.
Estimates are done almost the exact same way. The only difference is that it won't show that the client owes you money unless you choose to set it up as an invoice as a later date. It's a nice way to show a customer pricing without actually having to send an invoice.
When it comes time to send an invoice, you can customize them or choose from one of the default templates that Invoice2go offers. In order to create a customized template you can simply hop onto Invoice2go's website and create one with your own logo and text. Their default editor works well and will do what most people need it to.
After you send an invoice to a client with Invoice2go they'll receive a PDF version. That invoice will now automatically show up in your unpaid section of Invoice2go until you mark it as paid.
When it comes to template choices, customization, and sending invoices, some other invoicing apps offer just as many generic templates but we found Invoice2go to be the most customizable from a usability standpoint. No one wants to spend lots of time customizing an invoice or have to pay in order to do so. Invoice2go lets you do this in just seconds.
Product & inventory management
The product management features of Invoice2go is what really sold us on Invoice2go. Creating products within the app or using their online product adder is super simple. Once you've got all your products and SKUs put in, you can easily add them to invoices and estimates with a single tap. This will be important to anyone who sells product or has items that they invoice for frequently.
If you already have SKUs set up in an inventory system, it takes a little time to transfer them over to Invoice2go manually but it's worth the effort so you can easily pair sales and products with your accounting software or inventorying system.
It is worth pointing out that Invoice2go is not meant to be an inventory system replacement. The products section is meant to be a convenience when creating an invoice but it does not give you a way to track products and what you have in inventory. I have found it easy to just print out any invoices I've sent out in order to pair with inventory and subtract and add where needed.
Certain apps such as Zoho also allow you to add items but most only let you enter an item name and description. Invoice2go takes it one step further and lets you create item codes, or SKUs. Anyone who has an automated inventory system will greatly appreciate the ability to easily match transactions with their corresponding items.
Cross-platform support and syncing
If multiple users need to access invoicing data but they're on different platforms, that can sometimes become an issue. Invoice2go aims to solve that by offering a plethora of apps across several platforms. Apps2go currently has versions of Invoice2go for iOS, Android, Mac, and PC.
The whole Apps2go suite of products also offers Cloud2go syncing which allows you to easily sync all your data between devices seamlessly and over the air. If you've got users on multiple platforms or you use different devices to manage your data, Cloud2go is a must have. There is no limitation on what users can use it either. All accounts, even the free version, will come with 5MB of storage by default.
Pricing
We took a look at several different invoicing apps and we found lots of them. Everything from free to super expensive options are available. In this case, you get what you pay for. Many of the free options weren't that great or were super skimmed down versions of Invoice2go. That also doesn't mean that the most expensive option is the best. There were invoicing apps available in the App Store that far exceeded the price of Invoice2go but we just didn't find the value like we did with Invoice2go.
You can get started with Invoice2go for $9.99. This will get you the native iPhone version. For $14.99 more you can also pick up the full iPad version. The initial app purchases are all you need in order to get started. The trial version isn't timed but will only allow you to create three documents. This can be an assortment of invoices, estimates, and purchase orders. After that, you'll be asked to upgrade.
The starter plan is $49 a year and gives you access to all the features of Invoice2go. Once you reach 100 invoices in a year, you'll have to move up to another plan. If you don't think you'll create more than 100 invoices a year, the starter plan should be find.
Invoice2go also has pro and enterprise plans that are priced at $99 and $149 respectively. The difference between the two is the amount of users. With the pro plan, you get unlimited document creation and access to all of Apps2Go's suite of products but you're limited to one user. The enterprise plan gives you everything the pro plan does but allows you access for 5 users.
In our opinion, Invoice2go itself is worth every penny just for the service itself. The fact that pro and enterprise plan also gives you access to all the other Apps2go products is a no brainer. Apps2go really has a great suite of products including scan, sign, map, calendar, and scheduling apps. If you're looking for an entire ecosystem, Apps2go will provide just that.
The bottom line
Having a professional presence, even if you're a freelancer, is crucial to running and sustaining a successful business. Part of that is invoicing clients on time and having a way to track who owes you money. Invoice2go allows you to not only send professional looking invoices to your clients, but customize them to your liking.
From a back-end standpoint, Invoice2go is the best option for a small business with a few employees that need access to the same data. Cloud2go and Apps2go's other premium productivity apps make it the best possible choice for freelancers looking for a great invoicing solution while on the go.
iMore senior editor from 2011 to 2015.
I don't get it, $10 for the app then i need to sign up for $49 a year and even then I only get 100 invoices? Makes no sense to me.

What don't you get? If you need more, sign up for the $99/yr plan, which is unlimited. Also note... the article title is, "Best iPhone invoicing app for freelancers." Most freelancers don't do tons of invoices and each invoice is hundreds or thousands of dollars. While everyone wants to keep costs down, a $10 app that costs $100/yr that drives such an essential part of the business, is peanuts.

It's not really always peanuts. Lets say you do a $100 small job. You take that payment by credit card- there goes 2-3% off the top. The $50/year for 100 invoices and there goes another $.50 producing the invoice. Then goes about 30% to taxes. Not left with much to take home in the end. $100 - $2.50 processing - approx $31 taxes - $.50 invoice. You took home $66 for that job. Every penny matters when you own a business or are a sole proprietor. There is plenty of free software to do an invoice out there. This is simply not competitive for someone who does occasional billing/invoices vs free. The $99 is NOT unlimited, look at the restrictions. Only 200 contacts. Then nex tthing you know you're spending $150 a year.

And, with the free app, you made $66.50... peanuts. (The other stuff you added is called a 'red herring'.) I'm not saying you shouldn't evaluate the money you spend carefully. I'm saying that if this is a good app, it *might* be worth that extra 50 cents or whatever its cost adds. OF COURSE, if the free apps are just as good, then it isn't worth it.

I have been using this app for over a year now. It is the BEST. Nothing will come close to the way this app works. Plus the fact that you can us it on ipad or iPhone plus it works on android . I have it on my ipad and mini ipad plus my Nexus 7. The ipad at the office sync with the mini ipad and nexus 7 that i use in the field . I have to use the nexus 7 in the field because there is no printer that I can get to work in the field with the mini. But with the sync function that they have everything stays up to date on all three unit. I have been in business for over 36 years and have spent more money on try to come with the best way to invoice customers. I now have the best there is. If you have questions ask.

Why would store your contacts with them. I have over 3000 contact on my iPhone and Ipad I use them. I don't store them with the app. That dumb .

I have worked at General Motors dealerships for 26 years as shop foreman. i taught Auto-Mechanics for 4yrs. I have my own auto shop behind my house with employes and an average
of 400 cars a year. Which app would work best for me or should I use Alldata elite ,Winworks, or identifix which is strictly auto software or any other recommendation . THANKS FOR ANY RESPONSE TERRY

I agree smlombardi, It's ridiculous that the app is $10 and then you need to buy a yearly plan on top of that. It's a very nice app but you can get Quickbooks Mobile, which syncs with Quickbooks on your desktop which does a LOT more stuff (payroll, checks, manage bank accounts, time keeping records, better accounting), for about a dollar or so more per month over this. Their unlimited plan is $99/year and Quickbooks is $9.95/month; about $1.50 more per month. So technically Invoice2go is $110 the first year with the plan and buying the app and Quickbooks is $119.40. If you don't have Quickbooks on your desktop, the Mobile version is still perfectly good for invoicing, customers, and recording payments. I'd go with the name brand around forever, but there must be a cheaper or free solution just to store customers and do basic invoicing.

OK, so it's competitive pricing wise with Quickbooks? It's been a while since I've looked at Quickbooks, but it used to suck. I don't know this app either, but if it's any good (and the reviewer seems to think it is) it is EASILY worth that.

I'd agree with smlombardi and stulaw11. I'd also be interested in knowing if anyone has used Freshbooks, Zoho or Bizmo, and if so how was that product experience? Especially in mobile. One hundred?!? 100?!? in a year?!? That is a fart in the wind. Does it last many companies more than a month? That's insane for anyone with weekly, biweekly, or monthly recurring clients. There has GOT to be far superior options than this overly priced and overly limiting app. Yikes...

If you have NO INTERNET CONNECTION you can not use quickbooks online. But I can still use invoice2go and sync it up later .

If you have an iphone you 99% of the time will have a data connection anyways- wifi, lte, 4G, 3g, edge, etc.

Hi Rowanova, This is Reshma from Zoho Invoice Team. Invoicing is indeed a critical aspect of your business and with Zoho Invoice you'd find it completely hassle-free. Take a look at our web application here https://www.zoho.com/invoice/ . If you're an iPhone user, you can download our iPhone app for invoicing right here https://itunes.apple.com/us/app/zoho-invoice/id413017364?mt=8.&at=10l3Vy Give it a shot and we'd love to hear your experience. If you have any questions, drop us a mail to support[at]zohoinvoice[dot]com.

Try billings. billings pro for iOS and Mac. no annual fees just pay for the software. make your own invoices, track them, etc. my wife has been using it for over a year and has worked great. there have been a few minor issues, but nothing we couldn't fix. I wish imore would ask people what there favorites are and THEN do a BEST APP FOR ????

Billings needs a monthly subscription too. Not a viable option.

Billings Pro needs a monthly subscription. Billings does not.

The app has a 2.5 star rating and has not been updated since November 2011. I would hardly call that a viable/reliable alternative.

Here's the problem. Go to their website and compare the plans. The low 100 invoice plan can only store 50 contacts. Even the $99 plan can only store 200 contacts. 100 per year invoices is too low, even for freelance work. 250 or 500 ok, but not 100. $50 is too expensive for 100 invoices, that's $.50 per invoice. Then an sole proprietor can go up to the "Pro" plan which is expensive at $99/year and then you are still limited to 200 contacts. So if you want to store your client/contact list in case you need to do future invoices on the go, you are limited to 200. Stupid move by this software. Sure, you dont need all your contacts, but what if you get a call and need to do an invoice? You need that client right there to select and do the quick invoice and send it off. The contact restriction is stupid when the plan is $99 a year. Again, you can get Quickbooks Mobile or a similar service for about the same price that will do a lot more. This app is very nice and very well put together but their prices are simply too high for what you get for a sole proprietor when the $150/year plan is really what you would need to do everything other software can for less.

My name's Sar Sovannrattanak. I'm 14 years old. I want to have Iphone 5 like each others I'm a poor guy I don't have money to buy I don't know how to get free Iphone 5 :(

Tough shit, if you can't afford one then you can't have one. What do you expect people to say? Are you hoping someone is going to reply and tell you they'll buy you one? WTF is the world coming to when people sign up on forums to beg ... Btw, nothing in life that's worth having is free, best you get used to that at an early age and when you get a job you can save up and buy one like the rest of the world do.

I'm using "Harvest" http://www.getharvest.com/ and couldn't be happier with it. I like their website and their mobile app. And as long as you don't have more than two current projects running in parallel, it's free. After that, the "Solo" version costs 12 USD/month. which gives you unlimited projects and invoices.

Hi Allyson, the easiest app I've found is through Planetsoho, and it's free. I don't usually post suggestions like this, but I thought this app was worth sharing. Hope it helps everyone.

Nobody has tried Selbuk? Its way better than any of the apps mentioned here. Selbuk iphone app is at 19.9USD and its cloud sync is only 6usd per month and there is no limit once you are set. They even offer money back guarantee. You can also turn off monthly subscription should you decide stop for whatever reason them resume anytime you like by re-activating cloud sync.

Really nice and detailed write up :) If you want a free invoicing app, I suggest you check out Invoiceable (http://invoiceable.co).
Its free to use, create multiple contacts, send as many invoices as you want via email as PDFs. (I'm a little biased as I'm one of the investors in the company)

A couple of words of warning about invoicing apps in general. First remember that this is not an accounting system. Invoices you raise still need to be posted to your accounting system. Unless an interface is written to take app based invoices and create a journal which your accounting system can read you will have to do this manually. If you don't do it your accountant will need to do it for you and that's expensive. Accountants aren't bookeepers but they'll charge for it anyway. Second, tax. This is by far the most important consideration. Tax regimes are notoriously complex - especially in the US. Set up sales tax incorrectly on an invoicing app and you can expect to spend more time and money dealing with your accountant and tax office than the app is worth. Furthermore tax rates and thresholds change. When they do you need to be on top of this and the effective date the change takes place. If you don't know what tax rate to charge on an invoice because you raise an invoice around the effective date of a rate change you could find yourself in trouble. If you raise an invoice at one tax rate, the rate changes and you need to raise a credit note for the original invoice, what tax rate do you apply to the credit? An invoice app will not give you the answer, but the consequences of getting the wrong answer can be significant - in time and money. Tax is another reason why app based invoices must be posted to an accounting system since that's where your sales tax returns will be generated from, not an app. Third, inventory. Unless the invoicing app is dynamically linked to your inventory system you have no idea of the volume of items on hand, on order, lead times, minimum inventory levels or anything else that allows you to control inventory. Essentially without this link you are flying blind and run the risk of promising inventory to a customer that you simply don't have. That carries reputational risk. While these invoicing apps seem slick, quick and cheap bear in mind that there's far more to this than meets the eye. Not only can you easily screw up your accounting but you risk screwing up your reputation with your customers as well. I suggest anyone considering one of these apps think long and hard before signing up.

MAWCSS
You sound like you know what your talking about. I'm thinking of getting into freelance web design and have been looking at software that makes everything you just mentioned cheaper and easier. What would you suggest I should use or any info on how to run things would be appreciated.

If you're looking for free and simple online invoicing app I would suggest INV24 - http://inv24.com/ I'm using this service for a couple of months now, and I'm completely satisfied.

There are some further invoicing apps, also cost free ones which could be of interest for your readers aswell: http://www.freelancermap.com/channel/19-freelancermap-international/arti...

I have been using invoice2go for the past year, now it's time for me to renew my subscription and I'm being charged $64.99!! I've only used 70 invoices in the 12 months so am on a Basic plan and I don't see that higher price for a 12 month Basic subscription stated anywhere!!

I just paid them 99.00 I guess it the cost of doing business. Also it the only invoice app that I could find that work on iso and android. Which is key for me

I found a very handy alternative:
https://itunes.apple.com/app/pdf-invoice-generator-quick/id763496790?mt=...
The app even lets me backup my invoices to my dropbox. For 10 bucks I never found anything quicker or more intuitive. Oh and no hidden fees.

This one is better I think. Its for invoicing and estimating a job. Its called Quilder.
This could be used by builders, plumbers, roofers and electricians. They can search and add parts and materials to a job and email the quote/estimate to the client and keep a record of everything. Its FREE also.
<a href="http://www.quilder.com">Iphone Estimate App</a>

Link correction: www.quilder.com

Check out Moon Invoice app for iOS and OSX Moon Invoice is unique and 1st invoice app with iCloud sync for iOS and Mac OSX for small businesses and individual
● Main Modules: - Invoices, estimates, purchase orders, customers, venders, payment receipts and multiple companies support - 22 Professional PDF templates
iOS App : https://itunes.apple.com/us/app/moon-invoice/id676016958?mt=8&at=10l3Vy
OSX App: https://itunes.apple.com/us/app/moon-invoice-invoices-estimates/id813501...

Really nice app for Small organisation. thank you for sharing

This one is a cool app. But, I certainly prefer Invoicera's Iphone app. It is free and has a very good navigation and interface. Manager
www.invoicera.com

I tried it but liked Inv24 more for my Ipad air 2. Everything I need is just to make some simple invoices, it is not so overloaded with additional things. https://www.inv24.com is the URL.
Get the best of iMore in in your inbox, every day!
Thank you for signing up to iMore. You will receive a verification email shortly.
There was a problem. Please refresh the page and try again.