Best Nintendo Switch games for young kids 2022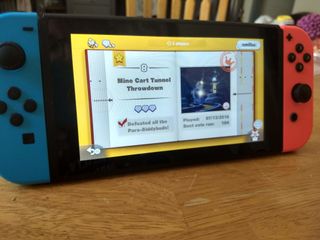 (Image credit: iMore)
If you love video games, chances are you want your kid to love them too. Fortunately, the Nintendo Switch may be the most family-friendly console. It has a wealth of kid-friendly games that you can hand off to children old enough to operate controllers safely without worrying about what they might get into, so long as you pick the right games. If your tiny human is old enough to manipulate a controller and understand how to operate the Switch, then this list is for you. Here are the best Switch games for kids.
(opens in new tab)
Super Mario 3D World + Bowser's Fury - Nintendo Switch
Featured favorite

Super Mario 3D World + Bowser's Fury is fun for the whole family, as it comes with both an extensive single-player and multiplayer campaign. Super Mario 3D World is the Wii U's flagship Mario remastered, with updated visuals, online multiplayer, and many QoL improvements. But the base game is just the start of the fun — Bowser's Fury is an all-new single-player adventure that finds Mario and Bowser Jr. teaming up to deal with a super-powered kaiju Bowser. It's Mario at his best, with clean, colorful visuals and entertaining levels throughout.
Gaming not just for kids, but with kids
It's hard to go wrong with finding games for kids on the Nintendo Switch, as long as you pay attention to the ESRB ratings (E for Everyone, E10+ for Everyone 10 and up, and so forth) and make sure that you keep an open dialogue with your children about what they are playing. Staying actively engaged with what interests them and asking them questions about what they play and how it makes them feel are vital to ensuring their gaming time is safe. It can also help to download the Nintendo Switch Parental Controls mobile app to monitor their gaming time better and ensure their online interactions are secure.
Different games will be appropriate depending on the child's age, but Super Mario 3D World + Bowser Fury is a good start for most ages. It's perfect for solo play and multiplayer, so be sure to grab an extra controller as well. It's also worth looking at the differences between the Nintendo Switch and Nintendo Switch Lite if you haven't purchased the hardware yet, to see if the Lite version is more appropriate for your children.
Samantha Nelson writes about gaming and electronics for iMore, Windows Central and Android Central while also covering nerd culture for publications including IGN and Polygon. She loves superheroes, RPGs, cooking, and spending time outside with her dog. You can follow her on Twitter @samanthanelson1.
Get the best of iMore in in your inbox, every day!
Thank you for signing up to iMore. You will receive a verification email shortly.
There was a problem. Please refresh the page and try again.