Best note taking apps for Mac: Evernote, Simplenote, NoteSuite, and more!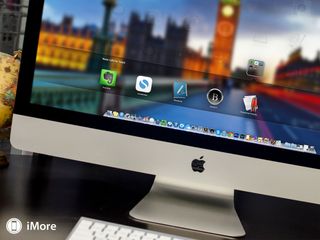 Staying organized means having a good note taking app. Whether you're a student or professional, compulsive or casual, note taking apps can help you gather your thoughts, keep information synced across all your devices, or simply keep your memos handy for when you need them the most, there are a lot of great choices. Apple offers their own, built-in Notes App, but the Mac App Store has amazing alternatives as well. Which one is the best one for you? Here are my favorites!
Evernote
Why you can trust iMore Our expert reviewers spend hours testing and comparing products and services so you can choose the best for you. Find out more about how we test.
Evernote handles not only free form notes like champ, but lets you upload images and make checklists too. It can then sync your data across platforms, including iPhone and iPad. As far as organization goes, Evernote lets you use both tags and separate notebooks. One of my favorite things about the Mac app is that if you click on a note to open it, you can also see related notes underneath it based on tags and keywords. In my experience they're always fairly accurate and make it even easier to find notes on a particular topic or subject.
If you want the best cross-platform support available paired with powerful organizational tools, Evernote fits the bill.
See also:
Simplenote
Simplenote, as its name implies, is simple. You're basically given a blank canvas and the ability to create endless amounts of notes. There is support for search and tags though which makes finding things later on a relatively easy task. Simplenote has no frills and absolutely no learning curve. Sign up for an account in order to sync your notes with the Simplenote service and start typing. That's it.
For a barebones note taking app that gets out of the way, there's nothing better than Simplenote.
See also:
NoteSuite
NoteSuite is a free form note taking app that lets you take notes in rich text format, instead of just plain text. If you choose to let it, NoteSuite can also double as a task manager of sorts and handles alerts and reminders rather well. In my experience it isn't as powerful and flexible in that aspect as dedicated todo apps, but for an all-in-one solution, it'll work for most people. NoteSuite links in with iCloud too so all your notes are synced across iOS and OS X at all times.
If plain text isn't your thing or you want a complete todo and note taking solution, NoteSuite is a perfectly acceptable option.
See also:
Notational Velocity
Notational Velocity is a simple note taking app for Mac that was created around taking super fast notes without ever having to take your hands off the keyboard. With shortcuts and ways to easily start new notes and link to others, it's one of the quickest options around, once you learn the shortcuts. It's plain, it's basic, and it'll be perfect for a lot of people.
If you want to hammer out notes as fast as humanly possible, no mouse required, get Notational Velocity.
Byword
Even though Byword is technically a text editor more than it is a note taking app, I've used it for both in the past. If you're writing lengthy notes or outlines and know Markdown, Byword is an excellent option. Not to mention it tackles two birds with one stone since you can use it for general purpose writing as well. Byword not only contains iCloud support but integrates with services such as Wordpress and Evernote as well.
If your notes are long form or you want Markdown support without the frills, Byword is where its at.
See also:
Your picks?
Have you settled on a note taking app for Mac? If so, let me know which one and why you picked it? Also, what's the most important feature to you when it comes to note taking apps? Let me know that too!
iMore senior editor from 2011 to 2015.
It's a text editor, not note taking. Sent from the iMore App

It depends on how you use it. TextEdit + lets say, Dropbox are great for notes. Byword it's not note taking app by definition too — official site says "Simple and efficient text editor". So, it's on you how use things.

I've been using this new app called Write for Mac lately. Looks really good to me, still in beta but works well. http://writeapp.net/mac/ Can't believe you missed out Ulysses 3. That is also very nice but but costly.

I tried to stay with note taking apps. Mi did a text editor roundup a few weeks ago and it's on here. Byword is a stretch already and I only included it because it ties in nicely with Evernote. Ulysses is on my text editor roundup. Byword is simple to use and has no learning curve. Text editor apps like BBEdit and Ulysses aren't general purpose note taking apps by any means. Sent from the iMore App

I don't understand why you ask for opinions on what people use for note taking but then dismiss them based on logic you don't follow yourself. If it helps people take notes, who cares? Otherwise, nice article, although somewhat limited.

Word on the street is that even Heaven's gate keeper uses Evernote. ;) So Evernote it is for me too......

Evernote looks ugly and bloated. I have gone back to it half a dozen times but soon delete it. Sent from the iMore App

How could we forget the Notes app at iCloud.com? Sent from the iMore App

FYI - has to be accessed by a Mac or desktop computer. iPhone and iPad will just take you to apple.com. Sent from the iMore App

Because it's not a native Mac app Sent from the iMore App

And what about Springpad?

Byword for notes is awesome however it's a pity it doesn't support photos etx

On the Mac, I'm partial to nvAlt instead of Notational Velocity, although I haven't tried the latter in about a year (don't know if there have been updates). Also use Byword, but nvAlt saving to a folder on Dropbox works best for me. I've also been known to use BBEdit even though it's overkill.

NV is no longer being worked on at all. nvAlt is the new version being updated.

I use Evernote, because it just works for me. Some may not like it, but the free version just works. I do not need premium features, and the yearly fee. I never go over my GB pre month. I like being able to name different notebooks, and easily clip from the web. I do miss the templates that one note had, but I can deal with it. Evernote use to have templates, but got rid of them way back. I also like the feature where you can use any computer to access Evernote.

For templates and syncing to Evernote, try KustomNote.

Outline is basically OneNote for mac with a friendly interface. Works extremely well with synchronizing with skydrive. Works fine with Box and Dropbox. I think it has a great balance between functionality and user-friendliness. Evernote is just a bit too bloated for me.

Emacs everywhere except on iOS

I use Smart Notes 3 app, iOS+Mac versions with iCloud sync.

I love and hate Evernote. It's good for long articles/notes and adding rich text/images, but way too fat and slow for quick notes. I tried Write 2 (by Daniel V.W.), but still a bit too heavy for quick notes and I don't like the Dropbox syncing. I used to use PlainText (by Hog Bay) but started having sync problems so I recently switched back to Apple's native Notes app. Now that it supports folders it's much better, but I don't like how it sorts notes by edit date as opposed to alphabetical. Most important features in a note app for me: (1) fast to open & use, without complex options, and (2) iCloud syncing, which is better than Dropbox.

How/why is it (iCloud) "better" than Dropbox?

I love Dropbox and use it every day for files and documents. But when it comes to syncing data between a Mac and iOS devices, iCloud is simpler to set up and works smoother than Dropbox.

Anyone use Day One? It's marketed as a journal/diary app bit actually offers some great writing abilities, and syncs with the iOS versions.

I use Day One on iOS, because I usually journal when I have a few spare moments between other things, often when I don't have my Mac. How do you like it on the Mac?

Sorry, didn't mean to imply I've used it on the Mac, as I have not. I do have it on iOS (pad & phone ) so I wondered if people used it for other purposes on the Mac. All in all, a nice app. Sent from the iMore App

I love it on both. Seems a little more "mature" on iOS, not sure why. Syncs across platforms flawlessly and now incorporates lots of metadata options that are all user-configurable.

Day One works great on the Mac and they keep updating it and improving it's features. It also syncs flawlessly with the iOS app, now you can also attach location and weather to your notes. One important thing I still complain of (as well as many users) is the fact that even though the app can be locked down, the actual .txt entries stored in the day one folder are neither protected nor encrypted, meaning that anyone with a text reader/editor can access and read your entries, so that kinna defeats the purpose of having "password protection" in the first place. They figure that out, and the app gets even better IMHO. Sent from the iMore App

I use DEVONthink Pro to hold onto all my snippets. I use a text editor (usually TextWrangler) to read/edit text notes in Dropbox which I access on my iOS devices with Notesy.

Evernote FREE version has served me well.

I use a mix of Evernote and Apple Notes. I find that Notes is great for snippets, basic reference notes, quick notes, simple lists and wish lists, drafting out my thoughts and keeping basic project notes. It's quick to get notes into it, quick to search and built into every apple device. Basically, for anything that just needs one note for the topic. I use Evernote whenever I need to keep multiple notes on a topic. An example is a conference- meeting multiple vendors and new/ old contacts, session notes, etc. The photo features are awesome for walking the floor and taking session slides- the built-in editing saves me a ton of time. A lot of projects also require their own notebook and go into Evernote. Why not just create a "Misc Notes" notebook in Evernote? I've tried, and for whatever reason I feel pulled to using Notes for those sorts of notes. I think it's the simplicity of it. Sent from the iMore App

You should note that SimpleNote (iOS) and National Velocity (Mac) sync with each other. It works great for syncing my notes on my Mac, iPad and iPhone.

So does Notesy. Only nvAlt (NV's current form that's being update) doesn't support folders, which is the only reason I stopped using it.

I must say, a nice list, to be sure, Ally, but that wallpaper is superlative! Sent from the iMore App

EverNote is fine. Spring Pad is also good. I like OneNote by Microsoft. For some reason it is the one note taking app that I continue to keep coming back to. It is a very clean and straight forward app.

I am surprised that no one mentioned Pages when it comes to note taking. What I like to do is make a folder called notes and use a note type template in that folder and only use it to take various notes. With Pages pretty much being the same on iOS and Mac makes it a no brainer for me at least. There are so many options out there it will make your head spin.

EverMemo is much faster and easier to open than Evernote, but saves everything to Evernote. It's really the best of both worlds - opens instantly and ready for note taking. Plus, it's free. One great app.

For Mac note taking I have tried NoteSuite, iCloud Notes, Devonthink Pro, Scrivener, Evernote, Ulysses III, Simplenote, Taskpaper, and a few others; but nothing beats Notebooks 7 for me. It handles plain text, markdown and rich text notes, syncs with Dropbox *and* provides integrated task extraction from notes and task management. And, oh, it's cross-platform: available in (and syncs nicely across) iPhone and iPad versions as well.

I have to say my favorite note taking app is NoteSuite. The iPad and iMac versions complement each other well. But to get the full impact of the app, you really need to use both.

I'm liking Apple Notes, being able to attach files is great, something lacking from most apps I've found. I really want to be able to have more control of my files though, past syncs like in DB. Evernote is still a workhorse for me, even though I can't access files if Evernote is down, which sucks. And I'm always worries Evernote will one day shut down for good and I'll be stuck without any of my notes since they are only readable by Evernote. Another cool thing about Apple's Notes, is that I can sync them with my Gmail account if I want. I'm not sure I want this though. As an artist, some of my ideas and projects can be NSFW and not sure I want the government scrolling through them and wondering about me. If iCloud can go a few months without going down, I might switch over for notes for good. And also if they got a web clipper, that would be epic.

I've been using this new app called Write for Mac lately. Looks really good to me, still in beta but works well. http://writeapp.net/mac/

Why did you forget Google Keep? It's multi platform with sync, and free. For private use it's pretty good. Or you use the Apple notes app, it's just not multi platform.

I've settled on Evernote and simple note. One reason is the app is available on all platforms. Each of these are unique but gets the job done. I also use the apple notes as well. I prefer apps that are available for all my devices and laptops. Sent from the iMore App

Oh by the way how did you get your screen to do that with the apps? Sent from the iMore App

If you just want to take quick notes and have a huge range of options of where and how you want to send them "Drafts" is by far the best for iOS ...

I have used all of these (and more) in the article but I keep coming back to nvALT for simple note taking activities. It is just so simple and easy and, if configured correctly, it can sync between macs using Dropbox. Once I have the notes in nvALT I can go anywhere (especially since I write in markdown). I have employed the file naming recommended by Merlin Mann where you put a "tag" of sorts into the file name and then a date and/or brief description. Also this is searchable using Spotlight both the note filename and the contents which makes it very easy to locate the note/contents you are looking for. On my iOS devices I use Notesy which is very similar to nvALT, however, the one downside currently is that it does not work with Textexpander Touch (developer has stated this is in the works), so I have to use drafts then export over to Notesy via a URL scheme.

Many good apps in the MAS. NoteLedge is a new one.

I use Simple Note. Use to use Native note App, it's too ugly now. Plus simple note has a password protect and it's just simple.

Notational Velocity on my Mac. No doubt about it. Nothing else even comes close. Simplenote for iOS. The two sync perfectly.

I hope this is just the beginning for more coverage of Evernote alternatives. I wouldn't be the first one to mention that Evernnote has a horrid UI, UX and even worse code. Evernote has a certain core of superusers that won't give it up no matter how bad it is. So it's nice for people looking to switch to have some nice alternatives. I started using NoteSuite last year just after it came out for Mac and iPad. It was so refreshing to use a nice clean user friendly interface. I also don't have some dopey BS Market cluttering up my workspace. As soon as NoteSuite comes out with an iPhone version, Evernote is gone. I frankly don't need every feature under the sun to be productive. One of the nicest features of NoteSuite on the iPad is being to create new folders right on the iPad. What a concept!!! I'm in real estate and I don't want to have to wait to get in front of a Mac to make a new folder. I tried SpringPad last year but it just didn't hod for me. Maybe I'll take another look.

I use Evernote for my grad school note taking and it works quite well. Allows me to take notes and organize them by class, and I can include PDFs for readings for class and they then become searchable. Proved to be quite helpful when trying to go back and write papers. I have also been very interested in trying NoteBook by Circus Ponies Software, but with a $60 pricetag, pretty hard to justify the purchase. If anyone else has used it though I would definitely be interested in hearing feedback.

I'm a college student as well and have spent WAY too much time & $$ trying 100,000 different note apps, including NoteBook by Circus Ponies. I've had it for about 2 weeks, and mostly it just frustrates the hell out of me. Much too large of a learning curve for what, IMO, ought to be incredibly intuitive. For example, left & right arrow keys don't navigate between outline items, they flip the pages; can you swipe left & right for page flips? negative. It still seems like it could be great, and I really want to love it... but i'm not sure I'm patient enough to get that far. But in case it helps, if you go to their website instead of the app store, you can download their trial version for free for 30 days. Also, when you do it this way, they'll email you a 30% off coupon for the full version -- but buyer beware, this is how they hooked me :)

An added benefit of SimpleNote is that it syncs with Scrivener. Syncing with SimpleNote is built into Scrivener. Until the iOS version of Scrivener comes out, SimpleNote is how I write when I'm away from my Mac. I've tried and tried to love Evernote, but I can't. I'm giving NoteSuite a shot now. I also agree that Pages is a viable alternative.

I'm partial to NoteSuite although the lack of an iPhone version limits its utility for me especially in the area of todos and spur-of-the-moment note-taking. Having said that, the built in web-clipping in the Mac version is very helpful for things that I do. The recording feature that syncs with what is being typed is useful for reviewing notes taking during meetings. There are other apps that sync recording with typing but given the rich text and drawing features make NoteSuite a very convenient package for me.

The best one for me is Beesy. I found it on the evernote appcenter. Actually it is more of an all-in-one app which, along with note taking, provides all the features you need to manage your meetings, tasks, projects, teams, etc.. In fact every features are based on smart note taking and linked between themselves. From your notes you set your to-do lists, actions to take, people to contacts, etc. in a very easy way. It is very useful ! I recommend it if you're into business (for managers always on the run like me for example).
Here you can find it: http://www.beesapps.com/beesy-taking-note-ipad/

What about Notes? I tried to use Evernote, but always failed. To me, it was completely useless. Still, so many people said so many good things about it, that I tried many times. Unfortunately, the results were always the same: I couldn't even copy and paste a simple note with it. Finally, I gave up and trashed it. Later, I stumbled across "Notes," which was already in my iMac. I've used it ever since with no problems and no "learning curve. It's great. It does everything I ever wanted.

You may want to try NoteCase Pro (http://www.notecasepro.com).
It's cross platform (Windows, OS X, Linux, BSD, Solaris, Android), multi-language, supports rich text, tagging, tasks, attachments, spellchecking,
encryption, custom features using scripts/plugins. And it imports files of many other outliner programs.
Thank you for signing up to iMore. You will receive a verification email shortly.
There was a problem. Please refresh the page and try again.