Best portable batteries for Mac mini 2022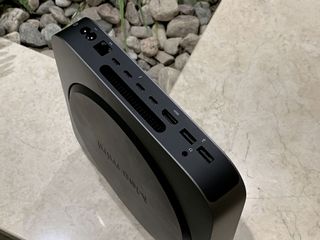 (Image credit: iMore)
If you've picked up a recent Mac mini, then presumably you want to use it at a desk, as part of a home theater setup, or in some other creative way where it mostly stays put. But, if you are looking to use your Mac mini as a portable computer, you'll need a hefty power supply to make it happen. While none of these batteries will allow you to use your Mac mini at maximum power, they'll allow you to use your Mac for most tasks at least. Here are some of the best Mac mini portable batteries you can buy right now.
Our recommendations
Of all of these portable power supplies, I'd probably go with the Anker Powerhouse. It's expensive, but it packs a lot of power, more than any of the other batteries on this list. Just keep in mind, with any of these, that you don't want to push your Mac mini to its limits, or these power supplies will trip and cut off power to your Mac.
You could also take a look at the Progeny Power Station. It doesn't have the capacity of the Powerhouse, but it's also much less expensive while providing much of the same functionality, including built-in power outlets, USB charging ports, and it has wireless charging for your phone, which the Powerhouse doesn't include.
**Mark Goldschmitt** is the father of three boys and loves anything Apple. Born and raised in Queens, NY, and currently residing on Long Island, Mark is a lifelong New York Mets fan. {.end}