Best professional-level apps for iMac Pro users in 2022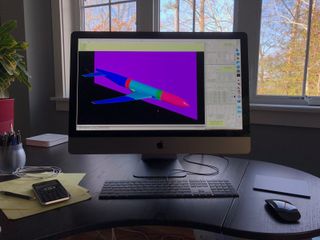 (Image credit: Craig A. Hunter )
If you've just picked up a new iMac Pro, chances are you already have a suite of software you rely on for your work. But if you're curious as to what else is out there for pro users, I've put together some of the best apps for pro work in various disciplines.
This isn't every pro app on the market, nor is this list filled with apps from every discipline*. But after surveying many of my pro friends, fellow Mobile Nations coworkers, and Twitter, I'd like to think it's a good primer on some of the many excellent pro apps out there.
*Notably absent at present are science, astronomy, and math-related apps — scientists and mathemeticians, hit me up in the comments! What should we be checking out?
Video apps
Why you can trust iMore Our expert reviewers spend hours testing and comparing products and services so you can choose the best for you. Find out more about how we test.
Final Cut Pro X

(opens in new tab)

: I've used Apple's pro video editor since high school, and I can't imagine cutting clips together any other way. Final Cut has its rivals

(opens in new tab)

, but Apple continually rethinks what it means to be a non-linear video editor and makes some of the smartest NLE software out there.
After Effects CC

(opens in new tab)

: Adobe's motion graphics software has been the king of all-purpose animations for decades, and hooks effortlessly into the rest of Adobe's CC suite if you happen to be an InDesign/Photoshop user. There are also a ton of Lynda tutorials for swapping between AE and Final Cut, if you like working in both ecosystems.
Cinema 4D: If your specialties lie in 3D animating, Cinema 4D is an incredible app for building assets for films, games, architecture, and more.
Audio apps
Photo & Design apps
Pixelmator Pro

(opens in new tab)

: Adobe Photoshop

(opens in new tab)

may be the Goliath of the photo editing world, but Pixelmator Pro is proving to be an effective challenger. By focusing solely on image editing rather than trying to match Photoshop's full feature-set, Pixelmator has built a smart app that can edit any image and PSD document with aplomb.
Lightroom CC

(opens in new tab)

: If you need to organize your photo library, you need Lightroom. Adobe's cloud-based image management software has an excellent array of tools for organizing your images — including machine learning keywords — along with basic editing tools.
Affinity Designer

(opens in new tab)

: Like Pixelmator Pro, Affinity Designer is decidedly in the shadow of Adobe's powerhouse Illustrator

(opens in new tab)

. But for those who don't want to pay for subscription-based apps or who don't love Illustrator's design language, Affinity is a fantastic alternative.
Sketch: If you design app layouts, UI, or UX, Sketch is one of the best tools out there for your work.
xScope

(opens in new tab)

: While technically more of a utility than an outright pro app, xScope offers unparalleled precision to inspect and measure app interfaces.
Writing apps
Ulysses

(opens in new tab)

: As all-purpose editors go, Ulysses is an excellent option. It provides a distraction-free interface for writing, and lets you take that writing on the go with excellent iPhone and iPad companion apps.
Scrivener: The go-to for novelists and storycrafters.
Highland: If you write screenplays, teleplays, or anything involving dialogue, Highland blows Final Draft out of the water with great looks and fantastic functionality.
Development apps
What are your favorite pro Mac apps?
Hopefully this provides a great list to get you started! Let us know in the comments what pro apps you use — or if I've left off a must-use app.
Serenity Caldwell contributed to an earlier version of this guide.
Get the best of iMore in in your inbox, every day!
Your source for all things Apple
Affinity photo is better than Pixelmator Pro. Why is everyone talking up Pixelmator Pro? Are y'all trying to help them out? Sublime text is also better than BBEdit and atom. Almost too powerful for it's own good.

Phase One Capture One Pro.
Possibly the best application out there for raw processing.

Pixelmator just keeps getting better and better. I love it, great review

I am a commercial photographer and use Capture One Pro instead of Lightroom. I feel Capture One creates a better looking photo from a raw file compared to Lightroom. Also, Affinity Photo can be a Photoshop replacement for many people.
Thank you for signing up to iMore. You will receive a verification email shortly.
There was a problem. Please refresh the page and try again.