Best screen recording and capture apps for Mac: Voila, QuickCast, Screencast Maker, and more!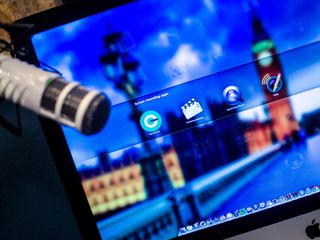 There are lots of reasons you'd need to take screen recordings of a Mac— to create a software demo for work, to send a helpful walkthrough to your mom or dad, to add some life to a school presentation, or even just to capture something funny to share with friends. Apple builds screen-capturing into Quicktime but there are also a lot of great screen-recording options in the Mac App Store as well, including some that don't break the bank. Here are the best ones!
Voila
You can always trust iMore. Our team of Apple experts have years of experience testing all kinds of tech and gadgets, so you can be sure our recommendations and criticisms are accurate and helpful. Find out more about how we test.
Voila is one of my favorite screen recording apps for Mac because it's not only a powerful and customizable screen recording program, it has tons of custom options for taking screenshots that I haven't found to be possible otherwise. From finicky drop down menus to tricky highlighted areas, Voila does it all. You can pull in video and audio from external components too. As for sharing, Voila supports several one click publish options including YouTube, Flickr, Evernote, Tumblr, FTP, and more.
If you need not only good screencasting support, but extended support for screenshots, get Voila.
QuickCast
QuickCast is a barebones screen recording app that lets you quickly record and share clips that are three minutes or shorter. To do so you can use external audio and the built-in camera. All of your recordings are then saved to your QuickCast account for easy sharing and embedding later. You can choose to record only certain parts of the screen but that's about the only option you do have.
If you record a lot of short, sweet, and to the point screencasts that need to be shared quickly, look no further than QuickCast.
Screencast Maker
Screencast Maker is similar to QuickCast but doesn't have a time restriction. Just select the area you'd like to record, the quality you want, and start recording. QuickCast saves your files in H264/AVC right to your computer for you to do with what you want.
If you want a simple app like QuickCast but without the limit on video length, check out Screencast Maker.
QuickTime Player
QuickTime Player comes built right in to every Mac and most people don't realize it also has the ability to do basic screen recordings. As long as you don't need to only record a specific area of the screen, QuickTime Player can capture your entire screen along with audio if you need it. It's extremely basic but it's also extremely free.
If your needs are very basic and don't require recording selective areas of your screen, give the built-in QuickTime Player a try.
Your picks?
Those are the Mac screen recording apps that we consider the very best. If you've had to capture the desktop on your Mac in the past, let us know what you used and why you picked it!
Get the best of iMore in your inbox, every day!
iMore senior editor from 2011 to 2015.
Voila is the king here. I have it.

I use Screenflow HD. It takes a few times to get use to its workflow, but aside from that, I love it.

Didn't realize QuickTime could do this! This is an awesome tip! Great review of the various software apps! Sent from the iMore App

It amazes me how many people don't realize that QuickTime has screen recording built right into. It works great for the basics, which is what most people will need, unless they're avid vloggers.

ScreenFlow
My Mac feels incomplete without it.
The 'after recording' editing abilities are super valuable for creating professional screencasts.
To me it's the cheapest option of all: it saves me time - my most valuable asset.
It's available in the Mac app store and as a separate 'dmg' download.

"As long as you don't need to only record a specific area of the screen,"-- correction. QuickTime player DOES let you record a specified section of the screen.

can any of these apps be edited by iMovie and uploaded to youtube

Quicktime DOES support recording portion of the screen.

I need a good quality screen shot on my Mac. The one that comes with the Mac Book Air doesn't take pictures with enough resolution to be printed after. Do you know any that I can use with Mac that takes pictures over 300 px?

Angelica, with a typical screen shot you're only going to get the number of pixels being sent from the graphics chip to the display device. While deep down in the apps or OS, certain components that make up the screen are resolution independent (ex: fonts, certain interface elements) other components will only contain a set number of pixels. I've read about using an Xcode tool (i.e.: you have to have Apple's Xcode installed) called Quartz Debug where you can set the UI resolution to something greater than 1 (so you can simulate retina and beyond, etc.) which increases the resolution of at least the scaleable components (the other components will still be lower rez). I've never actually tried this, but it sounds like it might work. (And/or, take your screen shot on a Retina Mac and you'll probably get 2x a non-Retina Mac.) You're probably also going to just have to use a high-quality graphics app (like PhotoShop or Pixelmator) to scale the image up (i.e.: make up the extra pixels with the best algorithms possible). A combination of those two are going to give you the best results I know of. I'd be curious if anyone knows of other ways.

Thank you Steve for taking the time to send me a reply. It doesn't sound too easy but I will give it a try following your advice!

I was also a bit surprised that neither ScreenFlow (telestream) or Camtasia (TechSmith) were mentioned. While they are a bit more pricy options (~$100), I'd think it would be good to give a range from free to the more pro level apps in such a review.

I've been a happy user of ScreenFlow and Camtasia before, but at StarterSquad nowadays we are using Jing, because it's free, quick, and has a neat online sharing option.

I have never heard of Voila before, it seems to be a very handy tool to record Mac screen. But I prefer free applications. Recently, I have tried a free tool suggested here, which does a nice job in recording. You can check for it at this site.
http://www.apowersoft.com/mac-screen-video-capture.html

I used the QuickTime app to do that and I recorded a video tutorial about that posted on YouTube :) https://www.youtube.com/watch?v=gftn-Mwsr4k

No matter how good or bad a program or app is, if there is no support then it is only worth the least amount of a rating. I purchased the license that allows me to install on two computers. The program worked well for me, still does for my daughter. My 27" iMac bit the dust and I am setting up a new machine and it says Voila has been installed on too many machines and I must uninstall from one....well I physically can't! I'm not going to take this away from my daughter because she uses it quite a bit...and there is zero way I can uninstall from a dead hard drive in a dead iMac... I have emailed this company and they seem to not be interested in helping...apparently there's no money in it...whatever... I still have Camtasia and it works...AND...if I have problems of any kind they seem genuinely interested in making it work for me. I regret purchasing Voila.

I cannot believe there is no mention of iShowU Studio, this is an awesome app and can do so much it makes your head spin. I've tried most screen recorders free and paid for and iShowU Studio is the best for me. As someone else mentioned support is part of the software and Shinywhitebox are great for support. I have to say I have looked at a lot of screen recorder reviews and comparison lists and it is tantamount to a conspiracy the omission of such a good recording app from all of these reviews. Its also cheaper than screenflow and camtasia, they have good support for older OS X versions too. Don't take my word for it, go take a look for yourself.