Best software update tools for your Mac: AppFresh, MacUpdate Desktop, Software Update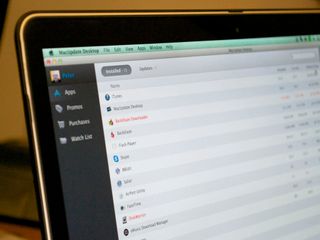 Looking for the best Mac app to keep your Mac software up to date? If you're like me and you get software from other places besides the Mac App Store, keeping those apps up to date can feel like a full time job. Here are a few ways you can help stay up to date with your apps.
Most modern Mac apps support some form of integrated update checking. Many these days depend on a Cocoa frameworks called Sparkle in order to manage updates — if you've ever seen an update notification in your apps that offers buttons that say Skip this version, Remind me later or Install update, you've seen Sparkle at work.
But the problem there is that it actually requires you to run the app, and possibly to active a "check for updates" feature, before it'll actually work. Crucial app updates sometimes help to maintain compatibility or correct showstopping bugs and problems. It's best to find out you need such an update before you actually need to use the app to do something.
AppFresh
Why you can trust iMore Our expert reviewers spend hours testing and comparing products and services so you can choose the best for you. Find out more about how we test.
AppFresh helps keep apps, widgets, preference panes and application plug-ins all up to date. It works with Apple updates, supports Sparkle, an RSS-based app updating system, Microsoft AutoUpdate and more.
AppFresh connects to a web site service called osx.iusethis.com, where you can maintain a separate profile to keep track of software you use. You can create and manage your iusethis profile using AppFresh, rate and share information with your friends. It's a handy feature when it comes time to reinstalling applications — you can load up your profile and AppFresh will automatically install the apps it knows you use.
A time-trial demo is available if you'd like to take AppFresh out for a spin before plunking down your cash.
MacUpdate Desktop
I've used MacUpdate for years to keep the apps and other software on my Mac up to date. It's an excellent companion to using Software Update. The web site tracks over 40,000 applications, and provides helpful info like user ratings and details on paid versus free upgrades and more.
MacUpdate Desktop is a desktop companion application for the MacUpdate.com service. The app scans your Mac and finds software that needs to be updated, making it easy for you to keep your Mac up to date continuously.
The desktop app was recently upgraded with a major overhaul. It looks and works much better than previous versions, and now stays resident in your menu bar to let you know as soon as software's been updated.
MacUpdate Desktop was previously pay to play, but it's become a "freemium" app. Basic updating is free. Two different subscription tiers remove advertising and unlock new features; one also gives you credit used for buying new software (MacUpdate periodically offers special deals with different vendors).
Software Update
Software Update, accessible from the Apple menu, will automatically open the Mac App Store application and activate the Updates tab. The application checks all the apps you've downloaded from the Mac App Store to make sure they're up to date. It'll also check the operating system software to make sure your system is up to date too.
If all this sounds really basic to you, forgive me. But working in an Apple retailer, I see a lot of Macs that come in for service which are laden with reminders about necessary, even crucial, software updates that have never been done. In quite a few cases the problems my customers have are directly related to the system and application updates they've failed to install.
It's easy to ignore those messages. And sometimes they create anxiety because you're not sure what the changes are going to do. To that end, there's nothing wrong with waiting a few days and firing up Google to do a few queries when you see a new system update. Make sure that there aren't any big gotchas that are going to slow you down or stop you in your tracks all together.
The Bottom Line
Keeping your Mac up to date with the latest operating system and application software is a good way to keep things running ship-shape and to keep you as productive as possible. These three tools are all great ways to help along with that effort.
Hopefully you've found something here that can help you out. If you have any questions, or if you think I've left out a crucial tool you depend on, let me know in the comments.
Get the best of iMore in in your inbox, every day!
Sometimes the most useful articles don't receive any comments. What's up with that?

They're so useful people don't have anything to add. That's how I look at it. :)

Good point. I do have a question though. Is there any apps or sites you'd recommend for old PowerPC Macs? I still like using my old iBook every now and then. Lol Sent from the iMore App

I've been a huge fan of MacUpdate for years... even though I wasn't a fan of the subscription price I was still able to see which of my apps needed updates. Now that they've changed their pricing I'm content with 5 free updates a month.

Thanks Peter. Going to try out MacUpdate right now.

Any comments on how MacUpdate or Appfresh work in a single-user/multi-computer setup? I have a laptop and a desktop and I would like them linked in some way to make sure both are getting updates and have the same apps. The standard Software Update from the App Store does this just fine and also allows me to install or not any of my apps, meaning that it doesn't force me to have all apps on all machines.

I use MacUpdate on both my Macs; no problems installing the client on both machines and linking to the same account.
Thank you for signing up to iMore. You will receive a verification email shortly.
There was a problem. Please refresh the page and try again.