Best todo apps for Mac: Omnifocus, Things, 2Do, and more!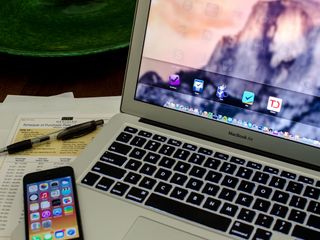 Looking for the best Mac apps to help you stay organized and on task? We spend a good majority of our lives checking off todo lists. Whether that's buying groceries or finishing assignments or scheduling projects, keeping everything straight and getting things done in the most time effective way possible can sometimes be a task in and of itself. If you're a Mac user, there are lots of apps available that can help you organize the chaos. Most even have iOS counterparts to keep you productive on the go too. Todo apps can come with a high price tag, however, so it can be hard to decide on which one to go with. Which todo apps for Mac really are the best?
Omnifocus 2
Why you can trust iMore Our expert reviewers spend hours testing and comparing products and services so you can choose the best for you. Find out more about how we test.
Omnifocus 2 by the Omni Group has the most features and organization options of any todo app avialable for either Mac or iOS. Omnifocus supports projects, contexts, due dates, flags, and more. A task can have a context attached to it as well as be a part of a project and an organizational folder. The search and sort features of Omnifocus let you drill town to broad or very specific filters. Omnifocus also integrates with your calendar so you get a nice view of everything you have going on each day. Omnifocus 2 is currently available for both iPhone and Mac. An update iPad version is currently in the works as well.
If you want power and flexibility and aren't afraid of a learning curve, Omnifocus 2 is what you want.
See also:
Todo
Todo by Appigo has a great interface, is easy to use, and gives you a section for lists, contexts, and tags. The main view separates the tasks you have coming up into several sections including overdue, today, tomorrow, next 7 days, and future. You can customize the view to show more or less information for each task. Expanded views give you a quick glimpe at not only due date but any contexts or tags you have attached to tasks. You can also customize your Focus list. By default it hides tasks due after tomorrow but you can easily change it within settings.
If you need some extra help prioritizing tasks but also desire a clean and user friendly interface, Todo is a great choice.
See also:
Things 2
Things 2 by Cultured Code is easy to pick up and start using. From the way it's laid out to how you can configure options, it's works just the way you expect it to. Things can also tie into the native Reminders app for Mac and iOS and import items into Things, which means using Siri to create tasks becomes an option. The Today and Next Focus lists show what tasks you have due dates for. Scheduled shows you anything you have that is recurring. Another feature called Areas that lets you create virtual workspaces for different categories. This area is great for organizing different projects and categories.
For a well designed app paired with Siri integration, Things 2 is your best bet.
See also:
2Do
2Do is a powerful task app available for both iOS and Mac. The Mac version of 2Do is not only easy to use, but has a great interface. My favorite part of 2Do is its organizational structure. Anyone who likes to have lists for their lists with appreciate the complete control 2Do gives you. However you want to sort and organize your tasks, you can. Easily one of the best features of 2Do are the flexible smart lists that you can create to keep on top of things. While the iOS version is getting a little long in the tooth, a redesigned version is in the works and should be out soon. Best of all, it'll be completely free!
For complete control over organization and endless list and filter possibilities, 2Do is where it's at.
Todoist
Todoist is a minimalistic but efficient task app that's available not only for Mac, but almost any other platform you could be using as well. While there isn't granular list and project control like some other options offer, Todoist makes up for that gap with simplicity. Right click on tasks to quickly move them, change the due date, and much more. You can also access your Todoist tasks from any web browser. For time when you need to do some serious planning and organizing, check out Todoist's gorgeous full screen mode.
If your goal is to spend as little time as possible organizing and more time doing, Todoist offers the simplicity you're looking for.
See also:
Your vote for best todo app for Mac?
These are our favorite todo apps for Mac but we know there are lots of others out there as well. Do you use something different or one of the ones we mentioned? How does it (or they) fit into your workflow better than other options? Let us know in the comments!
Note: Originally published, September 2013. Updated, July 2014.
Get the best of iMore in in your inbox, every day!
iMore senior editor from 2011 to 2015.
Any.DO is to-do that I've been using since bought a iphone 5.. It is a great app.. U should try Sent from the iMore App

Any.do does not have a Mac app at all. Browser extensions only. Sent from the iMore App

I use Wunderlist. I love Things and bought it everywhere, but it lacks features and doesn't work on Windows, which I use at work. I want to use Omnifocus but again, not on Windows to my knowledge. Wunderlist has a ton of great features, and is everywhere. It has some flaws, like subtask management isn't great, but other than that, I really like it.

I use and love things on the iPhone. If they ever have a sale in their Mac app I will purchase it. 50 is a little much.

Todoist has a great and simple, yet powerful Mac client. With flawless syncing with the iPhone and web app, it is one of the best services/apps today.

+1 for ToDoist. it's great.

2do, it works great, and an update is due soon. It will sync with dropbox, or toodledo. They have an iPhone, and iPad version, and syncs across all devices. I was a big Agendus fan in the palm days, but they never delivered a decent app, so I started trying out different todo apps, and settled on 2do.

Yes, I miss 2Do there too. The Mac App is excelent and it sync via iCloud, Dropbox or Toodledo flawlessly. Great thing about 2Do is that it's very versatile, you can make it complex GTD tool or simple task manager.

Why would you overlook Reminders? It's free, built in,syncs seamlessly across Mac OS and iOS, has a much more efficient use of GUI/screen space than most of the apps you reviewed. It's powerful enough for single user project management

No one will agree on everything but I don't particularly think it's a great option. Clear is faster and more user friendly for something simple. Minimizes even more space too. Sent from the iMore App

But it costs $9.99 compared to free, but I guess it depends on what you need.

This is a "best list" not a "cheapest or free list"

But to a lot of people, cheapest/free is the BEST.

If we're strictly talking about using Reminders on OS X, Clear is indeed more user friendly and a better choice. However, when you consider cross platform functionality, Reminders is a clear (no pun intended) winner. For starters, Reminders gets a boost for being a first-party app, and because of that users can mark off tasks from the Today tab in Notification Center (iOS only) – a feature that I hope many third-party todo apps mimic in iOS 8. Also, Reminders supports location-based reminders, which is incredibly handy and sorely missing in Clear – not to mention users can access Reminders from iCloud.com, meaning it can be used from almost any computer/device. In my experience, Reminders is a powerful, yet simple task/todo management app that offers a great deal more when compared to its competitors. Best of all – and this has already been stated – it's free.

Agreed. The stock reminders is versatile enough and syncs in the background so you always get your "Reminders"...

If you use the GTD method to manage tasks, Reminders fall way short of the mark. It doesn't support contexts, projects, tagging, etc. No email to task option, no review view to show you past, due, and upcoming tasks, and more. If you don't need these features, then Reminders will get the job done. Otherwise you should upgrade to one of the more advanced options.

Your needs aren't very GTD. It does support contexts - since you can search, you can just make your own tags, or you can use separate lists for each context (true GTD method). Tags aren't GTD. Projects are Lists. The no email to task is frustrating, no review is dependent on the person... but Reminders definitely works for GTD.

David Allen Co have a guide on using Reminders with GTD. If the inventor of GTD says it can work who am I to argue? Unfortunately Jony Ive broke Reminders on the iPad on IOS7 for GTD. You can't edit long notes in tasks so I'm using Calendars 5. On Mac I use AppleScript to send emails to Reminders, with the subject as the task title, body text as notes, and link back to the email. Also I love the free "Remind Me" add-on for Reminders: https://itunes.apple.com/au/app/remind-me/id618776410?mt=1&at=10l3Vy

I've been thinking about this a lot lately, and I have settled on giving Todoist a fair shake. Any.do lacks an app for OSX and can't do recurring notes
2Do is amazing, but lacks a Windows client, and I can't email ToDos in
Things is just vastly overrated and not worth the hype Wunderlist is solid, and I was tempted to make it my go to, but what sold me on ToDoist is calendar integration which I haven't seen on any other app except Remember the Milk (which I just feel is poorly designed from a UI perspective). ToDoist also has a lovely natural language way of entering due dates and reminders.

Omnifocus integrates with the calendar.

Todoist's repeating task options are second to none! I've got a bit of a peeve with its sort order in non-Project views - tasks that are of the same type (for example, tasks without a Priority or Due Date) show up in a jumbled mess - no sorting by project or project order at all.

I'm the author of To-do Lists app, it has a different approach - kinda Stickies, but for tasks. You should try it out. Actually firstly I was writing it for own usage - existing task managers were too complicated since you need to go through different menus, views, dialogs just to enter information that you should do this and that.

I can't find "To-do Lists app" anywhere in the Mac App or iTunes stores.

Try to search for Antlogic, it should bring up the results.

Wunderlist has crashed since it's last update, and will not even open on my MacBook Pro. This does not bode well for them, since I previously used it a lot. I'm definitely not going to stick around and hope they come up with a fix. It was great, but I can't deal with a product that crashes for weeks on end.

Great list, thank you for sharing this. I use an app for organizing my meetings that I find very useful. I can easily manage my meeting minutes and meeting agendas, action items, attendance, reminders, and easily prepare meeting related emails. http://themeetingsapp.com

I'd like to add one more tool in this list i.e proofhub to make list more useful. Has features like time tracking, gantt chart, to-do's and group chat etc are present + it is currently present in 5 languages.

I use GoodTask. It's basically a Reminders.app skin/theme. It makes Reminders what Apple should've made it. The iOS app is also nice and they stay in sync perfectly.

Still Waiting For Things 3. Hopefully, Soon.

I can't wait too! I just emailed them about the lack of features and other flaws (which many services have right now, and some are free). I just hope they add comments & attachments, as well as a complete redesign, it's so rusty.

If Checkmark 2 ever cmes to Mac I will be on cloud 9. However, until then I will use Evernote for it's impressive sync features.

I use simple yet powerful "Things" great UI + it has both iOS and Mac apps. Sent from the iMore App

I'm not a huge fan of the iPhone layout for the Reminders app. The lack of tags/contexts is kind of a downer. Also, I have had issues with syncing (both iCloud and my company's Exchange server) where I'll check items off on one device, and when I open another, they'll pop back as incomplete on all platforms. Does this especially with recurring tasks. Omnifocus works great, and the sync is generally pretty darn stable, but it doesn't work with Windows (my company's platform) and there's really no easy way of syncing when at work and not using an iOS device. If they made a Windows version or a plugin to Outlook (although the logistics of that would probably be a nightmare), I'd be all set. So I'm still waiting for my ideal (or close) task management app/system. I've tried most and usually find enough issues where it just won't work for me.

Do any of these have an iOS app with location based reminders and calendar integration?

OmniFocus has location based reminders and calendar integration. It is an expensive app, I have the iPad, iPhone and Mac versions, but they pay for themselves in the amount of time you save getting things done. I suggest going to anefficiency.com and checking out their omnifocus blogs. They are well worth it.

Is there a free trial version? Sent from the iMore App

This is really off topic but I noticed that MacBook Air is running OS X Yosemite! Your a lucky duck. Sent from the iMore App

Omnifocus is what I use. But you completely left out the second best one, Firetask. Awesome app too.

Remember the Milk. I have used it for years and love it. Simple and uncluttered. Sent from the iMore App

Personally I like Remember the Milk. I realize it's not an app for OS X, but it is great w/keyboard shortcuts in Safari. With tagging, smart lists, due dates, priority settings, and the integration w/Evernote it is powerful. Plus on iOS you can use Siri to add tasks straight to the RTM app, using CalDAV.

This was very helpful. I'm looking for something simple, but that can organize A LOT to do. I'm a PhD student with lots to do in different domains that is both ongoing and time-sensitive. I can keep it simple (don't even know what GTD is!), but need something a little more complex than Reminders. My main requirement is being able to make lists within lists (which reminders does not do). Thoughts? Also, opinions on the iphone app LifeTopix?

Thanks for the great review. I've used OF2 in the past, but it seems complicated and I couldn't find a good reminder option. Maybe because it is so complicated. I don't know. I'm now going to give Things 2 a try. I'm hopeful it will work. P.S: I'm looking at this blog post's featured image and the dock in Macbook air looks great. I'm using a Macbook Pro and my apps don't group like that. I really want to know what it is. Can you -- or anyone -- please tell me this? Looking forward to it. Thanks.

I'm looking for an app that excels in scheduling tasks, not just creating/organizing them. Ideally, I would like to budget a certain number hours to each task i create, then schedule times to work on those tasks in a calendar. So if a task has a budget of 20 hrs and I've scheduled 2 hrs tomorrow to work on it, the app would know that i still need to schedule 18 more hrs to get it done. Any of the above support such a concept?

Hi, I am using Doadie. Its pretty new. And I love the timeline option. Here is the link https://www.imore.com/e?link=https2F2Flinks%2F1...
Thank you for signing up to iMore. You will receive a verification email shortly.
There was a problem. Please refresh the page and try again.