Best travel guide apps for iPhone: Foursquare, Gogobot, Jetpac City Guides, and more!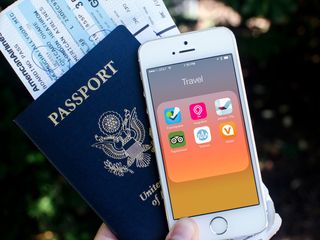 Looking for the best iPhone apps to help you get around and find cool things to do while traveling? Travel guide apps are a great way to get the scoop on tourist attractions and even local hotspots in many different areas of the world. Whether you're interest is history or food, architecture or museums, there are lots of App Store apps to help you make the most of your travels. That doesn't mean all of them are created equal though. These are currently the best travel guide apps for iPhone and the ones we don't think you should leave home without!
Foursquare
Why you can trust iMore Our expert reviewers spend hours testing and comparing products and services so you can choose the best for you. Find out more about how we test.
Foursquare is one of the best travel apps you'll ever install on your iPhone. If you could only choose one travel guide app, I'd recommend choosing Foursquare. My main reason is because Foursquare is a diamond mine of information from locals. For times when you're looking for a local pub that serves great Thai food, or when you want the best coffee shop in Paris, who better to ask than locals? And that's exactly the information Foursquare will give you.
If you're more interested in local hotspots and attractions off the beaten path, look no further than Foursquare to find them.
Gogobot
Gogobot focuses on three plan aspects of traveling; where to stay, where to play, and where to eat. Just launch Gogobot and you'll automatically be shown weather information for your current location along with general info. You can also see what places are trending among other Gogobot users. Tap on what category you'd like to view attractions and more. Gogobot also gets smarter the more you use it since it bases recommendations off what you do and your personal tastes. You can also plan meetups with your friends who are also using Gogobot.
If you want a travel experience that's more socially oriented, Gogobot is what you want.
TripAdvisor
Many people think of TripAdvisor as a place to book travel, but it's also one of the largest resources of attractions as well. The TripAdvisor community itself is huge and you'll find dozens of helpful suggestions and reviews from other travelers to help you plan an awesome trip. Just tell TripAdvisor where you are or where you want to go and it can dish up popular attractions, hotels, shopping hotspots, and lots more. You can even download data on the cities you're visiting ahead of time so you know you have them, with or without a data connection.
For a huge wealth of information on thousands of locations and attractions across the world, be sure you've got TripAdvisor locked and loaded before your next trip.
Jetpac City Guides
Jetpac City Guides does things a little differently and uses real world Instagram photos in order to find hotspots and trending places across the world. Just tell Jetpac City what corner of the world you're looking for something to do in and you'll be presented with all kinds of unique categories to choose from. With names like "Top spots men like to visit" to "Hipster Hangouts", Jetpac City has attractions and ideas of things to do to suit pretty much any personality.
If you're looking for a trip that suits your unique personality and spirit, be sure to check out Jetpac City Guides.
Triposo
Triposo plays host to information on over 25,000 cities worldwide. Like TripAdvisor and many others, any cities that catch your interest can be downloaded for offline access if you need them. Triposo can also use your current location to give you sightseeing, dining, and hotel recommendations. If you're up for tours and show information, Triposo even aggregates those all in once place. You can even book them in once place via the in-app web browser.
For an all in one booking, sightseeing, and tour guide, be sure to browse Triposo.
Viator
Viator Tours brings the business of booking attractions right to your iPhone. Not only that, many of Viator's popular Skip the Line passes are included for many popular attractions. One of my favorite features however is the recommendations section of each city. Only looking to stay somewhere 3 days? Take a look at sample itineraries so you can be sure you're getting the most out of your time somewhere new.
For the best prices and deals on the most popular attractions are the world, you need the Viator app for iPhone.
Your picks for best travel guide apps for iPhone?
If you travel frequently for pleasure, what apps have you found to be the best guides? We know that not everyone's travel style is the same so be sure to let us know your favorites in the comments!
Get the best of iMore in in your inbox, every day!
iMore senior editor from 2011 to 2015.
RVillage Sent from the iMore App

I can highly recommend KAYAK PRO. It's clean & intuitive and the app packs in lots of useful features. Besides hotels & flight booking, it includes car booking, flight info, airport info, packing list, currency converter etc.Try it.. it's pretty awesome. TripAdvisor is pretty good at consolidating Reviews & room tips, besides hotel booking and now flight booking. Besides this I also use hotels.com app for hotel info and Foursquare.
Need to try out the other apps mentioned in the article. Thanks for the list. Sent from the iMore App

The main feature I prefer in Kayak is my trip your trip agenda in one place like flightes time late or on time , belt luggage number , reminder to check in ,printing boarding pass and save it direct to passbook, all your hotel,restaurant ,car rental,and tours booking can be saved and organized

I'm going to suggest travelers try smaller niche travel and local city guide apps as well.
http://www.spottedbylocals.com/
https://www.localsguide.com
http://www.gpsmycity.com Then don't forget the all important currency converter.

I've never know where to start when I travel to a new city, often because I have only thought about the business meetings I need to attend, however I recently came across this app 'DayCaddy' that I can select a profile (e.g. business traveler or fun-seeker) and it will suggest things to do based on exactly where I am. It seems to locate me and based on my entertainment, food, etc. preferences and the weather, offers suggestions which I can then log into a calendar/day for later reference. It's pretty good. Check it out -> http://www.daycaddy.com
Thank you for signing up to iMore. You will receive a verification email shortly.
There was a problem. Please refresh the page and try again.