How to share full-quality photos between an iPhone and Android phone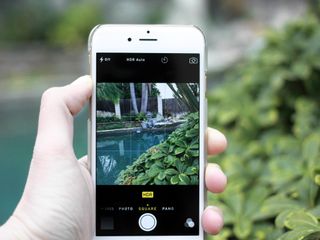 It's not always easy to get your photos from point A to point B, and when you throw factors like different Android phones, tablets, iPads, computers and iPhones into the mix and want the highest quality photos, things can get tricky very, very quickly.
Luckily for you, there are programs like FotoSwipe that exist to let you send full-quality photos effortlessly from one device to the other, regardless of the file size, if you're sending it from your phone to your computer, or if you want to send thousands of photos at once!
How to share full-quality photos between iPhone and Android devices
Why you can trust iMore Our expert reviewers spend hours testing and comparing products and services so you can choose the best for you. Find out more about how we test.
Launch FotoSwipe

(opens in new tab)

from your home screen.
Select the photos and videos that you would like to share with another device.
Tap Next at the bottom of the screen.
You now have the option to send your photos to a different phone or tablet, computer, or via text and email using a specific 6-digit code.
Make sure that the Photo Compression option is switched off. It's a button in the upper right corner.
Other options
Fotoswipe is the easiest process we've found, but there are other ways to share full-quality images: You can use apps like Dropbox and create a shared folder; you can also send your Android pals a link to an iCloud Shared Photo library on the web.
How do you share full-quality photos?
Is there a specific app or technique that you use to share your full-quality photos and videos between different devices? Let us know your tips and tricks in the comments below, and we'll be sure to try them out!
Cella writes for iMore on social and photography. She's a true crime enthusiast, bestselling horror author, lipstick collector, buzzkill, and Sicilian. Follow her on Twitter and Instagram: @hellorousseau
A lot easier and more private: Use Email instead.

Sorry, I don't associate with people who use Android phones. :)
Thank you for signing up to iMore. You will receive a verification email shortly.
There was a problem. Please refresh the page and try again.