Best weather apps for Mac: Living Earth, Degrees, Clear Day, and more!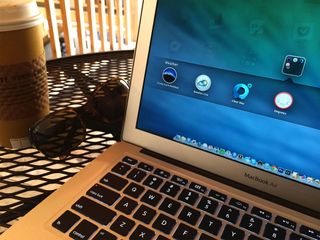 The weather dictates how we plan for our days, from what we wear to what activities we can plan for. If you spend a lot of time on your Mac, a good weather app can keep you up to date on today's weather and tomorrow's forecast. But which Mac weather apps are the best? Here are my favorites!
Living Earth
Living Earth is a simple weather app that sits in your task bar and pulls information from Weather Underground. It shows the current temperature for your current location as well as an icon showing current conditions. Clicking on it expands the view to show all the locations you're monitoring. Click on any one of them to view a brief 7-day forecast for that area. Drill down even further to reveal hourly data. Living Earth also comes bundled with a pretty awesome screen saver as well as a desktop option that can show a globe with current weather conditions.
If you want the most visually appealing weather experience or a desktop option, Living Earth is a great choice.
Weather Live
Weather Live is a standalone weather app but also has an option to place it in the menu bar. You are shown basic weather elements at a quick glance such as humidity, precipitation, pressure, and visibility. Below that you're given an hourly breakdown followed by weather predictions for the next four days. The settings menu has a few different layout as well that give a little different information if you prefer.
If you want basic weather but prefer having a customizable interface, Weather Live provides that.
Clear Day
Clear Day is a gorgeous weather app with stunning animations. On top of that it supports iCloud sync so you can sync all your weather data from iOS and Mac. For the US, Canada, and Australia you can view detailed radar maps via NOAA. The National Weather Service is also integrated for US and Europe for weather warnings in your area. Clear Day also offers more info in the menu bar than many others do, mainly weather for multiple locations in just a click instead of just your current location.
If you want a stunning experience that's consistent across OS X and iOS, look no further than Clear Day.
Degrees
Degrees is a simple little weather widget that sits in your menu bar and shows you an icon representation of current weather conditions next to the current temperature. That's it. You can enter the preferences panel to add multiple locations and change from Celsius to Fahrenheit but that's about it. It's simple, it's easy, and nothing more.
If you just want to know the temperature and current conditions at a quick glance, nothing else, get Degrees.
Your picks?
If you monitor the weather on your Mac, what app do you prefer to use? Or do you just load up a web browser? Let us know in the comments!
iMore senior editor from 2011 to 2015.
I wish Hurricane HD would do a Mac app. Clear Day works well for me, and I also like Radar Scope.

I find full screened weather apps on a desktop/laptop a little overkill. However, I do have a menubar solution that displays weather conditions and tempurature. The app I use is WeatherMan (http://www.afterten.com/products/weatherman/). The dropdown menu has a bunch of weather data, much more so than Degrees. I have been using WeatherMan for a couple of years now and have no issues with it moving along with OS updates.

I use WeatherMin. It's not full-featured, but instead puts a small weather icon & the temperature in the menu bar. You can also have floating transparent-like text on your desktop as well. There are several themes that are pretty decent too.

I use Degrees. If I need detailed info I just pick up my phone and open Yahoo Weather.

I've always liked and used Live Wallpaper. It allows you to put the time and a little weather as part of your actual desktop. https://itunes.apple.com/us/app/live-wallpaper/id531123879?mt=1&at=10l3Vy

MeteoGroup's MeteoEarth is available now, and WeatherPro is in the works.

I just used fluid to create my own yahoo weather app.

It would be nice if yahoo or dark sky would do an app for Mac. Sent from the iMore App

just use fluid to create a yahoo weather app from their website. It works perfectly, is beautiful and cheap.

I need good radar. They're all nice in one way or another, but if they don't have good radar implementation they're useless. So I'm stuck with with Weather Bug. It's ok, but not great and definitely not pretty. It uses Bing, which is slow.

If radar is your thing, then RadarScope is the Mac app you're looking for (also for your iPhone or Android). http://itunes.apple.com/us/app/radarscope/id432027450?mt=12&ls=&at=10l3Vy

Farensius is very similar to Degrees but also allows for a five day forecast.

Clear Day shouldn't be on this list. It does not display the correct temperature or weather forecast. As a bonus, it crashes, quits, and sometimes interfere with your OS. Deleted from all computers I had it on. Basically a waste of money (and time).

Oddly enough, I have found this one freeware Windows(yes, I said Windows) program which I run through this prog called Wine called sWeather that is the only one that works on my Mac. For some odd reason or another, none of the native Mac apps which are supposed to perform the same function worked at all on my Mac. And yes, it has all the same features that all the native Mac weather menubar apps have. Check it out - http://skwire.dcmembers.com/fp/?page=sweather . Could it be that none of them work on Mavericks, which I upgraded to recently?

If you're looking for super simple solution you can try ShellWrangler. It basically a small tool which executes shell script and renders the output to your OSX StatusBar. There's a shell script to retrieve a current weather information for your preconfigured location out the box. - http://shellwrangler.com

I am using 3DWeather for last couple of days. I found this weather app few days back and i must say its a pretty cool app for weather in Mac. 3DWeather is mainly a widget app that shows animation of the present weather condition with other weather info in a beautiful way. It also come with a few different themes. here is the link of the app https://itunes.apple.com/us/app/3dweather/id1039245559?mt=12&at=10l3Vy

I've just never gotten #degrees to stay in the task bar.
Get the best of iMore in in your inbox, every day!
Thank you for signing up to iMore. You will receive a verification email shortly.
There was a problem. Please refresh the page and try again.