Best World Cup 2014 apps for iPhone and iPad: FIFA, theScore, ESPN FC and more!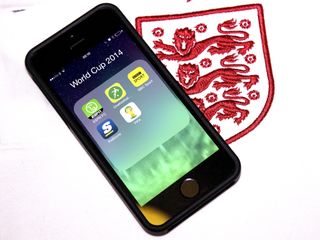 The 2014 FIFA World Cup is finally here and football fans the world over are preparing to cheer on their nations down in Brazil. We're really fortunate this time around, too, that our iPhones and iPads are even better ways of experiencing all of the action wherever we may be.
And so without further ado lets take a look at a selection of the best that the App Store has to offer!
FIFA
Why you can trust iMore Our expert reviewers spend hours testing and comparing products and services so you can choose the best for you. Find out more about how we test.
FIFA organizes the World Cup so you'd really hope it would also have a solid iOS application. And it does. It's a relatively new app anyway but has also received a recent, major update to prepare it for the World Cup.
Full results and schedules, team information, the ability to check out some of the stadiums and cities hosting the games, match alerts and even a daily liveblog all adds up to one of the very best World Cup experiences you'll get on your iPhone or iPad. A must download.
BBC Sport
One predominantly for the England fans, but the BBC Sport app is definitely one to keep around. In the UK, BBC will be hosting around half of the games live and is promising 24/7 coverage of the tournament.
Throw in live coverage of the games the BBC will be covering, highlights of the rest along with every morsel of news, fixtures, results, team information and more, and the BBC will look after you from the first match right through to the final.
ESPN FC
ESPN is one of the many global providers of World Cup coverage and as such its ESPN FC app is a fountain of World Cup knowledge. With in-depth commentary, favorite team alerts and all the news and fixture information you can kick a ball at, you're never far from the action.
As an added bonus, folks in the U.S. will be able to view exclusive video highlights of World Cup games. And who doesn't want that!
theScore
theScore is a very popular – and very good – sports app at the best of times and the World Cup is no exception. It offers similar features to many other apps mentioned here – like news, scores, live updates and alerts – but it does have one party piece in particular. Using the shot tracking feature you can see how and where all the goals were scored. And if you can't watch it live that's got to be almost the next best thing.
Onefootball Brasil
Formerly known as TheFootballApp, Onefootball has released a special version of the app dedicated to nothing more than the World Cup. In-app live coverage is provided by talkSPORT radio for UK users while everyone else has access to the Live Ticker for minute-by-minute commentary.
Add to that a full planner, team and match news, videos and social features and Onefootball Brasil is one you'll want to keep close at hand.
Your picks
So there's five pretty great apps that we think will give you a great World Cup experience on your iPhone or iPad. There's a bunch more out there, though, so if you've got a particular favorite you want to sing out for then do so in the comments below. And let us know who you're cheering for, too! No-one but England here, so who gets your backing?
Get the best of iMore in in your inbox, every day!
Caught offside is the most up to date football app available, tried all other suggestions but CO simply the best. Sent from the iMore App

Thanks for the round up, nice info.

ESPNFC used to be the best APP, but they destroyed it, and their website, with recent updates. I have since found that Team Stream from Bleacher Report is the best app for news and Forza is the best app for up to the second scores and match info. I have both customized to give me all the most current info on my teams. England & ChelseaFC.
Team Stream https://itunes.apple.com/ca/app/team-stream/id418075935?mt=&at=10l3Vy
Forza https://itunes.apple.com/ca/app/live-score-addicts/id500138120?mt=&at=10...

Yawn! Sent from the iMore App

No way doing FIFA this year. Brasil is one of the most corrupted, if not most unequal, countries in the world. So much if the money meant to build those stadiums went into greedy hands instead. Rather than focus on its problems, Brasil swept them underneath and painted an illusion to the world. People are in the streets dying, and yet the rich just want to see their richly paid toys entertain them. Sent from the iMore App

Awesome app. Can't wait to check it out Sent from the iMore App
Thank you for signing up to iMore. You will receive a verification email shortly.
There was a problem. Please refresh the page and try again.