How to use a Bluetooth keyboard with the iPad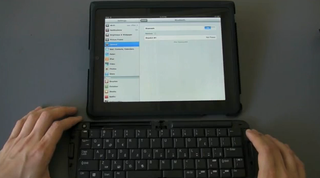 It's remarkably simple to use a Bluetooth keyboard with the iPad. First, you just need to ensure that your keyboard supports HID mode, that's Human Interface Device Profile and is pretty much the closest thing to a universal Bluetooth keyboard interface out there these days.
You simply need to put your keyboard into pairing mode, go to Settings -> General -> Bluetooth on the iPad, and then tap the keyboard's entry. Then the iPad will pop up a message with a pairing code you need to enter into the keyboard. Once that's done, you're all set. Now when you come to a text entry field, instead of the on-screen keyboard popping up on the iPad, you simply enter text on your Bluetooth keyboard.
I used the Freedom Universal Bluetooth Keyboard, which is available in the TiPb iPad Accessory Store for $99.95. If you order before April 14th, you can enter coupon code iPad10 to get 10% off.
Can I hook up a mouse and a monitor too? I want to destroy the iPad's portability as much as I possibly can.

What kind of watch is Dieter wearing. I want to know where I can get one.

Man thats fantastic! I like that folding keyboard. Brilliant! NOW it's a pen and paper replacer for school for me!

And now that its been jailbroken, I imagine a whole bunch of other things will be possible.http://www.reuters.com/article/idUS339969080220100405

Wow, add some USB ports, a mouse, a real hard drive, a lot more memory, a file explorer, upgrade-ability, and a camera and you almost have a tablet. Sign me up!

That's really cool to know though. Some of us have the Apple wireless keyboard and may want to take it with us to the library or on a vacation... cheers!

Dear Santa: please let Bluetooth keyboards work with the @$&! iPhone too so I can actually get real work done with it. Ipad...meh.

@2busy2blog same here, i wanted to know what watch it is, i ask him on twitter but no response.

It looks like a Phosphor watch.
http://www.phosphorwatches.com/
Your welcome.

The 4.0 OS update will give the iPhone's Bluetooth keyboard support as well (we have yet to see how well it is implemented on the older iPhones but the 3g's and above work well). We are currently developing drivers for our Freedom Pro Keyboard to give the added function keys (media controls, phone controls, shortcut keys, etc) but it will also work out the box just by pairing it up if you aren't fussed about the functions.

The magic-mouse can be installed on the IPAD or iPhone?
http://www.engadget.com/2010/04/13/mmfixeds-magic-mouse-fix-hands-on-lit...

Thanks for the great article now i connect keyboard to my ipad.. Where can i buy accessories for ipad online?

Is there a way to emulate the iPad home key in a bluetooth keyboard?

The Apple Bluetooth keyboard is half the price...

Dieter (and others), do you have experience with pairing the old Palm bluetooth keyboard?

I just got the Freedom Pro Keyboard and can't get it to connect via Bluetooth to my iPad. The keyboard is set for HID, is discovered by the iPad, and I get a pairing number. However, when I enter the 6 digit number from the Freedom, I get a message saying that my iPad can't connect to it. Any suggestions?

Wow! I have a palm BT keyboard. Both devices are compatible with each other did not. But now, thanks to the posts found! (Sorry.. my english is very poor~)

i have bought a bluetooth keyboard from a online store, it works well with my iPad. Sharing the url here: http://www.dealexcel.com/bluetooth-keyboard-for-ipad-folding-leather-pro...
they shiped it via EMS, and i got it 7 days later, L.A., California.

Confirmed that the Logitech diNovo Edge keyboard works for the Ipad. I wrote a few e-mails using it and I experienced no problems.

The Palm Blue Tooth keyboard and works nicely with iPad, but once finished the iPad's virtual keyboard does not return even after turning off the blue-tooth signal on the iPad. I had to re-set the iPad to get the on-screen keyboard back.
The Apple Blue Tooth keyboard has an eject key. Is there any combination of keys on the Palm BT keyboard that will eject?

I discovered an awesome laser projection keyboard that works with Android Phones. It is manufactured by Celluon and is called the CL850. The CL850 Bluetooth Keyboard driver is available on the Android Market for download just in time for the holidays.

Is it possible to use a Palm Universal Wireless Bluetooth keyboard with an iphone 3gs?

I would recommend the zaggmate keyboard case, $99 and its a case as well...

How do you assign the F-Keys to your preference?

My friend tried to use this keyboard before me. Then my Ipad cannot connect to this keyboard although he stopped to use it and the battery was full. So, what is the problem?

I just started using a Logitech keyboard. My issues so far are:
1. Not being able to use arrows to move between fields or apps.
2. The Spanish keyboard layout does not match the on screen keyboard. For example, type ? and you get _.

DOES ANY ACCESSORY MFGR MAKE A CASE THAT CONTAINS THE IPAD 1 AND THE APPLE BLUETOOTH KEYPAD, FOLDING THEM INTO A PROTECTED UNIT?

Once you have connected, make sure you check out this article that shows a few tips and tricks you can perform with your external keyboard, that you cannot do with the software keyboard. http://iphonetipsandtricks.lookitupforme.com/things-you-can-do-on-an-ipa...

I think people tend to forget that social media is really just an extension of our face-to-face relationships. We expect more from it because the potential reach and opportunities for expression are enhanced (like someone's vision is enhanced looking through binoculars or a microscope). But behind the profiles, followers, friends, tweets, likes, etc there are people after all, and the basic rules of communication, relationship building, and doing business with these people still apply. IMO, it's the best "social media" strategy there is.

I have my ipad in one of those Restoration Hardware leather cases that holds a keyboard too. I need a new keyboard for it. anyone know where to get the right one?
Thank you for signing up to iMore. You will receive a verification email shortly.
There was a problem. Please refresh the page and try again.