Broadcast live in 360 degrees with Periscope!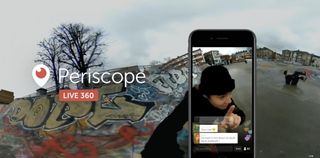 Last year in December, a very small, select number of popular Twitter users were able to play with Periscope's new live, 360-degree video.
A couple of months later, Periscope has announced that Twitter's official live streaming app is finally available for everyone who uses their iOS app!
How can I stream 360-degree video?
You need a couple of things: the Periscope app for iOS and a 360-degree camera that works well with it.
Oh… So if I don't have a camera, I can't stream live?
Unfortunately, no. :(
How can I tell if someone is streaming live?
You'll see a little LIVE 360 badge beside their stream.
Do I get to control what I see?
Will you stream in 360?
Got a 360 camera? Will you use Periscope's 360-degree live broadcast? Let us know in the comments below!
Cella writes for iMore on social and photography. She's a true crime enthusiast, bestselling horror author, lipstick collector, buzzkill, and Sicilian. Follow her on Twitter and Instagram: @hellorousseau
Get the best of iMore in in your inbox, every day!
Thank you for signing up to iMore. You will receive a verification email shortly.
There was a problem. Please refresh the page and try again.