Brothers have won the rights to call their clothing company 'Steve Jobs'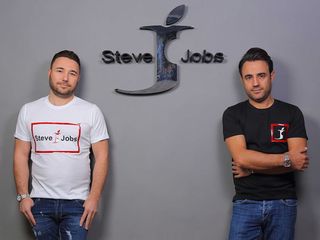 First reported by la Repubblica Napoli, bothers and business partners Vincenzo and Giacomo Barbato have officially won a years-long legal battle against Apple that will allow them to continue to call their clothing company "Steve Jobs" after Apple's beloved founder.
According to Chaim Gartenberg over at the Verge, the fight between Apple and the Barbatos began all the way back in 2012 after they noticed that Apple did not have any sort of trademark on Jobs' name:
Since then, Steve Jobs the company has been duking it out in court with Apple over use of both the name and the clothing company's logo — a letter J with a semicircular bite taken out of it and a very Apple-y leaf serving as the dot on top. However, while all of the brothers' branding is clearly inspired by Apple iconography, it was deemed perfectly legal to use by European courts. Gartenberg notes that la Repubblica Napoli speculated it may be because of the logo that Apple lost the case:
To add to the absurdity, the brothers Barbato claimed in an interview with Business Insider Italia that their ultimate goal is to begin developing tech products sometime in the future (though they neglected to disclose any specific plans). Gartenberg mentions that if the Barbatos are successful in this, "there could very well be a Steve Jobs phone competing in stores right next to Jobs' own iPhone." Until that day comes, however, the brothers will be sticking to crafting their line of bags, shirts, and other clothing and accessories.
Now, who needs some Steve Jobs jeans to perfect their New Year's Eve ensemble?
Thoughts?
How do you feel knowing that there's a non-Apple entity called Steve Jobs? Share your thoughts with us in the comments.
Get the best of iMore in your inbox, every day!
Tory Foulk is a writer at Mobile Nations. She lives at the intersection of technology and sorcery and enjoys radio, bees, and houses in small towns. When she isn't working on articles, you'll likely find her listening to her favorite podcasts in a carefully curated blanket nest. You can follow her on Twitter at @tsfoulk.
Biggest question: Do they make turtlenecks?