Budsnaps arrive on Kickstarter, a simple way to stop your earbuds from falling out of your ears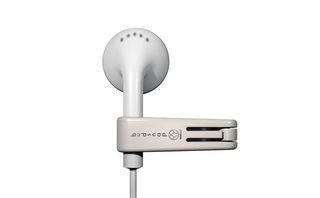 A new project has arrived on Kickstarter called Budsnaps, that claims to be able to stop your Apple earbuds from falling out of your ears when moving around. Anyone who uses Apple's iconic white earbuds will instantly recognise this problem and now there could be a really simple solution to stop them falling out.
The Budsnaps will be available in different colors and work specifically with the original Apple white earbuds and also with the recently revamped Apple EarPods. If you love using your Apple buds and want to use them when working out or moving around then the Budsnaps could be for you.
If you want to get involved and become one of the first to get your hands on the Budsnaps, you can make a pledge on the projects Kickstarter page. A pledge of $10 will get you a white set if it makes its funding target. It currently sits at just over $1K of pledges from its funding total of $11.5K; the project still has 39 days to go.
What do you think about the Budsnaps? Could you see yourself using something like this to keep your classic earbuds or EarPods in place when working out?
Source: Kickstarter
UK editor at iMore, mobile technology lover and air conditioning design engineer.
Apple Earbuds sound horrible anyway. There are better quality sets that stay in the ear for the same or less than the Apple Earbuds.

Apple's EarPods actually sound great!

I tried the pair that came with my iPhone 5... They do not sound great. They are almost as bad as the original earbuds with prior models.

I wonder how they could get these to grip tightly enough to hold onto your ears, without being uncomfortable? (I'm also a little dubious about any statement about audio quality, after listening to the sound on that video. Rerecording the speech track with a much-closer microphone would bring the audio quality to the level of the video)

Hi The budsnaps just grip enough to hold onto the ear then lock in place. This locking feature means there is no need to pinch or sqeeze the ear too tight to stay put. The budsnaps are as a result comfortable even over long periods. Hope this helps. Thanks, Rob

So I wasn't sure where to post this but I'm having trouble finding a Kickstarter article on here. I was reading about a new project called the "Thermodos" on the iMore iPhone app. I was really interested about it so I went to go find it on the website. I found the link on google but it keeps saying "Access Denied". Any ideas?
Thank you for signing up to iMore. You will receive a verification email shortly.
There was a problem. Please refresh the page and try again.