Camera+ update lets you save higher quality photos, brings auto front-facing camera flash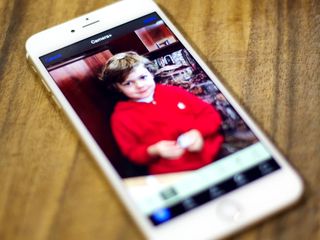 One of our favorite camera apps for the iPhone has received an update to deliver better image quality. Camera+ has now been updated to version 6.1 and allows discerning users to save images with lossless compression in the TIFF file format to retain better image details and have a higher quality photo as a result. The trade-off with saving a TIFF file, compared to a traditional JPEG, is that the TIFF format will consume more storage space on your phone.
In addition to the TIFF format, the new version of Camera+ also introduces an auto-flash mode for using the front-facing camera on your iPhone:
The new version will work on either iOS 7 or iOS 8 for those who have not taken the plunge and updated to Apple's latest mobile operating system.
What do you think of the lossless compression with the TIFF file format? Will you be using Camera+ more now to retain more details in your iPhoneography?
Get the best of iMore in in your inbox, every day!
So how much are we talking here? I would love higher quality photos but is it a big jump in size? Sent from the iMore App

How does the front facing camera flash work? Using white screen? How about some elaboration in the story body when it's mentioned in the artical title...

I think it's just a retype of a press release. In which case a 2 line article with a link to the source would suffice, instead of redressing it to make it look like original content.

The update crashes when I try to use camera+ as an extension to edit photos in the photo app.

I remember reading somewhere that most editing apps on iOS can't open a TIFF file and needs to convert them to JPEG first, or simply can't open them. Is this at all true? Anybody run into any trouble regarding this? Thanks! Sent from the iMore App

I got the app free via the Apple store app. Maybe the offer is still active.. Sent from the iMore App

I used Camera+ when I first got an iPhone 4 or so years ago because back then it was one of the very few apps that allowed you to set separate focus/exposure. This is now a standard for photo apps (even the iPhone camera does this now) so the only reason for me to keep using it would be editing and filters and IMO there are now better apps for this (Photogene4, Snapseed, VSCO Cam, Camerabag2, Fotograf, Oggl). As for TIFF, I think that's over hyped. JPG photos taken with iPhone are now very high quality and most end up on services that don't even support full resolution anyway, e.g. Instagram.
Thank you for signing up to iMore. You will receive a verification email shortly.
There was a problem. Please refresh the page and try again.