Ask iMore: How the #@$& do you find anything with App Store search?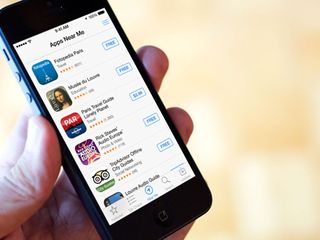 App Store search is horribly broken. We all know that. So it came as no surprise when a reader asked me how we — the people who write about them all day — find anything on the App Store. The short answer is a little creativity and a lot of tenacity. The long answer is best given in the form of a recent example. Here it is!
I'd been asked to find an iPhone app that could change the resolution of photos. So, I launched the App Store app on iPhone, started looking, and found... nothing. Then I tweaked the search terms and got completely different results.
After launching the App Store I thought to myself about what someone may type in to find that specific type of app. The first thing that came to mind was photo resizer, so I tried that. I wasn't really pleased with the results and after flicking through quite a few of them I realized that some didn't even belong there. I can understand general purpose photo apps showing up, but a running app? Perhaps it's time to try again.
This time I typed in resize photos and found that the results were completely different. I felt like I was getting closer but wasn't quite there yet. I flicked through several of the apps and while some were the same as my previous search, many were not. At least I only got photography related apps this time. Unfortunately most of them dealt with cropping photos, not changing the actual resolution.
For my last search I went with photo resolution. This brought up a mixed bag of photo sharing and transfer apps along with some editing apps. None of the ones I could find specifically dealt with the resolution of photos. I found this the oddest search of all since I searched even more specifically.
It's not unusual for developers to stuff keywords into the titles of their apps, and I believe there is a keyword section developers can fill in as well. I'm not sure how the App Store weighs all of that, and what other factors might be involved, but I've yet to find a pattern. Everything is always hit and miss. That being said, if you're looking for a specific type of app or hunting down something you forgot the name of, try a variety of search terms. In some cases, I've had to search four or five different ways in order to find the app I was looking for. It's a big reminder that the App Store isn't perfect and still needs some work.
Have you run into problems searching for apps in the App Store? Did switching key words help? Let me know in the comments! And if there's any developers out there, have you run into issues getting your app to index the way you want it to? Let me know that too!
Master your iPhone in minutes
iMore offers spot-on advice and guidance from our team of experts, with decades of Apple device experience to lean on. Learn more with iMore!
iMore senior editor from 2011 to 2015.