Can't update Office 2011 on your Mac? Here's the fix!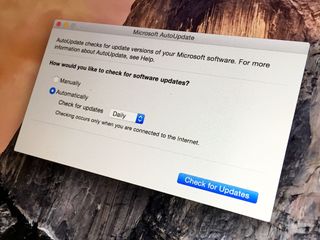 AutoUpdate 3.0.5 was installed with the last Office update a few days ago. Microsoft has backed off from the mess it made with a new version of AutoUpdate you can download now. The problem only happens if you're using both the Office 2016 preview Microsoft has posted as well as Office 2011.
Once you installed the previous version of AutoUpdate, you'd find that it would locate but would be unable to install an update to Office 2011. What's worse, the AutoUpdate program would grab lots of memory and generally make a mess of things. People were running into this problem:
To get past it, the easiest thing to do is to to run AutoUpdate again. It'll find the updated version of itself and install it. To do so, just select the "Check for Updates" option in the Help menu of any open Microsoft application.
If that doesn't work, or if you don't trust AutoUpdate to do the right thing, you can download the latest updater from Microsoft's web site (opens in new tab) and install it yourself. That'll download to your Downloads folder as a .pkg file.
How to run the AutoUpdate installer
Double-click on "Microsoft AutoUpdate 3.0.6.pkg" to launch the installer.
Click Continue.
Click Continue again to install it to your Mac's hard drive.
Click Install.
Enter your administrator password and click Install Software.
After it's done click the Close button.
That's it.
Get the best of iMore in in your inbox, every day!
I was having problems with version 3.0.5. There is a memory leak. I downloaded the updates from the Microsoft website instead. I'm glad they fixed this (or I assume they did) I did try adding an image of it ... it was using 63GB of memory.

Oh, Microsoft, do you do any testing?

Nope Sent from the iMore App

Word crashes for me all the time, and excel crashes when I unplug the external monitors. Outlook will random close messages... I'm sick of their crap.

Interesting that this update requires that you also use Yosemite. I stayed with Mountain Lion in the hopes that a stable OSX would be out by now. Looks like I'm running out of time. I'd rather spend my time programming than fixing OS problems.
Thank you for signing up to iMore. You will receive a verification email shortly.
There was a problem. Please refresh the page and try again.