The case for Front Row: Should Apple make another media center app for the Mac?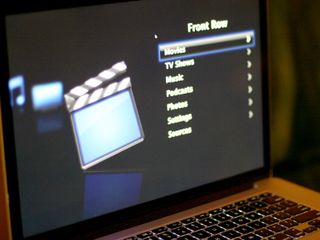 When Apple introduced OS X Lion in 2011, they got rid of a software app that had been included with the Mac ever since the fall of 2005, when OS X Tiger was still cutting-edge: Front Row, Apple media center software that made it simple to control your Mac in the living room. I'd like to see it come back. Here's why.
What is Front Row?
Thirteen years ago, at Macworld Expo in San Francisco, Steve Jobs articulated a new vision for the Macintosh: as the "digital hub for the digital lifestyle." He saw the Mac as the central device for controlling disparate products like digital music players, camcorders, digital still cameras, PDAs and other devices. This was seven months before Apple would even introduce the iPod, which would, of course, rewrite Apple's fortunes entirely.
That digital hub concept was still going strong several years later when Apple introduced Front Row, a free software application that enabled the Macintosh to operate as a media center. A clean, easy to use interface made it possible to navigate your Mac's library of movies, music and other digital content, all with the press of a couple of buttons on your Mac's keyboard.
Apple revised the software over time with a cleaner interface and improved functionality, but eventually Front Row took a back seat to Apple TV as the preferred way to share iTunes media content, and in 2011 Apple discontinued Front Row with the release of OS X Lion.
Front Row's discontinuation was a bit ironic, since just a year earlier Apple had begun selling its Mac mini with HDMI as standard issue, making the unit a perfect small-sized media center server for the living room.
Why bring Front Row back?
More Macs than ever before include HDMI cables to connect to flat-panel HDTVs. Not just Mac minis, but Retina MacBook Pros and even the mighty Mac Pro can manage HDTV connections natively; iMacs and other MacBooks can hook up trivially using a Thunderbolt to HDMI adapter.
With the ready availability of Macs that can connect, and cheaper-than-ever HDTVs, it's a bit nuts for Apple to leave the Mac out of the Home Theater PC (HTPC) equation.
But setting up a Mac as a media center is more than just plugging it in to a TV. You also have to have a seamless and easy way of accessing the content on the Mac, and that's the domain of media center software.
Since Front Row is no longer available, Mac owners interested in using their computer as a media center have a few third-party options. There's the open-source app XBMC, for example, or Plex, a commercial app that was once based on the XBMC core, and MediaCentral from Equinux.
All of these have their place, but installation and setup isn't trivial. Unlike Front Row, which just worked. As Steve Jobs once said, "Simple can be harder than complex: You have to work hard to get your thinking clean to make it simple."
Apple TV isn't all that
Apple TV, Roku and Chromecast all have their place at the home theater table, but none of them have quite the same flexibility as a Mac equipped with media center abilities. They're only as good as the apps they work with, or the apps that are built in.
Apple TV is a good case in point. While you can stream Amazon Prime video content from an iOS device to an Apple TV using AirPlay, there's no native Amazon Prime app for the Apple TV. That limitation is gone with a Mac acting as a media center.
Meanwhile a Mac equipped as a media center allows you to access any streaming content from the Internet that will run on your Mac, rather than only the streaming content that is available through one of the apps that runs on the Apple TV.
What's more, you're not streaming content over your Wi-Fi network or, if you're using iTunes in the Cloud, over the Internet. The latter case can make a big difference if you're on a metered Internet service, as many of us are.
And if the mood strikes you to play games, you can't do that on a streaming media box, while it's trivial with a Mac (add Steam's "Big Picture" feature and you're cruising).
What do you think?
It just seems nuts to me that you'd have what is arguably an almost perfect media center or home theater PC - the Mac mini - and you'd offer no software to enable that functionality.
Then again, maybe I'm totally off base. Has Apple answered all your needs with the Apple TV? Do you have an HTPC running Windows in your living room instead? Let me know what you think.
Master your iPhone in minutes
iMore offers spot-on advice and guidance from our team of experts, with decades of Apple device experience to lean on. Learn more with iMore!