Case-Mate Barely There review: The iPhone 6 case for case-haters!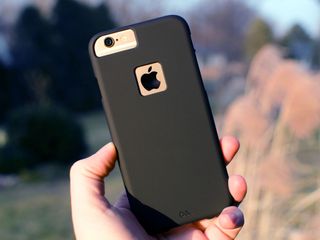 Case-Mate has always made a lot of great cases, but Barely There has always been my favorite. That's because I have a strong aversion to cases. So, the idea of a case that's really barely there holds a lot of appeal. However, the iPhone 6 is so thin, could barely still be too much?
The Barely There line of cases for iPhone was designed to provided protection against minor nicks, scratches, and scuffs, not falls. In other words, if you're accident prone, this case isn't for you. You'd be better served by something like the Otterbox or Spigen Tough Armor Case for iPhone 6. If you're more concerned with cosmetic damage than anything else, however, you'll definitely want to consider the Barely There case.
Case-Mate offers the Barely There case for iPhone 6 in three different colors; black, clear, and white. The black version, which is my personal favorite, has a more matte feel and leaves a cutout for the Apple logo on the back. I prefer it on the gold iPhone and feel they compliment each other well.
On the side, there are cutouts that allow you easy access to the power button, volume buttons, and mute switch. The top and the bottom are left wide open so you can easily access your dock and headphone jack. The top lip curves slightly further around the iPhone since there are no buttons to be obstructed like there were on previous iPhones.
If you use any kind of dock with your iPhone 6, you shouldn't have an issue. I have the Everdock Duo (opens in new tab) by Fuz situated next to my iMac and have no problem docking my iPhone 6 with the Barely There case installed.
The Barely There case for iPhone 6 is so thin I forget it's on. The only time I notice is when I press the Power button to turn the screen off or adjust the volume or mute switch. Although all switches and buttons are all easily accessible, the slight recess is a small reminder there is a case there.
The good
Provides protection against cosmetic damage
Easily used in conjunction with almost any dock or charger
All ports and switches easily accessible
Doesn't obstruct the screen or swipe gestures from the sides of the bezel in any way
Simple to take off and put back on as you want
The bad
Will not provide much, if any, protection against a significant drop
No lip around the edge of the screen means you can't set your iPhone 6 face down without risking minor scratches
The bottom line
The Case-Mate Barely There case for iPhone 6 is the case that case-haters will love. It's so thin it almost disappears, but still protects you against scratches, scuffs, and other cosmetic flaws. Is it the case for accident prone individuals? No. But it is the case for anyone that desires a high quality, low profile case for their iPhone 6.
Get the best of iMore in your inbox, every day!
iMore senior editor from 2011 to 2015.
I've always liked these cases, trying the Desmay slight 6 though at the moment which is a great thin case. BTW typo on first word. Sent from the iMore App

I'm a logo-hole case hater with passion, so this doesn't cut it for me Sent from the iMore App

Logged in just to upvote this, it looks so horribly tacky and cheap. "Hey look everyone I have an Apple logo on the back of my phone".

I am much more a fan of the Griffin Reveal case. I look like it is just part of the phone. And works with glass screen protectors Sent from the iMore App

How many millimeters thick is this case?

Spigen Neo Hybrid is only slightly bulkier, but offers great, all-over protection.

The iPhone 6 just screams out for a case, any case. It's so slippery. This one looks intriguing.