Castle of Illusion Starring Mickey Mouse, now on iOS!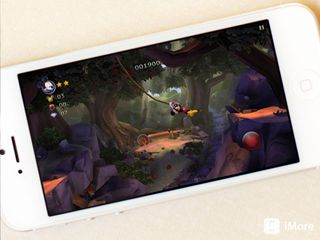 Disney has published an iOS version of Castle of Illusion Starring Mickey Mouse, a reimagining of the classic game originally published for the Sega Mega Drive/Genesis. This isn't a port of the original Genesis game, though - this is based on the new version which has already been released for Xbox 360, PlayStation 3 and PC.
In Castle of Illusion, you're Mickey Mouse, who's on a quest to save his beloved Minnie from the evil witch Mizrabel. To reach her, Mickey must make his way through the dangerous enchanted forest and through the Castle of Illusion, avoiding hordes of enchanted toys, forest foliage brought to life and more, traveling through five worlds stocked with Mizrabel's minions.
I saw this in the App Store last night! I wonder if all these games are supported by the new 3rd-party iOS 7 gaming controllers. Sent from the iMore App

I discovered this app last night and my youngest daughter appeared out of nowhere and declared she wanted it - before I could even read the synopsis of the game. [scary] Sent from the iMore App

This game looks amazing! It's pretty expensive as far as iOS games go though. Will defiantly consider it. Sent from the iMore App

10 bucks???, NO!!!! Sent from the iMore App

How can you write it off strictly on its price?

Would you prefer it free in that case with IAP's? Because Disney is gonna get paid one way or another!

It's mindsets like this that result in the flood of freemium IAP garbage plaguing the app store today. Don't complain about a fair price for a quality game, then turn around and complain about free to play games bilking you for money because you didn't want to pay for a quality piece of software up front.

Didn't even realize this was out. Thanks for the heads up Peter! Sent from the iMore App

People spend $10/month on music streaming for their phones, but they can't be bothered to do this with a game that can be enjoyed offline in airplane mode. I get it wouldn't be everyone's cup of tea, that's what there are other games available. $10 is a high price for a game, quality or not. Maybe I'm used to $3.99 or less games. It's still a better model than a free title featuring IAP.

I jumped on it and it's the highest I've EVER paid for an iOS game. It's a great game so far though. For those of you put off the App Store always does great Black Friday deals. Sent from the iMore App

Looks fun. I'll wait for this to go on sale. $ 10 is a bit too steep for me to spend on an iOS game (with some exceptions). Besides, I'm still pretty busy with the games I have. Sent from the iMore App
Get the best of iMore in in your inbox, every day!
Thank you for signing up to iMore. You will receive a verification email shortly.
There was a problem. Please refresh the page and try again.