macOS Server 5.4 changes in High Sierra you need to know about!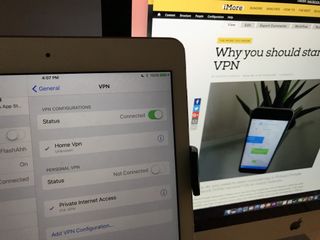 (Image credit: iMore)
For some, upgrading to the latest software is a no-brainer. After all, you get all the new bells and whistles, right? WRONG! In a production environment, where stability and compatibility trump puny bells and whistles, the decision to upgrade has to be far more careful and considered.
For the macOS server administrator who wants to be as informed as possible before a potentially job-threatening upgrade, here are all the High Sierra changes you need to know about1
Removed Services
At one point or another, a feature or service may be discontinued due to various reasons. Be it, security, low usage, or simply shifting priorities, a service you've come to depend on may be deprecated or even removed entirely. Here are two such services in macOS Server 5.4.
File Sharing with iOS: You could previously use set up a shared repository on macOS Server for your iOS devices. Support for this feature is being removed entirely. All of your iOS devices will report that file sharing has been disabled on the server. Suggested alternatives are using WebDAV, and collaboration using Pages, Numbers, and Keynote.
File Transfer Protocol (FTP): A longtime a security risk, for example for sending password information in clear text, FTP support will be removed from macOS server if you upgrade.
Moved Services
Sometimes services will all be moved from one configuration manager to another. Apple has made some services are now available on all macOS High Sierra installation, even those running without macOS Server. Here are the services on macOS Server 5.4 that have been moved to all macOS High Sierra installs in the System Preferences app.
File Sharing: All fire sharing can now be configured in System Preferences > Sharing. There are some protocol depreciations due to the new APFS file sharing that will disable sharing over that filesystem.
Open Directory: Open Directly is no longer required for Profile management and, as such, has been "hidden" on macOS Server 5.4.
Caching Service: My favorite feature in macOS Server, it can now be easily found in System Preferences > Sharing. If you have multiple devices to update and maintain, it makes a local network cache for iCloud data, updates and more. Great if you want to save bandwidth.
Xcode Server: Any install of Xcode 9 now takes over the functionality of Xcode server from previous macOS Server installs.
Time Machine: You can now share a folder for backups using the increased capabilities of File Sharing on macOS High Sierra.
The upgrade you were looking for?
Some people may like that Apple is so decisive about how it simply cuts services per upgrade so that service "cruft" doesn't build up over many instances OS upgrades. Other people may find it maddening when a simple upgrade moves or removes features they were using. I tend to be in the latter group. I can understand no longer supporting FTP for example, but removing it completely is scorched earth.
What's your take? Let me know in the comments!
Even though file sharing, caching and the Time Machine service have been rolled into High Sierra itself, I'm still going to miss the monitoring — for example, notifications about clients that have not been backing themselves up — that Server used to provide. And, if High Sierra provides a way to set up a sharing-only user, I've yet to find it.

Good to see FTP removed, SFTP is the way to go

10.13 is beta software. Loads of problems with black boxes on the screen, if somebody replies to an email massive boxes which black out the messages. Login screen, only way to login with a 2011 Mac mini is to pull HDMI cable and plug back in. "Server" lol yer right. They remove iOS/WebDAVS support, while on iOS 11 there is the Files app which has a Mac OS Server section, which talks perfectly to 10.11/10.12 server. They put file sharing back in system prefs, so its like going back to Mac OS 9, and by default SMB Guest access is turned on, that can only be killed by accessing "Advanced" options lol. Really rather pathetic, and right now 10.13 is NOT a viable option
Thank you for signing up to iMore. You will receive a verification email shortly.
There was a problem. Please refresh the page and try again.